U.S. Infantry Rifles
Rifle|January - February 2020
100 Years and Counting
By my count, between 1866 and 1966, for infantry forces the U.S. Army fielded two singleshot rifles, three bolt actions and three semiauto or select-fire rifles. The cartridges for which they were chambered numbered six. Every one of the eight basic rifle models and of course all their cartridges saw combat ranging from skirmishes in the Plains Indian Wars through many enormous planet-wide campaigns of World War II.
My rifle collection contains a specimen of all eight American infantry rifles. Both select fire spots – M14 and M16 – have been filled with semiauto substitutes. (However, I would like to say that I have fired full-auto M14s and M16s.) All my rifles have been shot with factory loads where available, and factory equivalent handloads have been developed for all six cartridges.
First up is the .50-70. Actually, in strict terms it was second. In 1865 the government-owned Springfield Armory first developed its conversion of .58-caliber rifle muskets for a .58-caliber rimfire. It went nowhere and was replaced the next year with a centerfire .50 Government Model 1866. It was a true conversion, meaning finished muzzleloading muskets were altered to fire metallic cartridges. Military .50 Gov't issue cartridges carried 450-grain bullets over 70 grains of black powder. Velocity was rated at 1,250 fps.
Two other versions followed. The Models 1868 and 1870 were not conversions. Their actions were built fresh but parts such as lock plates were left over from musket production. For instance, my Model 1868 lockplate bears the date "1863." Model 1868s had 32.63inch barrels for an overall length of 51 inches. Weight was 9.5 pounds. Sights were a simple blade front and an open rear. Because these .50-70s had breechblocks that tilted upward, they gained the nickname "trapdoors."
In 1873, after considerable study and experimentation, the U.S. Army adopted a completely newly-manufactured infantry rifle still based on the trapdoor system. In fact, barrel length and basic weight remained as the earlier .50 trapdoors. Springfield Armory had various in-house model numbers for these rifles during their 19 years of production. However, I've only seen 1873 and 1884 actually stamped on their actions.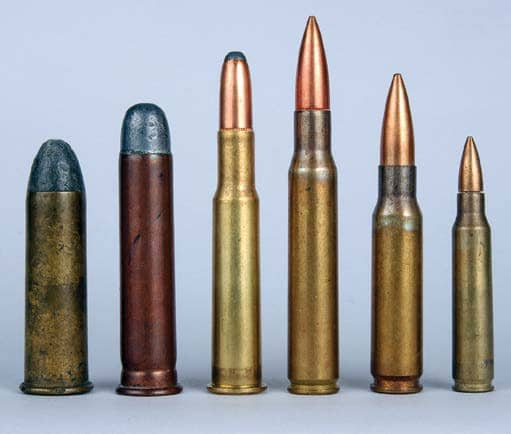 Caliber was reduced from .50 to .45. We call this round the .4570 now but upon its introduction it was .45 Gov't. Bullet diameter was .457 inch and weight was 405 grains, but powder capacity remained 70 grains. This boosted rated velocity to 1,350 fps. (In 1881 another military load with a 500-grain bullet was introduced.) Both Remington and Black Hills Ammunition offer .45-70 loads with 405-grain bullets; jacketed for the first and lead for the latter. They are pressure rated as safe for trapdoor .45-70s in good shooting condition.
The U.S. Army joined the smokeless powder era in 1892 by adopting the Norwegian designed Krag-Jorgensen .30-caliber bolt action. Its unique feeding mechanism consisted of a sturdy steel box that opened on the receiver's right side. Up to five cartridges were dropped in. When the box was closed, a powerful spring pushed rounds under the action, feeding them into the chamber from the receiver's left side as the bolt closed. Krag infantry rifles had 30-inch barrels and weighed a bit over 9 pounds. All U.S. Krags were manufactured at the Springfield Armory and were arguably the finest quality military rifles ever produced in the U.S. Infantry rifle versions underwent minor design changes, especially in regard to rear sights, through the Models 1896 and 1898.

You can read up to 3 premium stories before you subscribe to Magzter GOLD
Log in, if you are already a subscriber
Get unlimited access to thousands of curated premium stories and 5,000+ magazines
READ THE ENTIRE ISSUE
January - February 2020