Turnbull Marlins
A Pair of Upgraded Leverguns
For many decades, if someone thought, utilitarian levergun, a mental image of one Marlin or another would likely have appeared in their mind. That is not criticism, it's just how it was – but not anymore. Marlin even has a custom shop these days that produces some high-dollar custom rifles. And as will be examined shortly, Turnbull Restoration Company is offering less-expensive, gussied-up Marlin leverguns.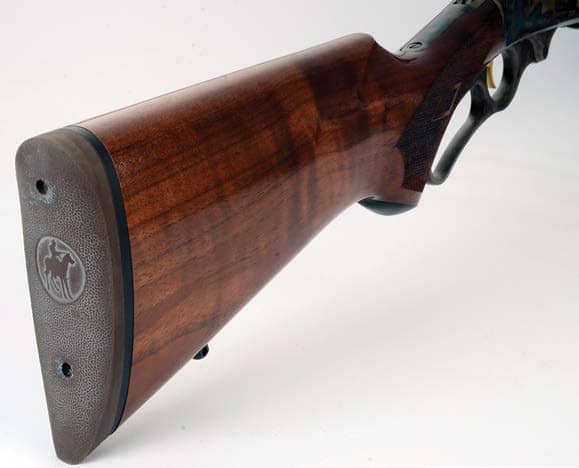 All of this is, in a way, returning to Marlin levergun origins. Starting with the Model 1881 and lasting until about 1915, Marlin leverguns could be ordered with a myriad of special features. Consider the Model 1893 as an example. This was the company's version chambering rounds such as the .25-36, .30-30, .32-40, .38-55, etc. A standard straight-grip Model 1893 was stocked with straight-grain, noncheckered American walnut and a steel crescent buttplate. According to a 1896 flyer, that rifle would have cost the buyer $13.90 with a round barrel, or $15 with an octagonal barrel.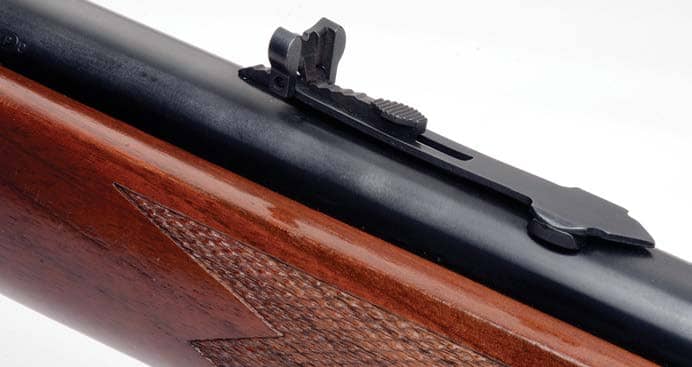 From the custom options listed in 1896, a pistol-grip buttstock and forearm of select wood, checked (That's the word Marlin used instead of checkering.) added $11.20. Engraving started at $5. Full nickel-plating of all metal was $5, but if only the "trimmings" were nickel-plated, the cost was $2.50. (Presumably, "trimmings" included the forearm cap and buttplate.) If the buyer of a custom rifle did not wish for a barrel-mounted rear sight or wanted it placed somewhere other than at the standard location, the charge was $1. Interestingly, color case hardened receivers were standard. For perhaps a "snobby" buyer, Marlin offered English walnut for a pistol-grip buttstock with matching forearm, checked with special finish. That cost an extra $20.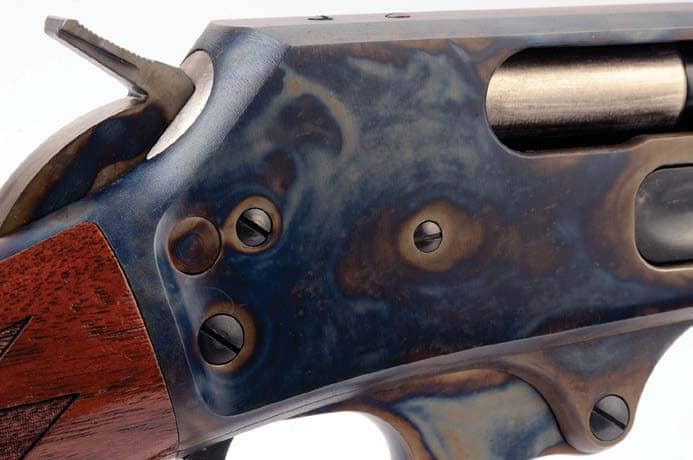 By 1915 some options were less expensive, such as changing the rear barrel sight's location or eliminating it altogether. This option cost only 70¢, but an extra select pistol grip and checked stock was up to $13.50. English walnut wasn't mentioned at all. It's worth noting Marlin's Model 1893 pro duction ran until 1905, when it became the Model 93.
Marlin Firearms: A History of the Guns and the Company That Made Them by the late Lt. Col. William S. Brophy contains the information that between the year of introduction and 1905, 73,186 Model 1893s were produced. Of those, 4,086 were carbines; the rest were in rifle form. Except for a hiatus during World War I, Model 93s lasted until 1936, but production records do not exist after 1905. A Model 36 was introduced, and it segued eventually into the Model 336.
You can read up to 3 premium stories before you subscribe to Magzter GOLD
Log in, if you are already a subscriber
Get unlimited access to thousands of curated premium stories, newspapers and 5,000+ magazines
READ THE ENTIRE ISSUE
May - June 2019