The Perfect Pair
Rifle|January - February 2020
A Quest for Matching Rifles
I became a fan of Jack O'Connor's writing at a very young age and eventually accumulated most of his books. I also enjoyed the works of several other firearm writers, and one was Larry Kohler. In one of his books on hunting deer and small game, Kohler advocated the use of two rifles with the same type of action, preferably from the same manufacturer. A "perfect pair," as he described it for eastern hunters, was illustrated by a photo of a Marlin 39A in .22 rimfire alongside a Marlin 336 .30-30. Young minds are easily influenced. I already had a 39A, so when becoming old enough to shop for a store-bought deer rifle I chose a Marlin 336, but in .35 Remington.
Years later, during the mid-1960s Dave Talley, who would eventually become well-known for his scope mounts and custom rifle parts, invited me to hunt deer in the heavily forested Pisgah National Forest of North Carolina. The particular area he hunted was in the middle of hundreds of acres of rugged terrain that had been ravaged by a huge forest fire during the 1940s. As growth of new vegetation rapidly spread over the rich soil, the country was transformed into better whitetail habitat than it had ever been before. Over the next decade or so, the deer population increased dramatically and big bucks got even bigger.
As each new generation of deer came along, it had more of a tendency to emerge from deep forests and feed in vast open areas where they could be observed from great distances. Extremely steep terrain covered with almost impenetrable growth of mountain laurel often prevented close shots. Preferences in rifles saw drastic changes. What had once been .30-30 country was transformed into open country the likes of which few hunters residing east of the Mississippi had laid eyes on. Woods cartridges were out and flat-shooting numbers were in. Dave had been quite successful with a FN Mauser Supreme .270 Winchester, but at the time the new .264 Winchester Magnum was quickly gaining ground among other hunters. Rifles in .300 H&H Magnum were also often seen.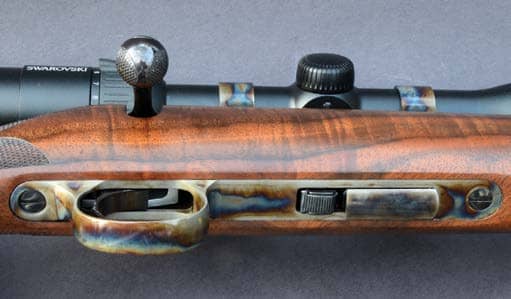 Realizing my old woods rifle was a bit short on horsepower for that type of hunting, something faster was in order. In addition to being an excellent machinest, Dave was also an accomplished stockmaker, and so began the story of my very first custom rifle. A '98 Mauser made at the Erfurt Arsenal during the 1920s was ordered from the mail-order firm Ye Old Hunter. New bottom metal was fashioned from a 1903 Springfield trigger guard/floorplate assembly. American Walnut came from Roberts Wood Products of Portland, Oregon. Some of the items sold by Herter's, were of poor quality, but its German-made barrel blanks were as good as you could get back then. I do not recall whose idea it was to chamber my new long-distance beauty to .25-06, but I do remember being intrigued by the thought of hunting with a rifle chambered for a cartridge not every hunter in camp would have. It being a wildcat presented no problem because I already had a Herter's Model 3 reloading press.
Today, at least three deer lurk behind every tree around our home and if not for a 7-foot-tall electric fence, nothing in my wife's vegetable garden would grow taller than the sprout stage. In those days we had to travel to other parts of our state or to other states for decent deer hunting. Seasons were also quite short and for that reason small-game hunting was a much bigger deal than it is today. Everybody hunted cottontail rabbits and grey squirrels. Also in those days, Winchester Model 52 and 1922 Springfield rifles in .22 Long Rifle were commonly seen at gun shows. Modifications to some of them ranged from just enough to cause collectors to run screaming out the door to downright Shadetree butchery, so prices were often better than right. Turning barrels to a lighter contour along with restocking and mounting a scope transformed former target rifles into super-accurate squirrel rifles.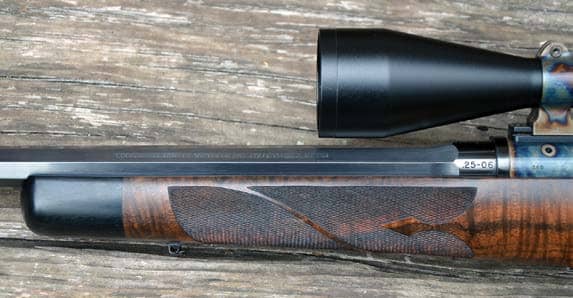 You can read up to 3 premium stories before you subscribe to Magzter GOLD
Log in, if you are already a subscriber
Get unlimited access to thousands of curated premium stories and 5,000+ magazines
READ THE ENTIRE ISSUE
January - February 2020