That Fancy Rifle
Rifle
|
November - December 2020
Notes on the Subtle Art of Engraving
Ernest Hemingway once advised that, when you are stuck for an opening line, simply write the truest sentence you know at the time. So here goes: Engraving on rifles serves many purposes, most of them good, but it can also be a trap – and a very expensive trap at that.
More than any other feature on a rifle, with the occasional exception of extravagant walnut, engraving can make even the finest rifle decadent. By that, I mean decadent in one of the original definitions of the word: an object which becomes so ornate as to be unusable for its original purpose.
Ironically, many of the finest rifles found in the world's great museums today exist solely because they were so ornate. As a result, they were never actually used and subjected to the rough treatment of hunting and the corrosion of powder and priming.
If one were intent on beginning the story with the origins of engraving on guns, the trail would lead all the way back to prehistoric cave drawings of game animals, which led to the ornamentation of spears and bows, and laser swords and daggers, and finally firearms. The engraving itself is intertwined with the creation of totems for individuals and tribes and has a long history related to a fine art. Engraving, however, no matter how good, is a craft, not fine art, and should be treated as such.
This is getting slightly away from the original intent, which was to look at different types and purposes of engraving found on rifles, so let's go back to that and see exactly what purposes appropriate engraving actually serves.
One, engraving can personalize a rifle, allowing someone to grab his off a rack and not pick up a similar one by mistake. A hanging tag would serve just as well, or your initials painted on the stock, but engraving is more enduring and attractive.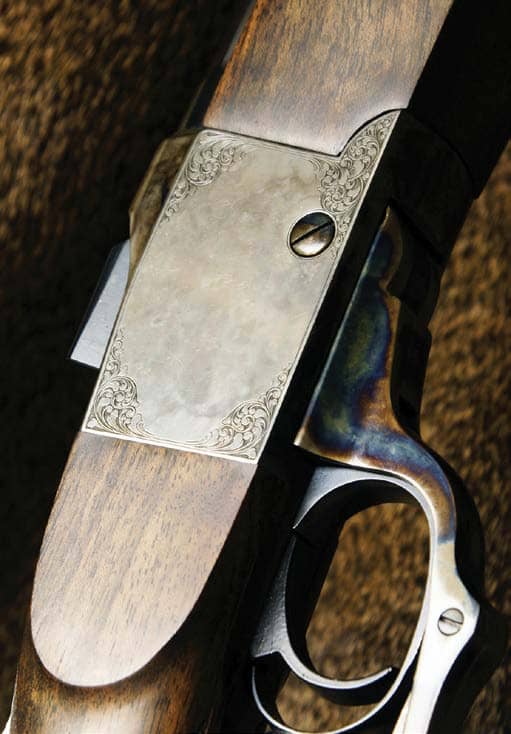 Minimalist engraving on a newly made single-shot, long-range rifle built on a modified Ruger No. 1 action. The engraving is 1890's-style American scroll by Sam Welch. Combined with subdued case-hardening, the effect is both restrained and refined. The scroll breaks up the flat steel surface just enough.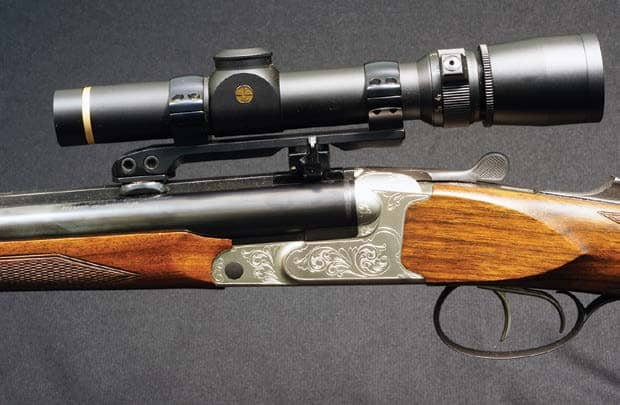 This is typical modern machine-applied "engraving" on a Krieghoff double rifle from the 1990s. It serves little practical purpose and, being identical to every other rifle of this grade, has absolutely no individuality.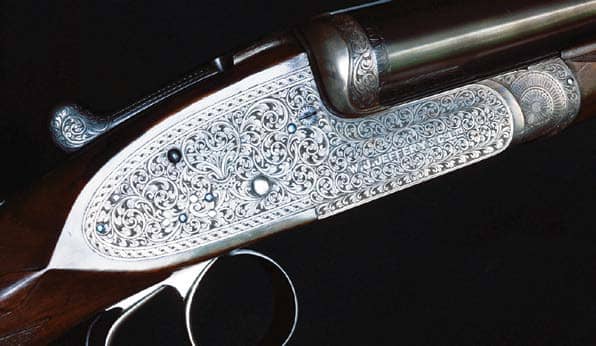 A W.J. Jeffery sidelock double rifle from before 1914. One of the most beautiful double rifles Terry has ever seen, yet the engraver's name is unknown – probably one of the many freelance engravers working in London at the time, who charged by the hour. It's a masterpiece by any measure.
Two, engraving can identify the maker as well as the owner – a form of advertising, in a way.
Three, engraving on a flat metal surface breaks it up and minimizes glare and reflections, a valuable characteristic in both hunting and combat.
Four, fine engraving helps hold lubricant to prevent rust, and five, it can provide a more dependable grip on an otherwise slippery surface.
A sixth and seventh use of engraving is to embellish a gun intended as a gift, in order to flatter and gratify the ego of the recipient, or something similar intended to flatter and gratify the ego of the purchaser himself. It's astonishing to what ends men went to flatter such as King Louis XIV or the Prince Regent in bygone times (or, more recently, American presidents and Russian dictators) and to what ends they have gone in the last couple of decades to gratify themselves.
You can read up to 3 premium stories before you subscribe to Magzter GOLD
Log in, if you are already a subscriber
Get unlimited access to thousands of curated premium stories, newspapers and 5,000+ magazines
READ THE ENTIRE ISSUE
November - December 2020