Synthetic Rifle Stocks
Rifle|July - August 2020
An Abbreviated History
The development of what are generically called "plastics" began in the mid-nineteenth-century, when the long molecules of cellulose – abundant in plants – were treated to form various polymers used in products from camera film to billiard balls. Traditionally, billiard balls were made of elephant ivory, but the popularity of billiards kept increasing while the supply of elephants kept decreasing. In 1869, a New York chemist named John Wesley Hyatt developed a suitable polymer – which could also be shaped into various other items normally made from animals and plants, including cloth fibers.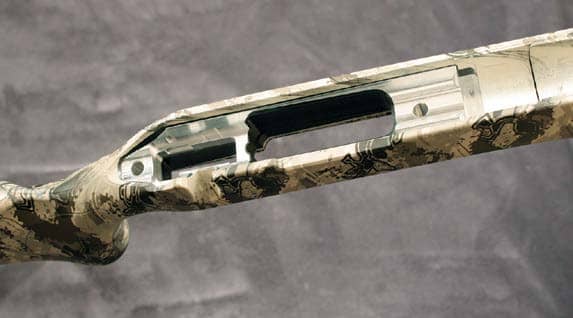 In 1907, another New York chemist, Belgian-born Leo Baekeland, developed a totally synthetic plastic named Bakelite, which could be molded for mass production. Initially, Bakelite was developed as an electrical insulator but ended up being used for thousands of products, including telephone bodies, toys, kitchen bowls and plates. It was also used on firearms, though usually for handgun grips as it was too brittle to take much recoil.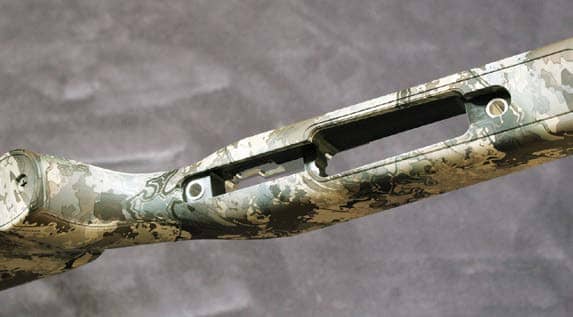 As plastics continued to evolve, several became more suitable for stocks. Among the early synthetic stocked long guns was the Stevens .22 Long Rifle/.410 combination gun, with a buttstock and forend made of Tenite, a tougher plastic made from softwood cellulose. Produced from 1939 to 1950, the Stevens was adopted as a survival gun by what was then the U.S. Army Air Forces during World War II. This may have influenced the 1963 adoption of the first synthetic-stocked U.S. military rifle, the Armalite Model 15 – officially designated the Rifle, Caliber 5.56mm, M16 – with stocks made of a composite resin similar to that used in billiard balls.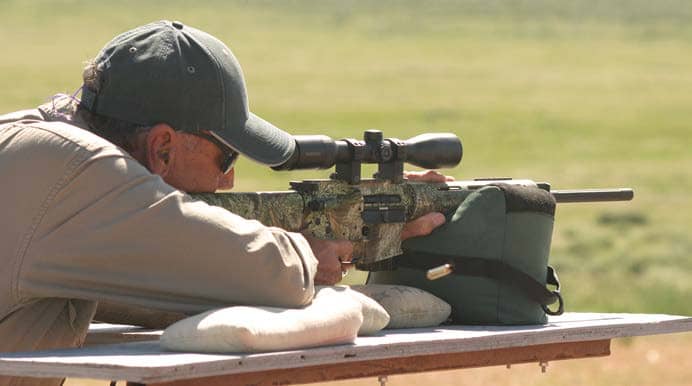 Remington was the first major manufacturer to introduce synthetic stocks on sporting rifles, in 1959 introducing its nylon-stocked Model 66 semiauto .22 rimfire. Nylon was developed in 1935 by DuPont, but the name was never trademarked, so Remington used the modernized name Nylon Zytel 101. (The U.S. was then heavily involved in the Space Race with the Soviet Union, and many marketers attached space-age sounding names to products.) At first, many shooters resisted the idea. After a co-worker bought a 66, my father later went on a mild rant in the privacy of our home, saying rifles had "wood" stocks.
Early synthetic stocks were made by molding heated plastic, but another technology appeared after World War II, borrowed from the boat industry, epoxying layers of fiberglass cloth inside a mold to make a thin but strong shell. This was used to make "lay-up" stocks, with the fiberglass/epoxy shell often filled with light plastic foam. Soon afterward, shooters started epoxying metal "pillars" inside the action screw holes to keep the thin-shelled stocks from collapsing as the screws were tightened. (Mauser had previously used steel pillars in the wood stocks of military rifles, but to allow screws to remain tight as the wood shrank or expanded.)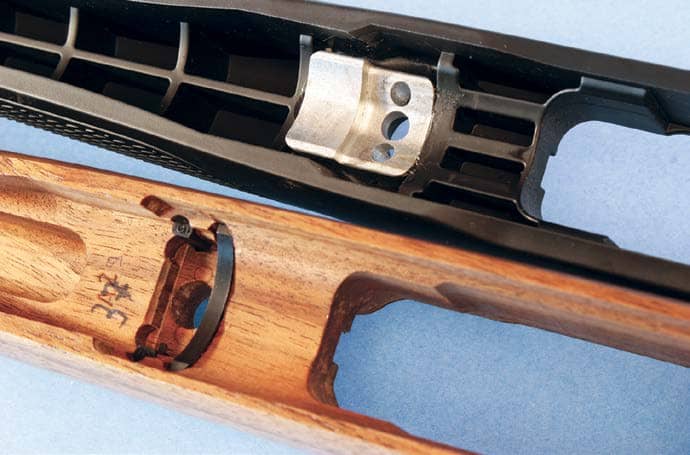 Lay-ups first became popular among hunters and benchrest shooters, who valued not only their stability compared to hygroscopic wood, but their light weight. Hunters used lay-ups to make "mountain rifles" carried in steep country. Lay-ups also allowed benchrest shooters to make the sport's rifle weight limits while using heavier barrels and scopes, one reason pillar bedding now has a reputation for enhancing accuracy, even in hardwood stocks.
Another advantage of lay-ups was easier manufacturing than heat-molding. Anybody with a little know-how could construct a shell mold in the same way lay-up stocks were made, often by using a factory stock as a form. I've known several people who got their start making lay-ups this way in their garage shop, including Melvin Forbes of New Ultra Light Arms, who was successful enough that he soon wore out that mold, and spent somewhat more money to make an aluminum-based model.
You can read up to 3 premium stories before you subscribe to Magzter GOLD
Log in, if you are already a subscriber
Get unlimited access to thousands of curated premium stories and 5,000+ magazines
READ THE ENTIRE ISSUE
July - August 2020