Steyr Zephyr II .22 Long Rifle
Rifle
|
Nobember - December 2018
Every rifleman's gun rack should hold at least one serious, high-quality .22. That's not an exact quote, but it's as close as possible, drawing on memory going back 50 years. Colonel Townsend Whelen wrote those words, and they have stuck with me despite the ravages of time.
Unfortunately, "serious, high-quality" .22 rifles are not easy to come by. They used to be, if memory serves, but not anymore. Today, the typical .22 rifle is too small, too light and too cheap. Over the past 75 years, the .22 rimfire has gradually evolved into a rifle for kids without much money – hence the reduced dimensions and weight, the emphasis on its ability to take abuse and still function and, above all, to be sold at a price the proverbial "farm boy" can raise from selling eggs. (One notable exception is the Ruger 77/22, but as with many things from Ruger, it is the laudable exception that proves the rule.)
This is not intended to be a stroll down memory lane, remembering things that used to be. All too often, the great things we think we remember actually never were. Not every .22 made in 1920 was a masterpiece of the gunmaker's art. Rather, think of this as an object lesson, and to that end I present Exhibit A: The Kimber Model 82.
As .22 rifles became progressively tackier through the tasteless and misguided 1970s, cries went up in the shooting media for a real .22 rifle, for real riflemen, made "the way they used to be" – blued steel and oiled walnut with adjustable sights, a light and responsive trigger and a bore that might have been hand-cut by Harry Pope. The then-new company, Kimber of Oregon, responded in 1980 with its Model 82, a rifle that was a real gem.
Unfortunately, that was near the high-water mark of the inflationary era that started with the 1975 oil price hikes. The Model 82, with its select walnut "American classic" stock and finely blued steel, sold for upward of $400 – about the same as a Weatherby Mark V. Every one of my gun-loving friends wanted one, but not one of us bought one. The Kimber Model 82 disappeared after about 10 years.
This, alas, is typical of what happens when a manufacturer responds to the demands of the gun-loving few and offers an expensive rifle to the penny-pinching many. It goes nowhere, albeit accompanied by tears and sobs.
In Europe, things often take a different direction, partly because of restrictive laws. It's often legally easier to own a .22 than a centerfire rifle, and if the law makes it difficult to own more than one gun, you are more likely to buy a really nice one. Over the years, manufacturers like Sako, Fabrique Nationale, Schultz & Larsen and Anschütz offered .22 sporting (i.e., non-target) rifles made to centerfire standards of quality, but many of these never made it to America – or at least, not for long – because high production costs and unfavorable exchange rates put them out of reach. We looked at pictures and drooled, but that's where it ended.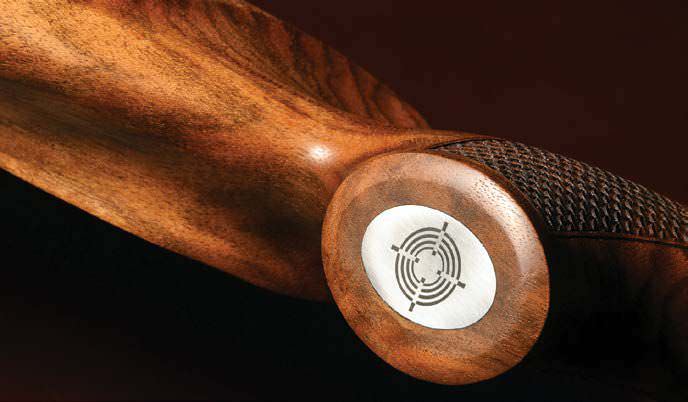 You can read up to 3 premium stories before you subscribe to Magzter GOLD
Log in, if you are already a subscriber
Get unlimited access to thousands of curated premium stories, newspapers and 5,000+ magazines
READ THE ENTIRE ISSUE
Nobember - December 2018