RUGER PC9 CARBINE
Rifle
|
November - December 2020
DOWN RANGE
As a rule, gun writers can get loaner firearms on consignment for a set period of time. Some companies stipulate three months, others for six months. At the end of the time period, we have the choice of paying for the guns, admittedly at an attractive discount or returning them to the company. Personally, it is a rare bird that I purchase. However, not long ago I spent my hard-earned gun writer bucks on one such bird.
Usually my focus is with firearms of yesteryear: historical rifles crafted of wood and steel and hopefully firing obsolete cartridges. This recent purchase includes no wood, not much steel, has no place in history, and is chambered for one of the world's most popular pistol cartridges.
It's a Ruger PC9 carbine, which I assume stands for Pistol Cartridge 9mm Luger in common parlance today. The PC9 is a semiauto that takes magazines of either 10or 17-round capacity. As shipped, Ruger PC9s come with one magazine; the same type as used in its Security-9 pistols. State laws where the PC9 is shipped determine whether it is accompanied by a 10- or 17-round magazine.
All PC9s have synthetic stocks. Ruger's colors are black or red, white, and blue option resembling the U.S. flag. Its website shows some PC9s available from large distributors with desert tan or camouflage stocks. All the guns mentioned so far in this paragraph have traditional curved pistol grip stocks with normal forearms. However, other PC9 versions have traditional buttstocks, but instead of forearms, there are perforated anodized aluminum barrel shrouds that are greatly reminiscent of some World War II-era submachine guns. Another PC9 option is an extendible buttstock with a vertical pistol grip. These also have the perforated barrel shroud.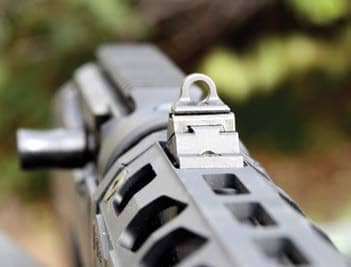 You can read up to 3 premium stories before you subscribe to Magzter GOLD
Log in, if you are already a subscriber
Get unlimited access to thousands of curated premium stories, newspapers and 5,000+ magazines
READ THE ENTIRE ISSUE
November - December 2020