PRACTICAL HUNTING RETICLES
LOCK, STOCK & BARREL
For some strange and unknown reason, the term "aiming solutions" has apparently replaced the traditional "riflescope" and "reticle." The word "crosshairs" has all but been forgotten in modern marking-speak. Language has changed, for better or worse, but "sighting solutions" continue to evolve.
Flip through any shooting/hunting gear catalog or peruse the Internet, and it's almost difficult to find a traditional riflescope. Instead, catalogs and cyberspace are full up with a mind-boggling assortment of options with an extensive and often dizzying array of so-called solutions. Reticles now feature a mixture of dots, numerals, letters, dashes and hash marks, symbols, unrecognizable doodads and all sorts of other potential clutter. Of course, much of this has been brought about in the last 10-plus years or so due to increasing interest in long-range target shooting (and tactical applications) for which such reticle enhancements are no doubt useful.
Most hunters, however, are better served by less sophisticated options. Unless purposely trying to shoot game at some unrealistic range, something most experienced sportsmen frown upon, as do I, a far more simplified scope is often desirable when pursuing big game. We can get along quite nicely with a standard reticle or a simple lighted dot if a quick shot is needed when a buck jumps from cover and takes off for parts unknown, or when a bull elk ghosts into view across a canyon at the end of the day.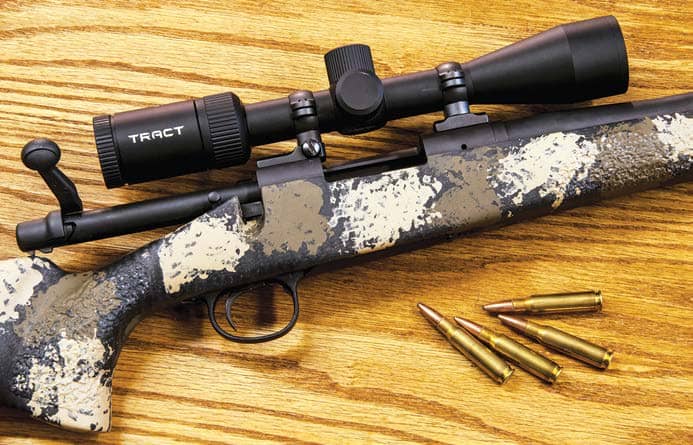 As an example, while on public land in New Mexico a .280 Remington was used to shoot a dandy bull. The elk were out there at 400 yards, about as far as I would consider shooting at any game that was not previously wounded, and even in the best situation a 400-yard shot requires careful deliberation, but not necessarily a fancy "solution." The scope on the rifle was a short Swarovski Z8i 1-8x 24mm (set to 6x) with a lighted dot reticle in the center of crossed wires, a boon in the waning light. Before it was returned to the manufacturer, that Austrian-designed scope also worked well on a big free-range aoudad ram shot with a fancy but moderately-priced Mossberg Patriot Revere .270 Winchester, and soon after a white-tailed buck in Wyoming. Both were much closer than the New Mexico bull.
Between cluttered reticles and standard duplex (actually a Leupold trademark: Duplex) designs, there are reticles that provide hold-over options that work quite well without cluttering up a hunter's field of view or requiring twisting and turning turrets to accommodate distance and wind.
I have hunted enough around the country and in Africa, Canada, Europe and Argentina to know that shots on game beyond 400 yards are almost always unnecessary. Furthermore, at least a half-dozen outfitters/guides I know have punctuated the fact that wounding loss is a problem at extended range – most of them will no longer allow unnecessarily long shots to take place under their watch.
You can read up to 3 premium stories before you subscribe to Magzter GOLD
Log in, if you are already a subscriber
Get unlimited access to thousands of curated premium stories, newspapers and 5,000+ magazines
READ THE ENTIRE ISSUE
March - April 2020