Original Ruger M77
Rifle
|
January - February 2019
A Classic Bolt Rifle for 50 Years.
After years of engineering, testing and obtaining patents, the Ruger M77 was formally announced in 1968. Although its action is based on the revered Mauser '98 design, there were several significant differences and distinct improvements, but other changes were controversial. The rifle showed up in an era when many competing rifles were gussied up with high-gloss finishes, contrasting forend caps and Monte Carlo stocks. However, the Ruger bolt action was conservative and usually featured a straight-grained, American walnut stock in classic configuration with a simple, yet attractive checkering pattern. Its design and appearance were refreshing to many riflemen as the initial production run quickly sold out, and over the next 22 years more than 1,000,000 rifles were produced, which is impressive by any standard.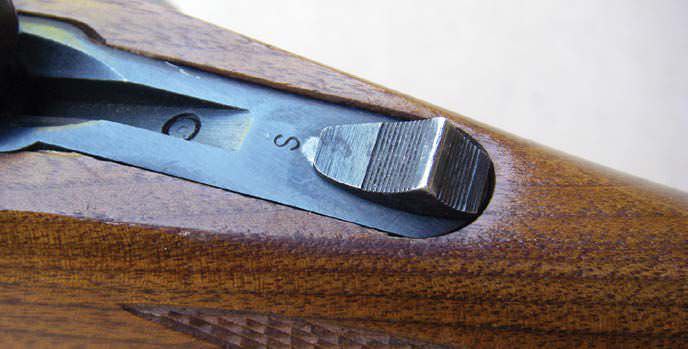 This story really began when Jim Sullivan joined Sturm, Ruger & Co. in 1965 by personal invitation from Bill Ruger. Sullivan had worked for Gene Stoner at Armalite and played a major role in the development of the M16 rifle and other firearm designs. He arrived at Ruger in time to help with the final engineering touches to the No. 1 rifle, but his first real assignment was to develop a bolt-action rifle to compete directly with the Winchester Model 70 and Remington Model 700, with the two 7s of those models eventually becoming "77" in the M77 nomenclature.
Ruger outlined his ideas of what the new rifle should be and had continual influence in its design features throughout its research and development period. However, Sullivan is generally credited for being the actual designer. Ruger had great admiration and respect for the Mauser '98 action, which is reliable, durable and tough as nails. He also requested that the M77 be closely patterned after that design with forward twin locking lugs, a 90-degree bolt lift, etc. He also wanted a shotgun-style tang safety that locked the bolt when in the "on" position, which was changed on later production rifles to allow the bolt to be lifted with the safety in the "on" position for improved safety. Also requested were a hinged floorplate and a flange to the left side of the bolt sleeve to protect shooters from gases in the unlikely event of a ruptured case. Ruger also came up with the idea for a slanted front guard screw designed to pull the action down and to the rear when tightened.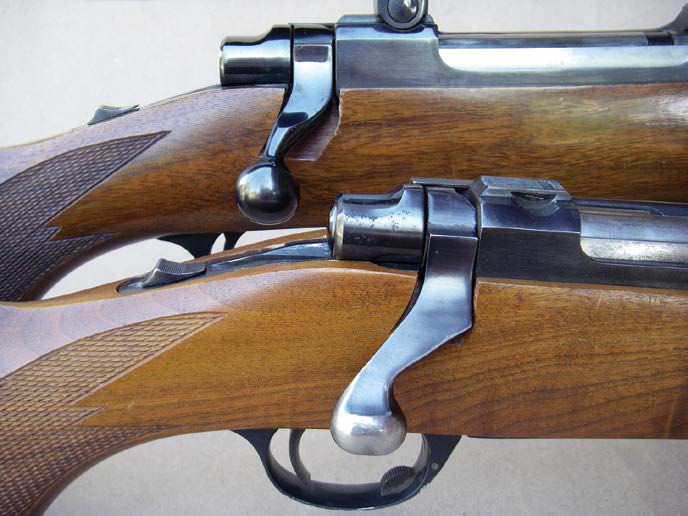 Sullivan's experiments during the development of the M77 are revealing. For example, from the beginning it was planned to be manufactured using investment castings for the receiver and bolt. Industry "experts" warned that a cast bolt would not last and that it must be machined from solid bar stock steel. However, testing revealed that bolts machined from bar stock featured a lengthwise grain structure that set them up with a natural fracture point when put under extreme stress, whereas cast bolts feature a rearranged grain structure that proved much stronger. Tests were conducted on M77 bolts as well as major competing rifles using a Tinnius Olsen dynometer with a hydraulic ram, which recorded the pressure required to shear off the locking lugs. Remarkably, the cast Ruger bolt proved strongest of all.
The bolt is a one-piece design (for greater strength) with an integrated bolt handle that results in it being nearly impossible to break off, and it also serves as a third locking lug. Early M77s were fitted with a flat bolt handle at the request of Mr. Ruger and had a unique swept S-shape that was soon changed to a more conventional design with a round bolt handle.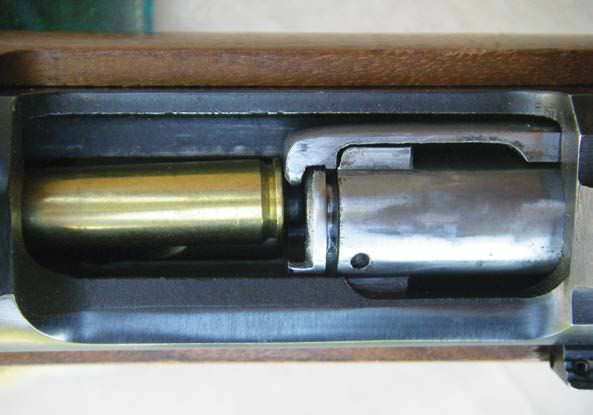 You can read up to 3 premium stories before you subscribe to Magzter GOLD
Log in, if you are already a subscriber
Get unlimited access to thousands of curated premium stories, newspapers and 5,000+ magazines
READ THE ENTIRE ISSUE
January - February 2019