Nosler's Ballistic Tip Varmint
Rifle
|
Varmint Rifles & Cartridges Fall 2020
Loads for Woodchuck and Prairie Dogs
John Amos Nosler certainly made an indelible mark on the shooting world. After all, he's the godfather of premium projectiles as the creator of the Nosler Partition big-game bullet, but his name isn't highly associated with varmints or predators. That's sad, because it should be.
John Nosler was an avid varmint hunter and had a soft spot for the .22-250 Remington. He used varmint hunting as a great means of keeping sharp for the big-game seasons. Building on the success of his still fantastic Partition bullet, which solved so many problems for the big-game hunter, Nosler began working on a cup-and-core design focused on accuracy. His impact extrusion process revolutionized bullet manufacturing, and John soon had 1965's Zipedo bullet. Then he implemented the technique for the Partition in 1967, finally releasing the Solid Base bullet in 1972. Shortly thereafter, his excellent bullets became available to those who didn't handload their own ammunition, when in 1974 Federal Cartridge Company included Nosler's bullets in its Premium line. However, 1984 saw a huge addition to the Nosler lineup, the introduction of the Nosler Ballistic Tip bullet.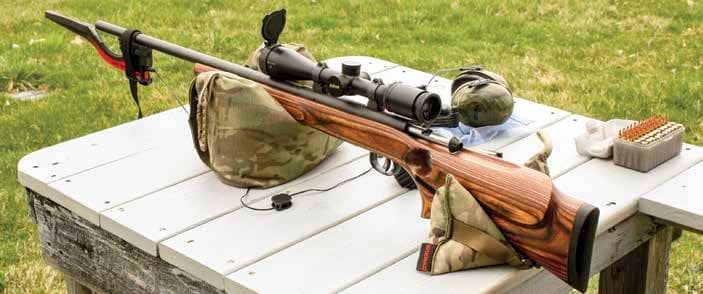 According to his autobiography, Going Ballistic, The Life and Adventures of John Nosler (2015), he was looking to improve on the Solid Base bullet and was equally inspired by the round polymer ball Norma used in its bullets and the shape and idea of the Remington Bronze Point. The premise of John Nosler's Ballistic Tip is simple: it is a cup-and-core bullet with a tapering copper jacket that thickens to a heavy copper base, complemented by a polymer tip that both resists deformation in the magazine as well as acting as a wedge to initiate expansion upon impact. The Ballistic Tip was, and still is, a huge success in the hunting world, providing excellent performance on deer and similar-sized game.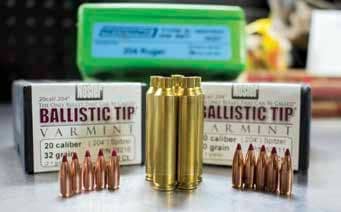 While the Ballistic Tip Hunting line, which is designed for deer, pronghorn antelope and similar-sized game and features a jacket thick enough to expand rapidly (at least in comparison to premium bonded core projectiles) yet give a bit of penetration in order to reach the vital organs and create a wide wound channel, the Ballistic Tip Varmint is the opposite. It is borderline explosive.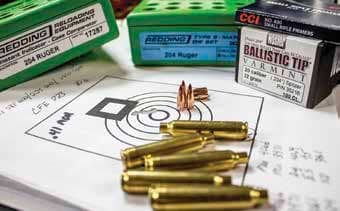 The Varmint's polymer tip and thin jacket provide immediate energy transfer while the thicker base can stand up to even the highest velocities. I've seen high-velocity cartridges spin jackets off of lead-core bullets, when the bullets were light-for-caliber and of low sectional density, but that hasn't happened with the Nosler Ballistic Tip Varmint. And when that bullet impacts a varmint, you'll know it!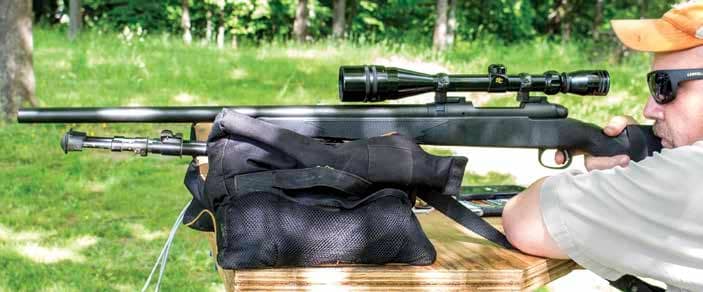 My father and I are business partners – we own a land surveying company – and our office is in the basement of his home. He lives in a very rural setting, so we have a 100-yard rifle range just out the back door, and he has his vegetable garden, which he takes very seriously. Living in a quiet, country setting affords many freedoms and also draws many nuisance animals. A vegetable garden, along with a healthy flock of laying hens, attracts all sorts of game, from foxes to raccoons to coyotes to red squirrels to the "Scourge of the Squash Patch," the woodchuck.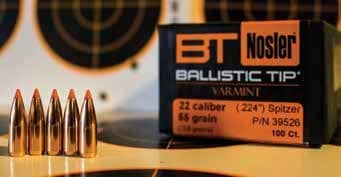 You can read up to 3 premium stories before you subscribe to Magzter GOLD
Log in, if you are already a subscriber
Get unlimited access to thousands of curated premium stories, newspapers and 5,000+ magazines
READ THE ENTIRE ISSUE
Varmint Rifles & Cartridges Fall 2020