MAKING SIMPLE TANG SIGHTS PART I
Rifle
|
November - December 2020
LIGHT GUNSMITHING
Project rifles that used simple tang sights (top to bottom): Stevens M44, Hopkins & Allen, Stevens M1915 Favorite action.
The reason for interest in tang sights may be debatable, but among collectors, it is certainly a rarity. The number of sporting rifles originally carrying tang sights is small, even though the top tangs of virtually all single shots and lever actions were drilled for such sights until at least World War II. Then too, many of these sights have been removed by later owners (easily seen by blue wear or missing plug screws) because they didn't understand the sight's proper use. I have even been told that some auction companies remove tang sights to sell as a separate "lot," putting profit ahead of preserving a historical artifact. It seems humans are continually finding new ways to demonstrate their ignorance.
Then there are single-shot target/match rifles. One of these on a gun show table will cause everyone walking past to stop for a look. Even if the rifles have no engraving or fancy wood, their styling is much more than simply "form follows function." German and Swiss Schüetzen rifles, 1,000-yard, black-powder target arms, American 200-yard offhand rifles and .22 rimfire gallery rifles have an attraction that many feel but can't describe. Perhaps it is that these objects evoke an earlier time when we made beautiful things; buildings, furniture, art and, yes, firearms. This is far different from today when our progeny strives for meaningless college degrees, during which they are taught that it grants them the right to dismantle and destroy.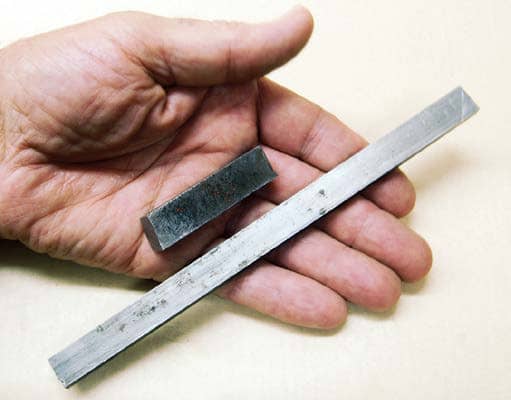 Work begins with a couple pieces of scrap steel.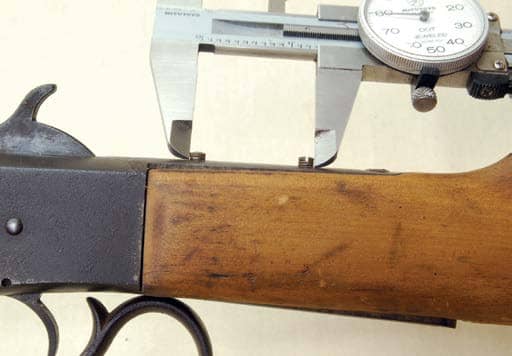 To determine base screw spacing, back out the plug screws a bit, measure across them, then subtract one screw diameter.
Our interest here is another rifle that could use a tang sight – the inexpensive .22 rimfire single shot of other than a bolt action. These sights, however, were nothing like the precision variety used on target and centerfire hunting rifles. Instead, designs were simple in the extreme, machining quite crude and parts sometimes were sheet metal stampings. Makers of the rifles seem to have also made the sights, so there are lots of them.
It may seem strange that anyone purchasing a cheap .22 rimfire would want to add the cost of another sight, but the owners knew exactly what they were doing. It is folks today who don't understand the purpose of a tang sight on hunting rifles.
You can read up to 3 premium stories before you subscribe to Magzter GOLD
Log in, if you are already a subscriber
Get unlimited access to thousands of curated premium stories, newspapers and 5,000+ magazines
READ THE ENTIRE ISSUE
November - December 2020