Lock, Stock & Barrel
Rifle
|
Nobember - December 2018
Scoped bolt-action sporters weighing less than 8 pounds are often referred to as being light in weight, possibly because many older (and some not so old) hunters prefer their hunting rifles to weigh roughly 8 pounds. However, when a scope is mounted to many rifles – particularly aged models – they weigh more than people think.
Consider, for example, a common Ruger Hawkeye .270 Winchester with a walnut stock and 22-inch barrel listed by its manufacturer at 8 pounds. Add to it a typical modern hunting scope like a Vortex Viper HS LR 4-15x 50mm (21.4 ounces) along with rings tall enough to accommodate the large scope, and the end result is a weight of more than 9 pounds! Having pursued game in Russia, Africa, South America and most of North America, plus having tested factory loads and handl oads mainly with bolt guns for nearly 30 years, I have come to generally prefer a scoped hunting rifle that weighs less than 8 pounds, depending on the cartridge.
As it goes with lightweight bolt actions, or any rifle type for that matter, at times, both in conversation and in print small differences that amount to mere ounces feed tenuous discussions. One side is adamant that "too-light" rifles – whatever that means – just do not shoot as accurately as "standard-weight" rifles – again, whatever that means. Additionally, three- or five-shot groups from a sturdy bench and sandbags at 100 yards are the demarcation by which all accuracy is judged, rightly or wrongly. This point of view, based only on shooting range results, does not easily transfer to the field, where a one- or 2-inch circle or diamond is not stapled to the side of a coyote, deer or wildebeest.
Furthermore, what these debates seem to ignore is that some hunters are not likely to ever shoot a flyweight rifle quite as well as they do one weighing about 8 pounds, either in the field or from a bench. This situation is about like that of two young infielders who can play a full season without an error, but only the young man who can occasionally drive fastballs over the centerfield fence winds up on the high school junior varsity team.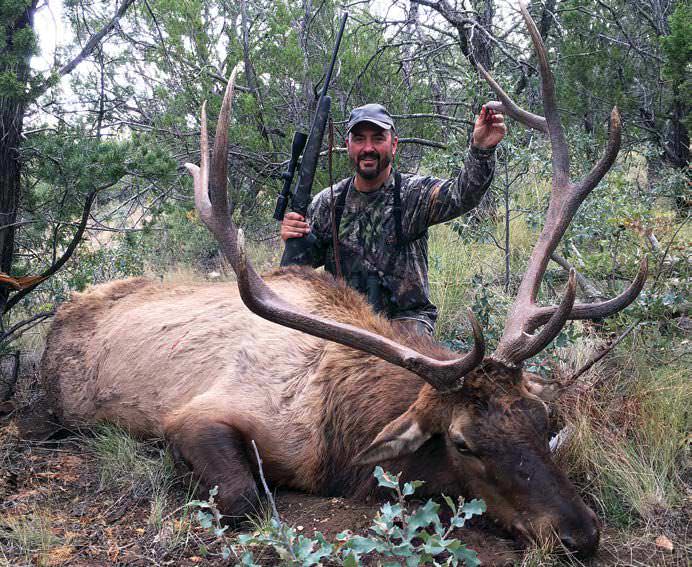 You can read up to 3 premium stories before you subscribe to Magzter GOLD
Log in, if you are already a subscriber
Get unlimited access to thousands of curated premium stories, newspapers and 5,000+ magazines
READ THE ENTIRE ISSUE
Nobember - December 2018