Lever-Action Fun
Rifle
|
Varmint Rifles & Cartridges Fall 2020
Versatile Handloads for Small Game
A traditional lever-action cartridge is less than an ideal choice for coyote hunting or any shooting requiring an extended reach, with its relatively low chamber pressure and blunt-nosed bullets required for its magazine. But it would be a shame to leave a lever-action home during an outing. Working the action is part of the enjoyment of shooting a rifle. A lever-action rifle amplifies that pleasure with a "click" as the locking lugs disengage and the bolt slides back to cock the hammer, a clack as a cartridge emerges from the magazine and lifts into alignment with the chamber and the slick bolt going forward to chamber the cartridge.
Some homework may be required to develop a suitable small-game load with a lighter-weight bullet for lever-action rifles. Keep in mind, a light bullet fired at a relatively higher velocity most likely hits higher than standard-weight bullets. A rifle with a rear aperture sight with plenty of vertical adjustment, or a scope, can easily be adjusted to compensate for that difference. Many older lever-action guns came with a rear sight that provided multiple sighting options, such as the Winchester three-leaf "express" or the Lyman Model 21 rear aperture sight on one of my Winchester Model 94 carbines. However, ordinary open sights may not have enough adjustment. Installing a taller front sight does lower bullet impact. But it is simpler to juggle bullet weight and also powder charge weight that can alter trajectory to mesh with open sights.
Let's discuss handloading four cartridges linked to lever-action guns to see how they can be kept in the field and shooting all year.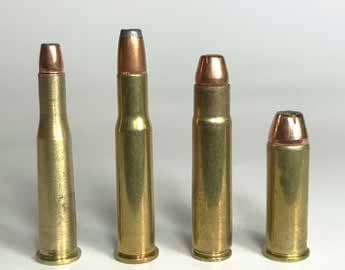 .25-35 Winchester
I inherited my Winchester Model 1894 .25-35 Winchester from my grandmother, who kept the little rifle on her homestead during the early 1900s. To remember those who have passed on, I've carried the Winchester while hunting white-tailed deer in the timber. The load for that hunting consists of Hornady's 117-grain InterLock round nose fired at 2,294 fps from 28 grains of CFE 223.
The rifle, though, is shot mostly at ground squirrels (gophers), and lighter bullets like the Hornady 60-grain FP and Speer 75-grain FN work best for that. These bullets are mainly intended for reloading the .25-20 Winchester, but they shoot great when loaded in the .25-35. I don't crimp case mouths in the crimping cannelure of either bullet because recoil is so light the bullets did not move during recoil. Instead, both bullets are seated so most of their shank is inside the case neck. Both bullets are way short of contacting the start of the rifling in the Model 1894. Yet cartridges easily cycle from the magazine, chamber smoothly and produce good accuracy.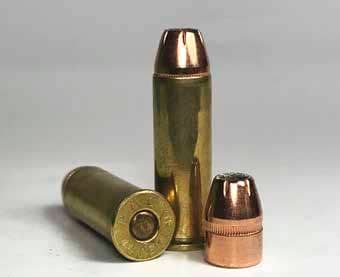 The Hornady 60-grain bullet shoots accurately with powders with burn rates from Benchmark on the fast side to IMR-4320 on the slow end. A favorite handload is 31.0 grains of Varget that fires the 60-grain bullet at 2,847 fps from the carbine's 20-inch barrel. One summer day, I shot about a hundred of these handloads that sent gophers winging their way upward to that clover field in the sky.
Speer 75-grain FN bullets and LEVERevolution powder are a great pair handloaded in the .25-35. I recently shot five, three-shot groups at 50 yards with my Model 1894 shooting this handload. The first three bullets formed a .74-inch group, and subsequent groups measured 1.33, 1.90 1.20 and 1.74 inches.
You can read up to 3 premium stories before you subscribe to Magzter GOLD
Log in, if you are already a subscriber
Get unlimited access to thousands of curated premium stories, newspapers and 5,000+ magazines
READ THE ENTIRE ISSUE
Varmint Rifles & Cartridges Fall 2020