Hunting with Suppressors
Rifle
|
Varmint Rifles & Cartridges Fall 2020
Taming the Loud Boomers
Not so long ago, it was common to encounter even decided shoot-ers who believed suppressors were illegal. Today, more shooters are investing in suppressors and enjoying hearing-protection free shooting. First-time buyers soon discover intentional hurdles have been tossed in their paths. Large among these is a $200 "tax stamp" added atop the retail price of an already expensive suppressor.
Why $200? When the 1934 National Firearms Act (NFA) was enacted by Democrats, this sum represented about $3,850 adjusted to 2020 inflation. This was devised to monetarily discourage ownership, ironically allowing only bootleggers and organized crime figures to afford them; characters the legislation was purportedly devised to thwart.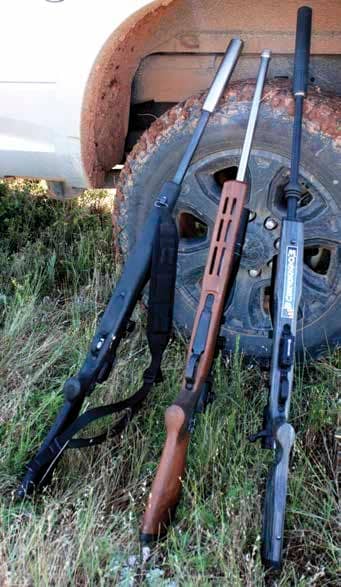 I'll not waste space covering procedural details here, as your dealer will walk you through each step. In basic terms, you'll first purchase your suppressor from a federally-licensed dealer, as its serial number is required on federal paperwork. The "can" remains in the dealer's safe after submitting your application. Paperwork includes Form 4 filled out in triplicate, three passport photos, official fingerprint cards (produced by your county sheriff) and a check for $200, payable to Federal Bureau of Alcohol, Tobacco, Firearms and Explosives (BATF). You then await approval. By any reasonable metric in a computerized world, this would require a month to complete. In the universe of federal bureaucracy, nine to 14 months is required. Suppressors can also be placed in a trust, allowing transfer between assigned trustees, who must also pass background checks.
Suppressors are currently legal in 42 states. The nine excluded from the list are dominated by politicians inclined to restrict Constitutional rights – California, Hawaii, Illinois, Massachusetts, Minnesota, New Jersey, New York, Rhode Island and Vermont. There were recent rumblings of making suppressor ownership no more difficult than passing a gun purchase National Instant Criminal Background Check Systems (NICS) check. Sadly, bill-friendly congressional RINOs (Republicans in Name Only) developed cold feet following the mass shooting in Las Vegas in 2017 and the mainstream media's labeling the legislation "The Assassin's Bill," in the same way AR's became "weapons of war." There weren't enough votes to justify moving the bill forward and it quickly faded away.
Fact & Fiction
Suppressors aren't silencers. They are more accurately mufflers, invented by the same fellow who brought us auto mufflers, Hiram Percy Maxim. Don't expect James Bondlevel silencing, though subsonic ammunition comes close, which few serious varmint shooters use due to rainbow trajectories. Quality suppressors muffle powder combustion but have no influence over the distinctive crack resulting when bullets break the sound barrier, which normally occurs 50 to 80 yards away from the shooter, making it less irritating. The real-world implication is that shooting loud varmint rifles requires, at most, plug-in "foamies" instead of sweaty ear muffs or expensive gel plugs.
My varmint rifles typically featured muzzle brakes due to my penchant for high-magnification scopes. Even tiny degrees of muzzle jump made marking shots difficult. Brakes tame scope movement but also introduce obnoxious muzzle blast. My 6mm Remington rockchuck rifle and bottleneck-cartridge T/C pistols, in particular, induced migraines after shooting too many rounds. Suppressors provide muzzle brake action (about 65/75 percent effect of best-quality brakes) while eliminating head-crushing muzzle blast.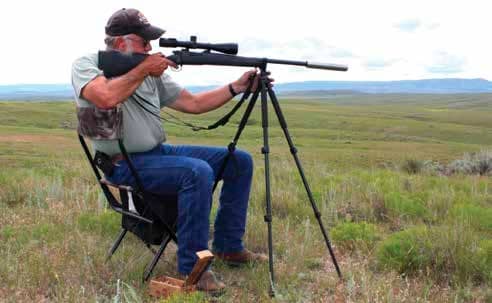 Concerns
The ability to disassemble suppressors for cleaning is vital with rimfire "cans," as .22 LR powders, in particular, are downright dirty. Even with centerfire cans, I prefer segmented designs or removable baffles/ mono-cores to better facilitate eventual cleaning.
You can read up to 3 premium stories before you subscribe to Magzter GOLD
Log in, if you are already a subscriber
Get unlimited access to thousands of curated premium stories, newspapers and 5,000+ magazines
READ THE ENTIRE ISSUE
Varmint Rifles & Cartridges Fall 2020