High Velocity .22 Long Rifles
Rifle
|
Varmint Rifles & Cartridges Fall 2020
A Survey of Speedy Little Bullets
The .22 Long Rifle (LR) is an old design of a self-contained cartridge with a bullet the same diameter as its case, a priming mixture in the rim and originally loaded with black powder. But over the decades since this rimfire cartridge was introduced in 1887, it has evolved into a highly developed sporting cartridge that is the foundation of shooting sports. It refines shooting skills in the field, teaches bullet trajectory and wind drift and is deadly on small game, all for pennies a shot.
The .22 LR completed a smooth transition from black to semi-smokeless to smokeless powder. The 22 LR's case capacity to hold bulky black powder left it with plenty of room to accept new powders for increased velocity. Remington introduced the first high-velocity load in 1937, which fired a 40-grain bullet at about 1,250 fps.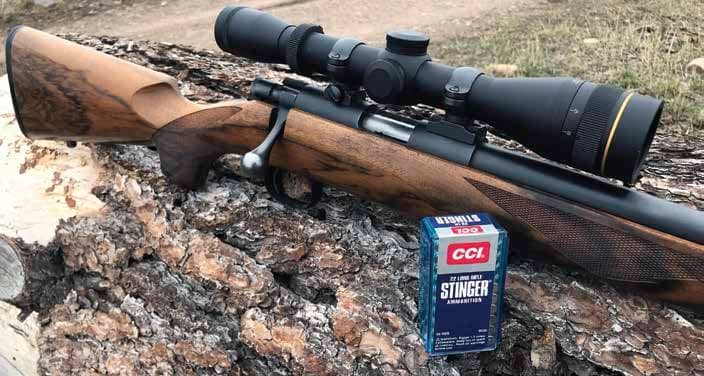 CCI took the .22 LR a step further in 1997 when it introduced its Stinger, which has a case about .10 inch longer than a regular LR case. With the extra powder the case holds, together with a lighter weight 32-grain bullet, the Stinger was the velocity champion of .22 LR with a stated velocity of 1,640 feet per second (fps). Over the years Remington countered with its 33-grain Yellow Jackets at 1,500 fps and 36-grain Vipers at 1,410 fps and Federal with its Hyper Velocity 31-grain bullet at 1,550 fps. CCI answered with its Quik-Shok (now called the Segmented Hollow Point) that uses the Stinger's longer case and a 32-grain bullet at the same velocity, but with a bullet that splits into three pieces on impact.
Winchester's Varmint High Energy loads fired a 37grain HP bullet at 1,400 fps that also splits into three pieces. For those shooting in lead-free zones, Winchester's Varmint Lead Free load fires a 26-grain tin HP bullet at 1,650 fps. CCI put some weight into its Velocitor .22 LR that uses a standard LR case and fires a 40-grain bullet at a stated muzzle velocity of 1,435 fps. Aguila's Super Maximum, shooting a 30-grain HP bullet at 1,700 fps and Winchester's Varmint lead-free 26-grain Tin HP at 1,710 fps are the current kings of speed.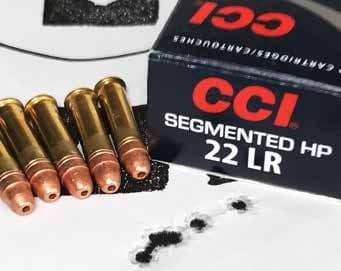 These hyper-velocity loads provided somewhat to substantially higher velocities than regular high velocity LR ammunition shot from rifles. That increased velocity resulted mainly from bullets weighing three to five grains less than regular hollowpoint Long Rifle loads. The higher price and somewhat reduced accuracy of these fast LR cartridges, compared to regular LR loads, pretty much relegates them to small-game hunting. That's just fine, because the slightly flatter trajectory and powerful bullet expansion of these loads are just what's needed for hunting small game like prairie dogs and ground squirrels (gophers) and even larger marmots.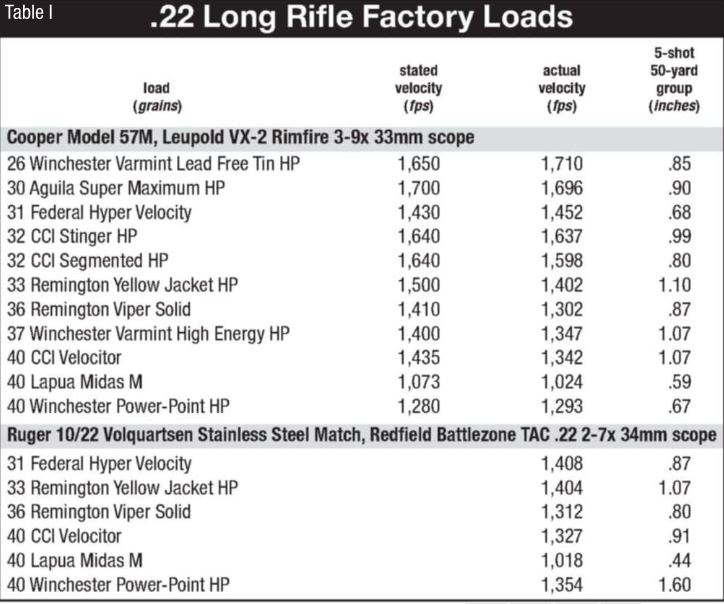 You can read up to 3 premium stories before you subscribe to Magzter GOLD
Log in, if you are already a subscriber
Get unlimited access to thousands of curated premium stories, newspapers and 5,000+ magazines
READ THE ENTIRE ISSUE
Varmint Rifles & Cartridges Fall 2020