FOR WANT OF ONE MORE ROUND
Rifle|July - August 2020
LIGHT GUNSMITHING
Many hunters today use single shots and even
classic doubles in the pursuit of non-dangerous big game. These folks consider such rifles entirely adequate and much easier on the eye than modern designs.
Despite this knowledge, some hunters use spandex gadgets stretched over the buttstock that hold an extra couple of rounds. Others have been known to carry spare cartridges between the fingers of their forward hand, or clinched in their teeth just in case. This seems a bit silly when in 99 percent of hunting situations involving non-dangerous game, there is only time to fire one or maybe two rounds.
Surprisingly, some people who hunt with bolt guns also feel the need for more ammunition readily at hand. This should be easy. Just buy a new rifle with detachable tin or plastic magazines. While these are available holding all the rounds we will likely fire in a lifetime of big-game hunting, they are not the solution. What is really wanted is just "one more round."
This desire to add an extra round to the magazine capacity of common bolt guns seems to be caused by the last 50 years or so of cartridge development. Newer cartridges often use larger diameter bases (heads) than the common .30-06. However, most all bolt-action military and sporting receivers for the last 120 years have been proportioned for the old '06 or 7.9x57mm. If these are then rebarreled to a Remington Short Action Ultra Magnum, Winchester Short Magnum, etc., the larger diameter case means one less cartridge will fit in the magazine. Custom riflesmiths, being a very astute bunch, picked up on this and had the problem solved even before rifle owners knew it was something that might need fixing. The solution was making a new, deeper magazine box which, when requiring a one-piece box/trigger guard (as most all military actions did) necessitated starting with one heck of a big piece of iron and a lot of expensive machine work. Then a new stock had to be made that was deeper in the magazine area, longer guard screws produced and a spacer welded in the shaft on which the trigger finger piece was attached to make it reach down farther, all in all a costly project even when starting from scratch.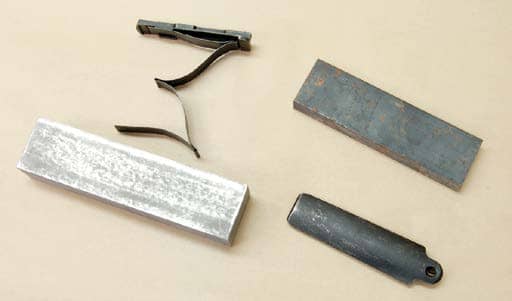 You can read up to 3 premium stories before you subscribe to Magzter GOLD
Log in, if you are already a subscriber
Get unlimited access to thousands of curated premium stories and 5,000+ magazines
READ THE ENTIRE ISSUE
July - August 2020