Alexander Arms Hunter New Rifle in 6.5 Grendel
A half-dozen years ago, I drove down to Mississippi to take part in my first serious pursuit of feral hogs. In the past, I have hunted them, one at a time, here and there, using everything from a S&W .41 Magnum to a light-loaded .450 Ackley. Since then, hogs have become a pest of such monumental proportions that landowners are using everything from helicopters to machine guns to reduce the numbers. To put it mildly, the gloves are off.
What I found when I reached the Mississippi Delta, however, was still a surprise: To a man, the feral-hog hunters were dressed head-to-toe in camouflage, faces painted, and all carried AR-15s ranging from what appeared to be standard military issue to the most exotic custom jobs arrayed with Picatinny rails, night-vision scopes and tactical flashlights. Most of them had 30-round magazines, taped together like we used to do with magazines for the Sterling submachine gun. We slept by day and hunted by night, and there were no holds barred.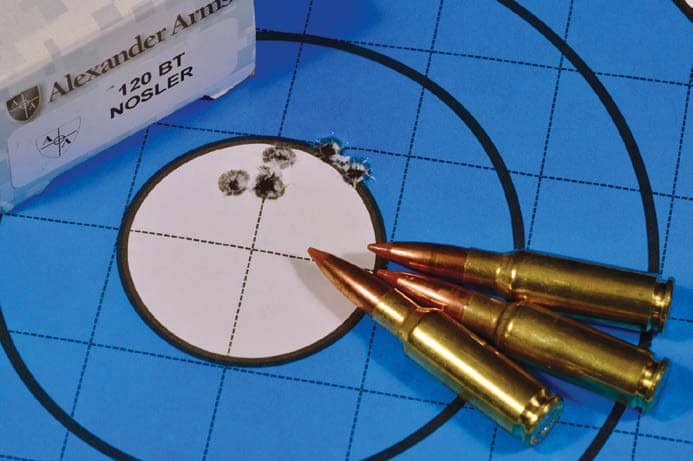 When I got home, I contacted Alexander Arms and asked if I could get a couple of its AR variants to try. The company sent two – one in .223 Remington, the other in its own nifty little .26-caliber 6.5 Grendel. Both had the usual complement of Picatinny rails, no iron sights, and collapsible buttstocks. Both worked well, were more than adequately accurate with factory ammunition and functioned the way a tactical semiauto should. Neither, however, stole my heart.
Long before that, I was involved in a project for the 50th anniversary of another magazine, and had the bright idea that an AR could be fitted with a nice walnut stock and made to fit the image that the National Shooting Sports Foundation (NSSF) wanted to present: what it calls a "Modern Sporting Rifle." With that in mind, I put together a little consortium that consisted of a gunsmith, a stock maker, a supplier of high-quality walnut and a maker of basic ARs.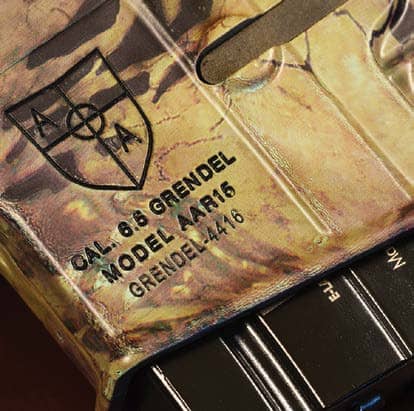 Together, we created an AR in the image of a traditional custom hunting rifle. The bluing was beautiful, the walnut was stunning, the overall effect exactly what we were aiming for, and it graced the cover of the 50th anniversary issue. The rifle was then donated to the NSSF to be auctioned off, with the proceeds going into its rifle defense fund.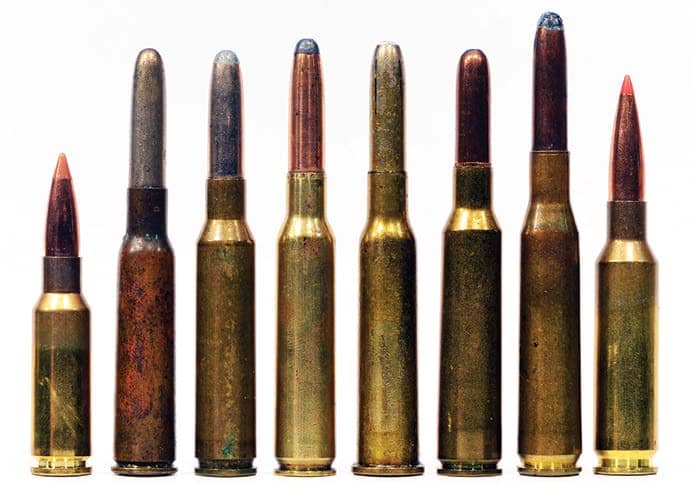 If I expected that example to cause a rash of wood-stocked ARs to flood the market, with rifle makers hollering "Eureka!" I was wrong. That was 10 years ago, and in the ensuing decade not a single wood-stocked AR did I see.
Not, that is, until I visited the Alexander Arms booth at the 2019 NRA convention, to find not one but two rifles – one stocked in nice walnut and the other in a wood laminate. Another variation was fitted not with wood, but with one of the nicest camouflage flavored composite stocks I've seen in a long time. These days, more new hunting rifles come stocked with composite than wood, so that was no surprise. However, this particular composite stock has been designed and refined with the demands of hunting in mind.
You can read up to 3 premium stories before you subscribe to Magzter GOLD
Log in, if you are already a subscriber
Get unlimited access to thousands of curated premium stories, newspapers and 5,000+ magazines
READ THE ENTIRE ISSUE
March - April 2020