A Rifleman's Optics
Rifle
|
Nobember - December 2018
Today it's quite possible to buy a scope that costs three times or more than the price of the rifle it will be mounted on.
Money may buy peace of mind as far as a scope's dependability and performance are concerned, but a bargain-priced scope is sufficient for most shooting and hunting. The Konus line of target and hunting scopes includes nearly 30 options from a basic 4x32, to 1-4x 24mm and 12.5-50x 56mm models that sell for a modest price. I've been using a Konuspro LZ-30 2.5-10x 50mm scope on a Savage Model 10 .223 Remington. One Internet site listed the Konus scope for $199, which is about half the price of the Savage rifle.
The Konuspro is a big scope with a weight of 22.5 ounces and a length of 12.9 inches. High rings are required for its 50mm objective lens to clear a rifle barrel. With the scope in Konus' clamp-on, one-piece rings and bases, the whole outfit weighed 2 pounds.
The scope has a couple of unique features. Its 30/30 reticle consists of thick lines that thin out while leading toward a "floating" illuminated cross at the center. The center of the cross fits in a .5-inch square at 100 yards with the scope set at 10x. A dial on the left side of the 30mm main tube houses a battery to illuminate the cross portion of the reticle. The dial has five intensity settings each for red or blue; red showed up well during full daylight. The plain cross center of the reticle disappeared in dim light, but the blue illumination made it visible.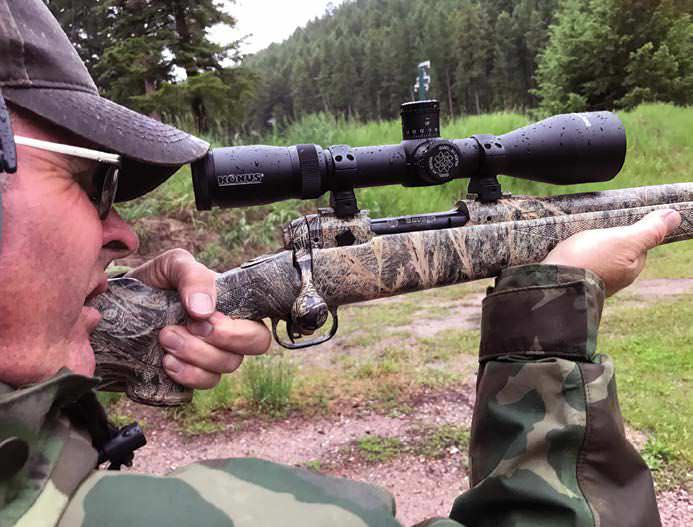 You can read up to 3 premium stories before you subscribe to Magzter GOLD
Log in, if you are already a subscriber
Get unlimited access to thousands of curated premium stories, newspapers and 5,000+ magazines
READ THE ENTIRE ISSUE
Nobember - December 2018