50 Years of Single-Shots
Rifle
|
January - February 2019
In the fall of 1968 in Huntington, West Virginia, a local store with a huge gun department became my "safe space."
It had everything in stock that I had never seen in my small, coal mining hometown. Its inventory included everything from bullet moulds to "elephant rifles." For someone who was already nearly obsessed with casting bullets and loading my own ammunition, there was a magazine on the counter of which I had never heard. It was Handloader by Wolfe Publishing, and I was hooked.
Halfway through the school year another magazine appeared, Rifle. Although I had been avidly reading gun magazines since 1962, these two magazines seemed to be a cut above. Instead of scratching the surface, the articles were longer with more "hands-on" information. For perspective, that first issue contained an article on the introduction of Ruger's first bolt-action rifle, the Model 77. It was priced at $160 plus $15 more if barrel sights were desired. Two of the staff writers listed in that initial issue of Rifle were John Wootters and Ken Waters. I would not presume to say that in my career I became friends with those men, but I was certainly on friendly terms with both. Handloader and Rifle were printed on alternate months, were very addictive and almost never encountered on newsstands or bookstores in those days.
At the time of Rifle's introduction, there was actually very little in the way of a single-shot rifle scene among American riflemen. For example, in issue No. 2 (March/April 1969) Bob Hagel wrote a feature, "Bolt, Auto or Lever," but no mention was made of single-shots. The reason for their exclusion most likely was due to the fact that there were almost none to compare with other modern hunting rifles. The Ruger No. 1 was on the market, and of course it was meant primarily for modern hunters of both big game and varmints. In fact, issue No. 2 contained a Ruger advertisement listing them at $250. Even back in those days, a secondary hobby for me was studying U.S. military history and weaponry. Therefore, I took special interest in Al Miller's piece in issue No. 8 (Nov/ Dec 1970) concerning "trapdoor" Springfields.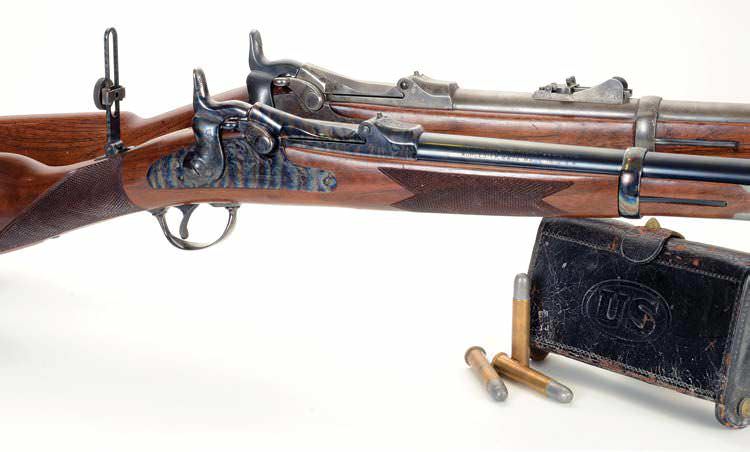 Somewhere along the way a seed had been planted in my young mind and turned into a desire for exposed hammer, single-shot rifles, but alas there were none of new manufacture in the marketplace. In issue No. 13 (Jan/ Feb 1971) a full-page Harrington & Richardson advertisement depicted its new trapdoor Springfield in the Officer's Model configuration. Of course, its caliber was .45 Government (.45-70). The ad showed a gussied-up version with a tang sight, pewter forend, checkering and some engraving. My desire was for the everyday trapdoor in the carbine style with which H&R soon followed. In 1972 I bought the first one encountered, but it was sold in the later '70s after an original Model 1873 trapdoor carbine was purchased.
By 1974 I was living in Montana and fell in with some varmint shooters. With my fondness for single-shot rifles, I bought my first Ruger No. 1. It was a .22-250 and was a contrary beast in that it was erratic. A very fine MOA group was often followed by one ranging up and down 4 inches. It didn't matter what load combination was used, so I referred back to Rifle No. 4 (July/August 1969). In it was an article by Robert Reagan on tuning the Ruger No. 1. Following information garnered there, I at least got my rifle shooting well enough to use on varmints.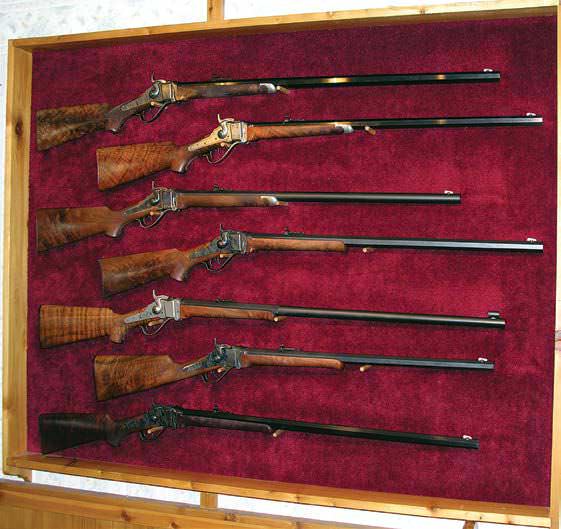 You can read up to 3 premium stories before you subscribe to Magzter GOLD
Log in, if you are already a subscriber
Get unlimited access to thousands of curated premium stories, newspapers and 5,000+ magazines
READ THE ENTIRE ISSUE
January - February 2019