.250 Savage Ackley Improved
Rifle|Varmint Rifles & Cartridges Spring 2020
Loads for a Classic Cartridge
The .250 Savage Ackley Improved rifle used in this test was a rebarreled Remington Model 700 short action featuring a sporter weight Shilen barrel. It has a 1:10 twist that stabilized even the 115-grain Berger.
It could easily be argued that the first "Creedmoor" cartridge distantly predates the current 6mm and 6.5mm versions that have become so wildly popular. The .250 Savage Ackley Improved (AI) might just as well be called the "6.35mm Creedmoor."
There was a recent post on an online shooter's site where someone asked what led to the explosion in popularity in the 6.5mm, especially the 6.5 Creedmoor. In some ways, it was driven by the same criteria that led to the development of the .250 AI by rifle fanatics of a different generation.
In both circumstances, the rounds were developed utilizing the highest and best technology available in their era. It is easy to understand why the 6.5mm (.264 inch) bullet was used for the first Creedmoor rounds of this generation: There were already long, heavy-for-caliber, high ballistic coefficient (BC) bullets and fast twist rifle barrels available in this caliber.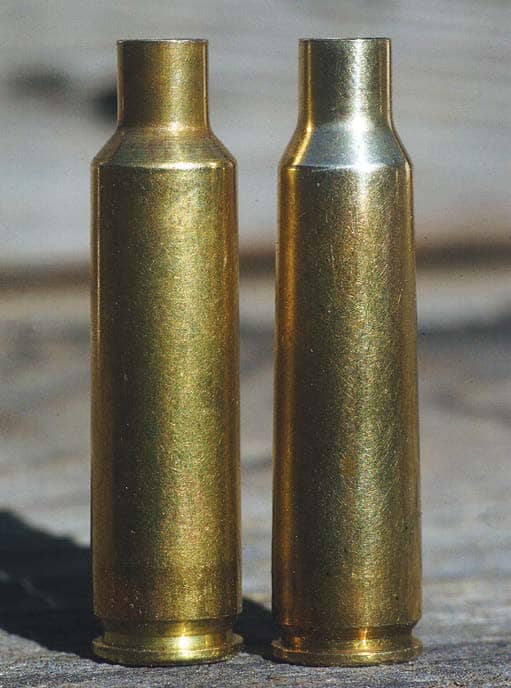 The .250 Ackley Improved (left) is shown next to its parent case. The improved version increases case capacity by about 14 percent by eliminating nearly all body taper and sharpening the shoulder to 40 degrees.
But in the 1930s, 40s and 50s, a 1:10 twist barrel on the .25-caliber round was optimizing what was currently available at the time. This was largely the pre6mm/6.5mm era, and the .25 caliber had the most readily available aerodynamic bullets of the day (spitzers, even some with boat-tails) up to 120 grains. These would stabilize in those common 1:10 barrels of that era. The .25-caliber bullets also spanned the spectrum from light slugs designed for varmints to heavy big-game bullets with high (for that era) BCs that were effective on game.
This was the time when riflescopes were just becoming common among hunters. They were looking for cartridges that could take game as far as they could see them clearly in their new riflescopes, and they wanted the least amount of bullet drop possible so they could make hits at 200 to 350 yards – maybe even 400 yards if they had a good rest and had done a lot of shooting.
High velocity became king in that era because speed flattened trajectories. It was a world before rangefinders. A guess of 250 yards and where to hold on that distant coyote was less critical if the rifle was a flat shooter. If the dog was actually at 310 yards, bullet trajectory was contained in a chest cavity if the shooter could guess range within 75 to 100 yards. Speed ruled over BC out to 400 yards. High velocity of that era was something over 3,000 fps, and increasingly over that figure as the years rolled forward.

The .250 AI case can be made from the (1) 6.5 Creedmoor, (2) 6mm Creedmoor, (3) .250 Savage or the (4) .22-250. All can be made without the use of special form dies and require only neck sizing and fireforming.
This criteria is what eventually made the .257 Roberts and .25-06 factory rounds so popular with hunters of that time. They all kicked less than equivalent guns, even less than the wildly popular .270 Winchester, and they could be reliably used to hit and kill game with shots at more distant ranges. This was also a time when a lot of hunters were "one-gun guys," so a rifle that was as good for varmints and big game was a plus.
The .250 Ackley Improved was a multi-purpose round, and it was taking advantage of the latest technology. Its parent case was the gee-whiz cartridge of the shooting world when the .250 Savage was announced in 1915. It had a staggering velocity of 3,000 fps. The .250 AI kicked that speed up, reaching about the maximum velocity obtainable in the .25 caliber with powders of that era.

Bullets used to test the .250 AI: (1) Sierra 70-grain BlitzKing, (2) Hornady 75 V-MAX, (3) Speer 75 FP, (4) Nosler 85 Ballistic Tip, (5) Combined Technology 85 Ballistic Tip (made by Nosler), (6) Speer 87 TNT, (7) Sierra 90 BlitzKing, (8) Barnes 100 TTSX, (9) Hornady 110 Hornady ELD and the (10) Berger 115-grain VLD Hunting.
You can read up to 3 premium stories before you subscribe to Magzter GOLD
Log in, if you are already a subscriber
Get unlimited access to thousands of curated premium stories and 5,000+ magazines
READ THE ENTIRE ISSUE
Varmint Rifles & Cartridges Spring 2020