.22 LR RUGER CHARGER SUPPRESSED
Rifle
|
Special Edition Fall 2020
Ruger's 22 Charger rimfire pistol – based on Ruger's 10/22 action – was introduced in 2007 and included an attractively-sculpted, black-laminated, pistol-gripped stock. Sturm, Ruger & Company's semiautomatic 10/22 is one of the most popular .22 Long Rifle (LR) firearms of all time. They're affordable, incredibly reliable, include a compact 10-round rotary magazine and a modular design.
Ruger's original 10/22 Carbine model has been in continuous production since 1964, with millions of rifles sold. The design was so solid, so popular, that 10/22 clones eventually emerged, including Thompson/Center's recent T/CR22 and high-end wares from Volquartsen and Tactical Solutions.
The original 22 Charger, with a matte-blued, heavy 10-inch barrel, factory-supplied bipod and Weaver-style scope mount, measures 20 inches from muzzle to pistol grip. This is relatively long as pistols go, but still compact enough to make it pretty handy. Its autoloading action and detachable magazine separated from the grip make it illegal in some states, so check local regulations on this one. The 22 Charger was later discontinued, but was rereleased in 2014 with a brown-laminated stock and an AR-style pistol grip, 10-inch threaded barrel, Picatinny rail, 15-round magazine and an adjustable bipod (also a Takedown version). Black polymer stocks appeared in 2015.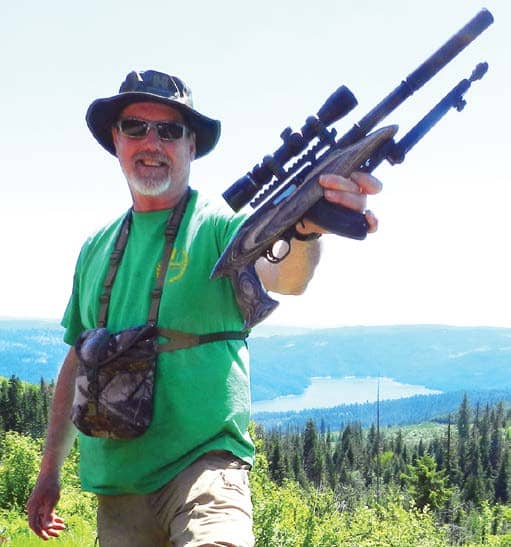 My Charger is a mixture of old, new and aftermarket parts. It includes the original black laminated wood stock, inarguably the most aesthetically pleasing of all incarnations. This includes an ergonomic pistol grip carved into the one-piece stock, instead of the added industrial-like AR-style grip. The introductory grip design includes a 360-degree flared base which provides a comfortable hold and a more positive rest base. The forend is a "Barracuda" style, with very little of the barrel contacting the stock. I replaced the original 10-round box magazine with a Ruger BX-15 15-round version found on more recent models (purchased as an aftermarket part), and the factory trigger group with Timney's smoother, 3-pound offering. Before the second round of load testing, a Little Crow Gunworks' GRX Recoil Lug was added.
The first major alteration involved replacing the non-threaded, 10-inch factory barrel with Adaptive Tactical's threaded Tac-Hammer barrel. This also allowed replacing the Weaver scope base with an Ad-Tac "cantilever" Picatinny rail secured into solid steel at the barrel base instead of the aluminum receiver taps, which are notoriously prone to stripping. A LimbSaver True-Track Bipod remains an essential part of enjoying this pistol's full potential, as Chargers don't lend themselves well to offhand shooting.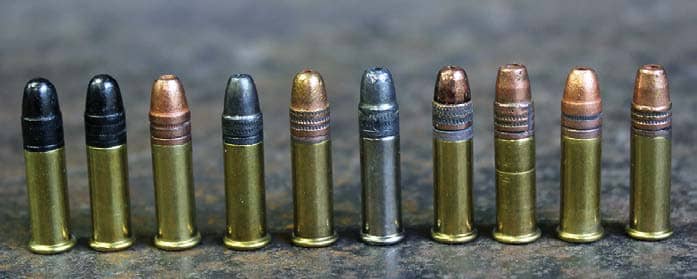 Tac-Hammer barrels generally offer accuracy enhancement over factory versions. The Rigid-Core Barrel design provides the larger diameter and stiffness of a .920-inch bull barrel but without added weight, a stepped, chromoly-steel barrel with heat/rustresistant coating held inside a post-tension and a 6061 aluminum shroud with a durable Cerakote finish. The barrel features a 1:16 twist, and the muzzle (supplied with 6061 aluminum, color-matched Cerakote compensator) includes standard ½x28 threads. It measures 9 inches without the compensator and 10.125 inches with it. My rimfire suppressor brings overall length to around 14 inches.
Tac-Hammer barrels include Bentz Chambers, making them incompatible with non-standard CCI Stinger and Quickshok ammunition with their slightly longer cases. The tight Bentz Chamber is part of the accuracy enhancement offered, but it requires more frequent cleaning during high-volume shooting. I generally pull a bore snake through the barrel three times for every 100 rounds when hunting ground squirrels. For final testing, the fixed 4x scope was replaced by a Burris 2-7x 32mm Handgun Scope, bringing finished weight to 5.68 pounds.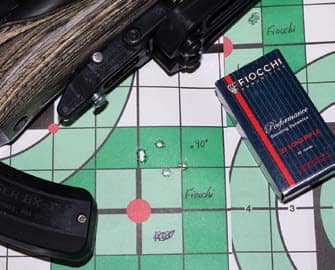 You can read up to 3 premium stories before you subscribe to Magzter GOLD
Log in, if you are already a subscriber
Get unlimited access to thousands of curated premium stories, newspapers and 5,000+ magazines
READ THE ENTIRE ISSUE
Special Edition Fall 2020