Rule The River
Pole Fishing
|
November 2017
Returning to an old childhood haunt, Maver UK-backed Ed Warren revisits a stretch of the Warwickshire Avon in Stratford to see how things have changed in the last 20 years.
Having fished this stretch hundreds of times as a child Ed thought it would be great to return to see how the fishing had changed. After chatting with his good friend and team-mate Darren Cox he assured us that this stretch was now in phenomenal form for catching a mixed bag of roach and perch, with even the chance of the odd bream or even a rogue carp! Over to Ed…
On arriving at the peg the river looked low and clear, and having fished this same river in the Evesham area for most of the summer I was worried that big pike may become a nuisance by targeting the resident roach, so I thought a 'play it safe' option would be the best approach.
On setting up I opted for just two lines, keeping it simple – one longer line at 13.5 metres and the other at closer quarters, six metres.
KICK-OFF
On starting off the lines I opted to ball it with a ground bait and soil mix made up of one bag of Sensas Gros Gardons, one bag of Sensas Canal Fine Mouture and approximately 3kg of good old molehill soil. My thinking was that this would be the hotspot for roach; to catch early on pinkies, then later on with hemp. Then the shorter line was treated to a bait dropper of maggots to catch perch and anything else that came along.
BALL IT
In the initial mix for balling I measured out six litres of the ground bait mix, then added a quarter pint of casters, 100ml of chopped worms, a quarter pint of hemp and a few dead pinkies to make 12 good sized balls.
Knowing the fish would sit right on top of the feed and with the river flowing slowly because of the low conditions I fed the balls downstream, to allow the rig to have time settle properly rather than feeding straight in front of myself.
THE BAIT DROPPER LINE
I've opted for the smallest sized bait dropper available to allow me to only feed around 50 maggots at a time. The beauty about fishing with a bait dropper is that you can simply attach it to the rig you're fishing with in order to feed. Nice and simple.
START
After the initial bombardment it was clear a massive shoal of bleak had arrived on the surface to eat any small particles that had come off the balls, and then all of a sudden a pike decided they were easy pickings and started chasing them scattering all over the surface… hmm, almost just as predicted, pike could ruin the day!
Staying optimistic I then fed the short line with just one bait dropper containing around 50 maggots.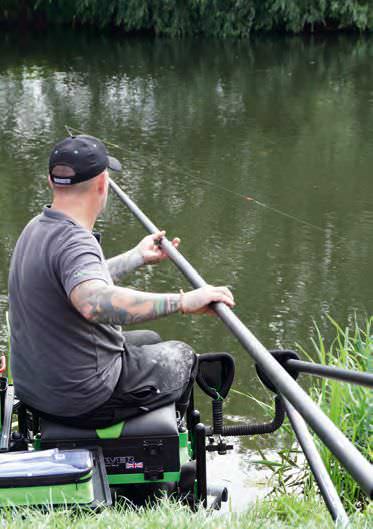 You can read up to 3 premium stories before you subscribe to Magzter GOLD
Log in, if you are already a subscriber
Get unlimited access to thousands of curated premium stories, newspapers and 5,000+ magazines
READ THE ENTIRE ISSUE
November 2017