Ready. Set. Go
Outside Magazine|March - April 2020
We made it easy for you. We asked our travel experts where they want to go in 2020. Their answers will surprise and inspire you. Presenting 27 adventures to get you out in the world this year.
WEST VIRGINIA
Still Wild as Hell
The Mountain State may be the most underrated adventure destination in the country, with everything from multi-pitch climbing up towering cliffs to Class V whitewater. Most of the action happens around Monongahela National Forest, a.k.a. the Mon, 921,000 acres of terrain that's uncharacteristically rugged for the eastern seaboard. After the region's Snowshoe Mountain Resort hosted the UCI World Cup mountain-biking finals last fall, word started to get out: the Mon can play. Snowshoe's lift-served bike park was recently named a bronze-level IMBA Ride Center and has resurrected old-school (translation: gnarly) backcountry singletrack. After a few days of riding, move north to Seneca Rocks, a 900-foot-tall crag that's a hotbed of trad climbing. Finish your trip hiking through Dolly Sods Wilderness, 17,000 acres of red spruce forest. Base out of the recently renovated, ten-room Billy Motel in the town of Davis (from $110). The midcentury design and craft cocktails will make you think you're in a hipster enclave, but rest assured: you're in West, by God, Virginia. —Graham Averill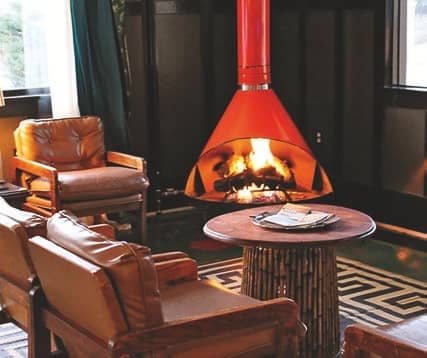 TAIWAN
A Mountain Mecca
As Asian nations go, this tiny, teardrop-shaped island off mainland China isn't known for its mountains. But 70 percent of the country is covered with lush tropical peaks teeming with trails and hot springs. Taiwan's compact size means that adventure is never more than two hours away by bullet train from any major city. Our recommendation? From Taipei, head for Taichung Valley to the new Hoshinoya Guguan, a tranquil, 50-room resort located along the Dajia River (from $573). It's an ideal launch point to hike 12,966-foot Jade Mountain, the tallest peak in northeast Asia. Or try nearby Snow Mountain, with its razor-edged cliffs and hiking routes, including the Holy Ridge Trail, a 9.3-mile technical route up and down scree slopes to the 12,749-foot summit.
—Devin Gordon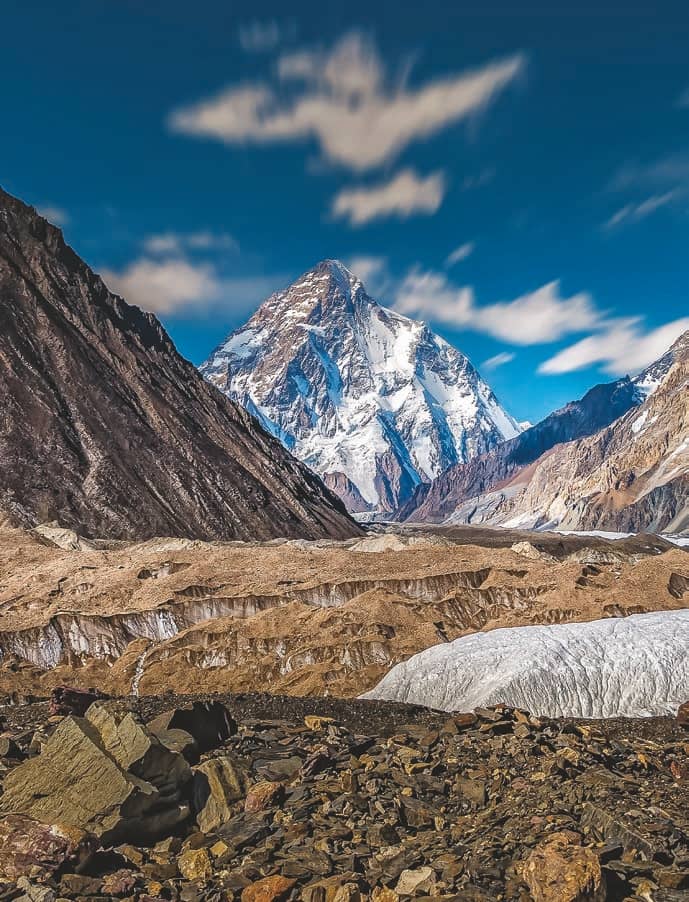 ARIZONA
A Cyclist's Dream
While its better-known California cousin Joshua Tree attracts three million visitors a year, Saguaro National Park, divided by Tucson, sees barely a million and is a biker's paradise. From downtown Tucson, the 131-mile Loop gets you within two miles of the park. In winter, when temperatures hover in the mid-sixties, this region is a training ground for professional bikers. At the park's eastern Rincon Mountain District, mountain bikers will find a section of singletrack that links to more than 800 miles of dirt riding along the Arizona Trail. Overnight at the RV-friendly, 130-site Gilbert Ray Campground (from $10), or book a room at the Posada (from $185), a new five-suite inn from the couple behind Instagram sensation Joshua Tree House. Better yet, book a trip with Backroads, which recently launched Tucson's Blue Sky and Saguaro National Park five-day tour ($2,699). It showcases the best riding in Rincon, with the option to tackle Mount Lemmon, a bucket-list climb that ascends 5,500 feet over 20.8 miles. —Jen Murphy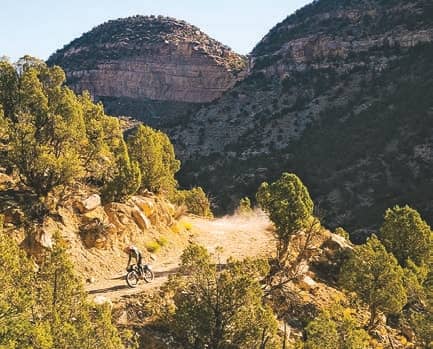 PAKISTAN
A New Trek to K2
If the Lifetime Achievement Award of Adventure Travel were a thing, World Expeditions would be a strong contender. The Sydney-based outfit started in 1975 and quickly accrued a litany of world firsts—first commercial cycling trips in China, first commercial descent of Tasmania's Franklin River, first group treks in Mongolia. Along the way, it developed a knack for edgy destinations, among them Pakistan's Karakoram Range, where the highlight was the literally breathtaking ascent to K2's 16,500-foot base camp. Then sectarian violence rocked the country and tourism all but vanished. Now, nine years after pulling out, and with security vastly improved, World Expeditions is back with a 25- day itinerary to base camp ($6,390). You'll be guided by Australian mountaineer Andrew Lock and camp under peaks like Masherbrum and Trango Tower. Also, in June, the company plans to introduce the 28-day Karakoram Exploratory, a loop up the Nobande Sobande Glacier and the Braldu Glacier, with views of K2's west face (from $7,990). —Tim Neville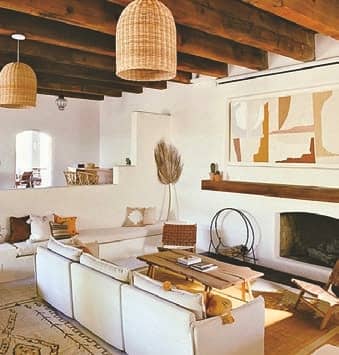 COLORADO
Go with a Legend
Steve "Doom" Fassbinder is known for completing nearly impossible adventures, like biking and rafting 1,000 miles across Tajikistan. The guy has an uncanny ability to suffer—early in his career, he was a repeat 24-Hour mountain bike-racing world champ. Since leaving the racing scene, Doom has made a name for himself by piecing together creative multi-day routes around the world that require mountain bikes, pack rafts, and the occasional llama. Now his distinctive style of adventure is available stateside with his new outfitter, Four Corners Guides, which takes clients through the deserts, canyons, and rivers of southwest Colorado. The customized tours launch from Fassbinder's 35-acre Scullbender Ranch, which has canvas glamping tents and its own mountain-bike trail system and pump track. One of the trips includes special access to nearby Ute Mountain Ute Tribal Park, 125,000 acres of protected lands adjacent to popular Mesa Verde National Park, with a fraction of the visitors. You'll bikepack for three days through the park's dusty canyons, fording the Mancos River to meet Wolf, a Ute Mountain Ute guide who'll take you up wooden ladders into Native cliff dwellings. The tour finishes with a 40-mile gravel grind back to the ranch, hitting tiny downtown Mancos, where a craft beer at Mancos Brewing Company awaits. Because what's a bike ride without a post-ride beer? From $895 —G.A.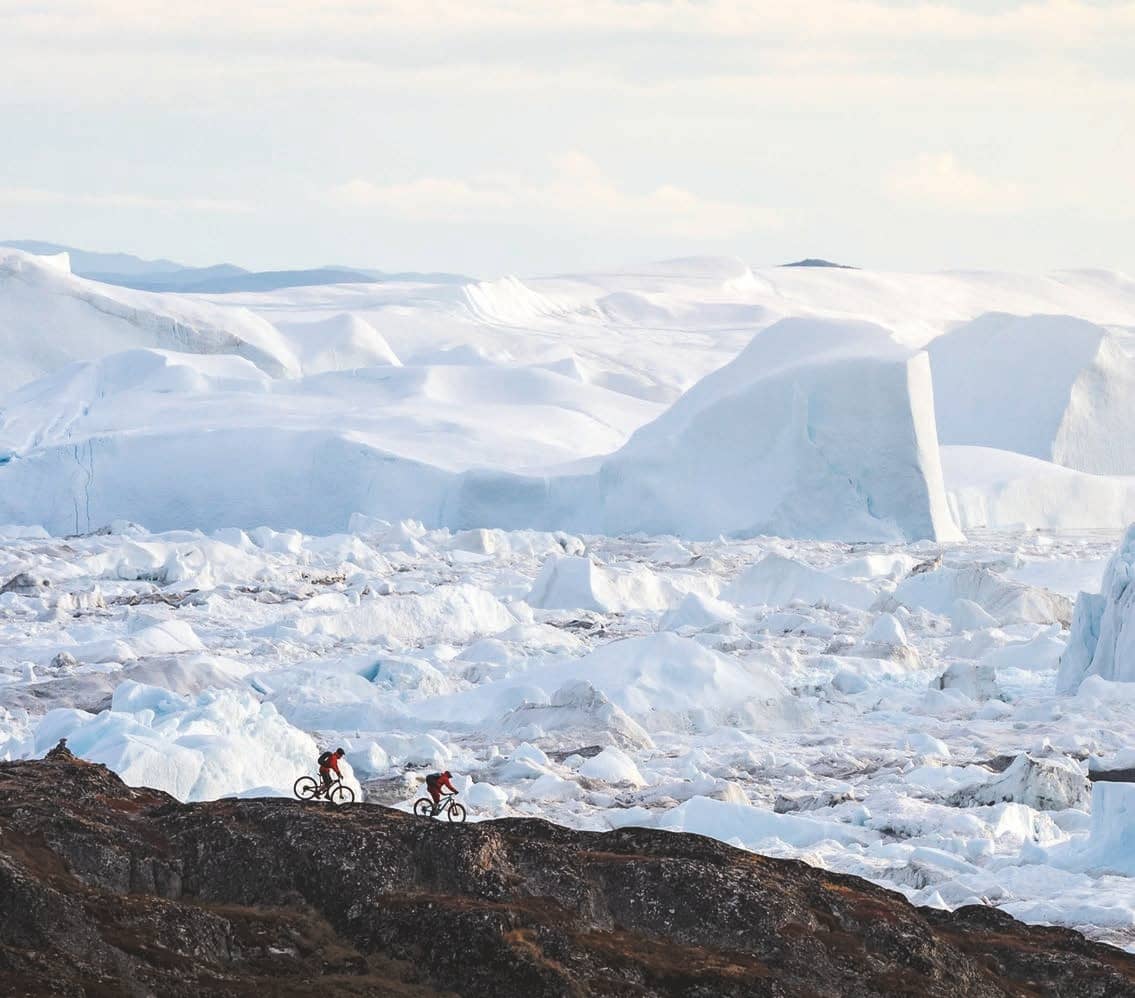 GREENLAND
The Great Wide Open
Greenlanders will proudly tell you that their 836,000-square-mile country is not for sale. They do, however, welcome visitors to their wild Arctic frontier, marked by 11,000-foot peaks, polar bears, and Jakobshavn, the planet's fastest-moving glacier. Roughly one-third of Greenland's 55,990 residents live in the western capital of Nuuk, which means there's a lot of empty space to explore. Big Mountain Bike Adventures launched a seven-day, 73-mile summer bikepacking trip on the Ilulissat ice fjord along the island's western edge ($4,354). For a less strenuous trip, stay at the new Erfalik Lodge, south of the town of Sisimiut (three-day minimum; prices vary with activity). The Scandinavian-style property sits on the bank of the Erfalik River, one of the world's best Arctic char fisheries. Summer is for fishing; fall and winter are for hiking the tundra in search of caribou and the northern lights; and winter is for heli-skiing the surrounding peaks. —Stephanie Pearson
PUERTO RICO
Always Under the Sun
You can read up to 3 premium stories before you subscribe to Magzter GOLD
Log in, if you are already a subscriber
Get unlimited access to thousands of curated premium stories and 5,000+ magazines
READ THE ENTIRE ISSUE
March - April 2020