FIRE AND FURY
Outside Magazine|June/July 2020
Last December, around 100 tourists set out for New Zealand's White Island, where an active volcano has attracted hundreds of thousands of vacationers since the early 1990s. It was supposed to be a routine six-hour tour, including the highlight: a quick hike into the island's otherworldly caldera. Then the volcano exploded. ALEX PERRY reports on an epic story of heroism, tragedy, and survival — one that uncovers troubling questions about the risks we're willing to take when lives hang in the balance.
Later, everyone who saw White Island erupt would remark on how quiet it was, how magnificent, and how swift. At 2:10 P.M., nothing. At 2:11, a two-mile-high tower of steam. Fifty miles away on New Zealand's North Island, a search and rescue helicopter crew returning to base watched, astonished, as a colossal mushroom unfurled on the horizon. "Oh, my God!" shouted the pilot. "We've just seen a volcano erupt!" Then, a shudder of dread. It was December 9, the summer season. The island would be packed with day-trippers.
Just inland from the island's rocky southern beach, with four middle-aged German clients he had brought in by chopper an hour earlier, pilot Brian Depauw glanced around to see a mammoth cumulus silently fill the sky behind him, then "go vertical." Off the island's east coast, on the Phoenix with a few dozen other tourists, Brazilian Allessandro Kauffmann captured the moment on video. The clip shows a vast ball of cloud roll out of the crater, then, soundlessly and impossibly fast, swallow the island. The initial eruption is followed moments later by a second blast, a dark gray avalanche that shoots out horizontally, directly toward the camera. The color and texture indicate a mix of rock, ash, and acid gas, a superheated pyroclastic flow. Its focused direction suggests that the crater amphitheater, with its high sides and single exit through a collapsed southern wall, has acted like a cannon: the explosion bounced off the caldera's back and sides and is barrelling out the opening. The force of the wave is awesome. "Huge smoke coming very quickly … getting massive so fast," was how Kauffmann's wife, Aline, described it to reporters.
Paul Kingi, crewing on the Phoenix, saw the blast drop down onto the sea and hurtle toward his boat. As he yelled at everyone to get inside, the boat's skipper gunned south, then made a wide curve around to the west and north, sidestepping the ash cloud like a matador executing a pass.
In Crater Bay on the Phoenix's sister ship, the Te Puia Whakaari, captain David Plews had no such chance. He was anchored in the path of a 60-mile-per-hour gas and rock tsunami. Already engulfed, or about to be, were his 42 passengers. Deep inside the crater, guide Hayden Marshall-Inman's group of 21 had disappeared. Kelsey Waghorn's group of 21, near the shore, were seconds from following them. Plews grabbed the ship's radio. "Evacuate! Evacuate! Evacuate!" he shouted.
On land, Depauw heard the cries and saw what was about to happen. "Jump into the water!" he screamed at his guests. Depauw ran to the water's edge and leapt. Two clients followed. The other two were unable to make the water in time. Depauw took a lungful of air as the black fog flew toward him. This is it, he thought. There's no surviving this. Then he ducked.
*****
When dawn had broken that day across North Island's north shore, before the light hit the beaches or the green mountains beyond, it caught White Island's willowy plume, like a distant smoke signal, way out on the northern horizon. By the time Hayden Marshall-Inman arrived on Whakatane's river side quay to help prep the boat, the day was already sharp enough to give him a clear view across the Bay of Plenty, through the collapsed crater wall, and into the heart of the volcano. In his 40 years, Hayden had never tired of watching the steam shoot from the ground, puffing, balling, and rising into the wind before it drifted off across the water. The log he kept of his visits told him that this would be his 1,111th trip into New Zealand's most active volcano, which followed 300 by his father, Alan, 69, a White Island Tours guide before him. When people asked, father and son always said: because it was never the same place twice.
Deep inside the crater,a group of 21 had disappeared. Another group of 21, near the shore, were seconds from being enveloped as well. Plews grabbed the ship's radio. "Evacuate! Evacuate! Evacuate!"
The Marshall-Inmans shared their obsession with the Maori, to whom the island was a living ancestor, Whakaari, and the two dozen skippers, guides, and game-fish captains who drank at the Sport fishing Club, a few steps back from the wharf. Eight hundred years earlier, some of the first Maori to reach New Zealand from Polynesia came ashore at Whakatane. After James Cook's arrival in 1769, the settlement became atown of shipbuilders, fishermen, and traders. By the 21st century, most of the men and women who still worked on the sea made their living taking some 20,000 tourists a year to the island.
The foundation of their business was an accident of nature that made White Island one of the world's most accessible volcanos. With only a third of the cone above the ocean's surface, and its fallen wall forming a giant natural drawbridge, all it took was 90 minutes in a boat or 20 in a helicopter and you were stepping off directly into the caldera. The place had a definite menace to it: the acrid air, the gas jets heated to 1,200 degrees, a lake at the bottom of an inner depression whose acidity was off the pH scale, and an abandoned sulfur mine from which ten men were swept away by a mud avalanche in 1914, leaving only a cat named Peter as witness to their final moments. Claude Sarich, who worked the mine in the early 1930s, wrote: "The worst hell on earth, a place where rocks exploded in the intense heat, where … [clothes] just fell apart in a couple of hours, where [men] had to clean their teeth at least three times a day because their teeth went black."
The mine closed in the 1930s, and for decades White Island was largely forgotten. But in the early 1990s, as adventure tourism took off, Whakatane's sailors and pilots began offering day trips to this other world across the sea. The thousand-foot-high crater walls, the raw rockscape, the fine dust—the whole power and wonder of it—was as close as most would come to walking on the moon. Hayden's brother, Mark, who proposed to his wife, Andy, in the crater, described it as "a thing of beauty." Add in the chance to sail between three rock stacks said to be the gates to the Maori underworld and you had an experience that the guidebooks called unmissable.
In the weeks that followed the eruption, hundreds of columnists and radio hosts would take a different view: How crazy did you have to be, they would ask, to go walking around a live volcano, let alone run a business taking people there? The truth was: not crazy at all. Compared with climbing or jet-boating, or even swimming or driving a car, visiting a volcano was safe. A 2017 Journal of Applied Volcanology survey of every recorded volcano fatality for the past five centuries found that an average of one tourist, climber, camper, student, pilgrim, or park warden died every year on a volcano. Instead, like earthquakes and tsunamis, most volcano deaths occur among people who live in the area—the Journal counted 800 million residents within 60 miles of the world's 1,508 active volcanoes, and reported that 216,035 had died in 517 years—though today, with early warnings and evacuation drills, years can pass without a single one of those, either.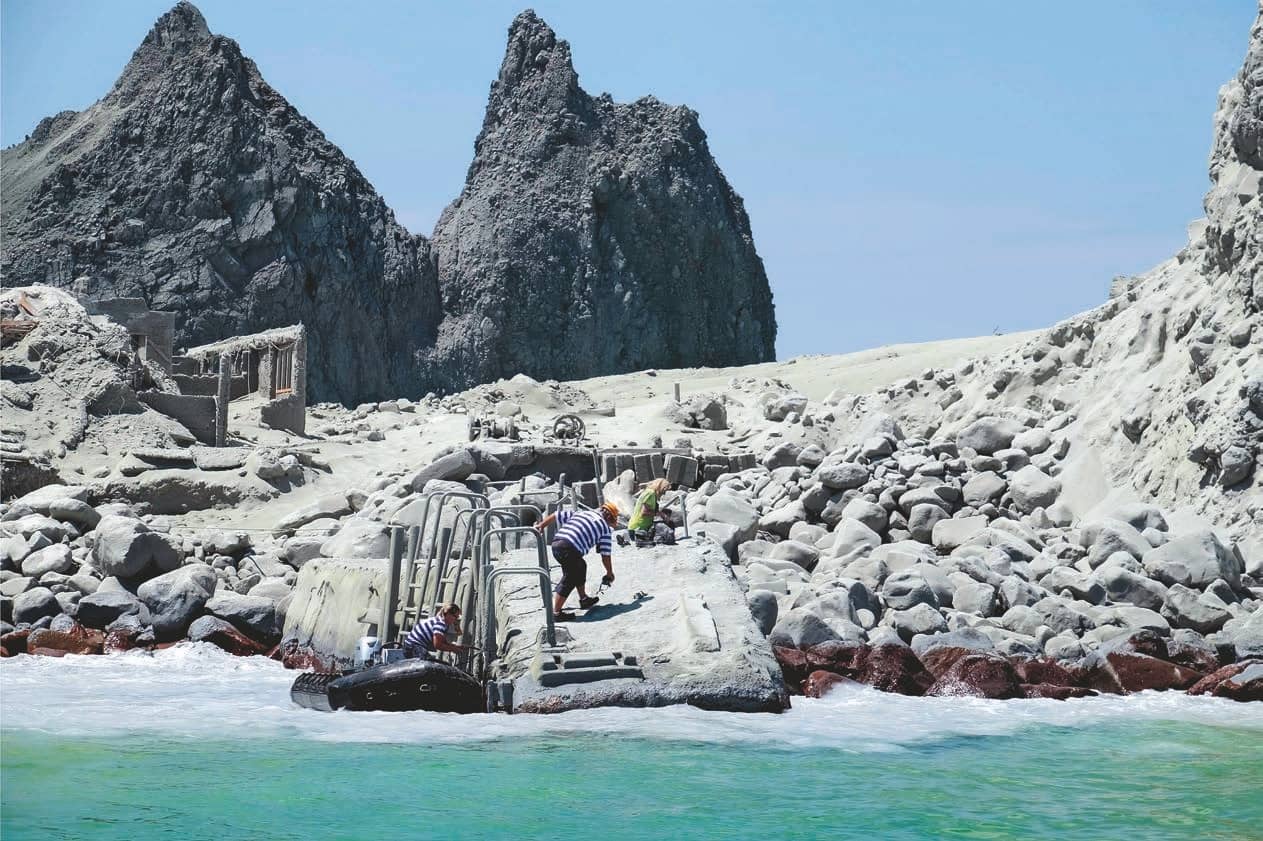 Paul Kingi (center) and other rescuers land on White Island after the eruption
White Island was also one of the world's most closely observed craters, studded with webcams, seismometers, UV spectrometers, and survey pegs. The chemical makeup of its air and waters was regularly tested. The results fed into a frequent analysis by the geological monitoring service, GeoNet, which rated the alert level on a scale of 0 to 5. Limiting tours to levels 1 and 2, and granting skippers and pilots the prerogative to cancel a landing if they didn't like the conditions, had helped ensure no fatalities in more than a century, even though White Island erupted continuously from 1975 to 2000.
That spotless record partly reflected the tameness of the tours. If New Zealand's adventure industry often seemed like a marriage of the outdoors and mad science—seeing what happened, say, if you leapt off a bridge with a rubber band tied to your ankles—a walk around White Island was one of its gentler offerings. The crater was two-thirds of a mile in diameter; the walk covered about half that. The established route started at a jetty on the island's southern shore and climbed leisurely up a dirt track through the collapsed crater wall, skirting bubbling mud puddles and steaming fumaroles before reaching the rim of the inner depression, from where visitors could gaze down at the acid lake. After that, it was a 30-minute stroll back past the old sulfur factory to the jetty. Tourists aged eight to eighty, wearing hard hats and carrying gas masks, had no trouble completing the trail in an hour and a half.
If White Island Tours was guilty of anything, it was of hamming up the risk. A leaflet from 2006 was headlined: "Volcano. Handle With Scare!" Guides liked to warn visitors that an eruption could happen at any moment, and that anybody caught in one could expect to be hit by rocks, scalded by steam, and enveloped in an acid mist as the crater lake flash-vaporized. Alan Marshall-Inman would have his groups dip their fingers in the coppery streams and ask them if they tasted blood. Hayden would tell the story of an ash eruption during a visit in September 2017. "We were walking into it," he told a travel program in July 2018. "I could definitely feel the nerves inside me for sure."
That was the whole idea of visiting White Island. It was about the thrill of feeling a little more alive by feeling a little closer to death, all the while knowing that, really, you were in no more danger than you would be crossing a road.
*****
By early December, it was peak season on the island, and the volcano seemed to be cooperating. On November 19, GeoNet had raised the alert from 1 to 2, but a week later it had clarified that despite "a few earthquakes," "high to moderate" gas emissions, and the possibility that the volcano was "entering a period where eruptive activity is more likely than normal," it did not consider the new mud fountains in the crater to be a hazard to visitors and that, overall, the island was in a state of "moderate volcanic unrest."
With that assessment, the volcano would be crowded. White Island Tours, where Hayden was a skipper, had around 100 passengers booked, requiring three of its four boats. Also heading out were two small helicopters from Volcanic Air, flying visitors from Rotorua, up in the hills.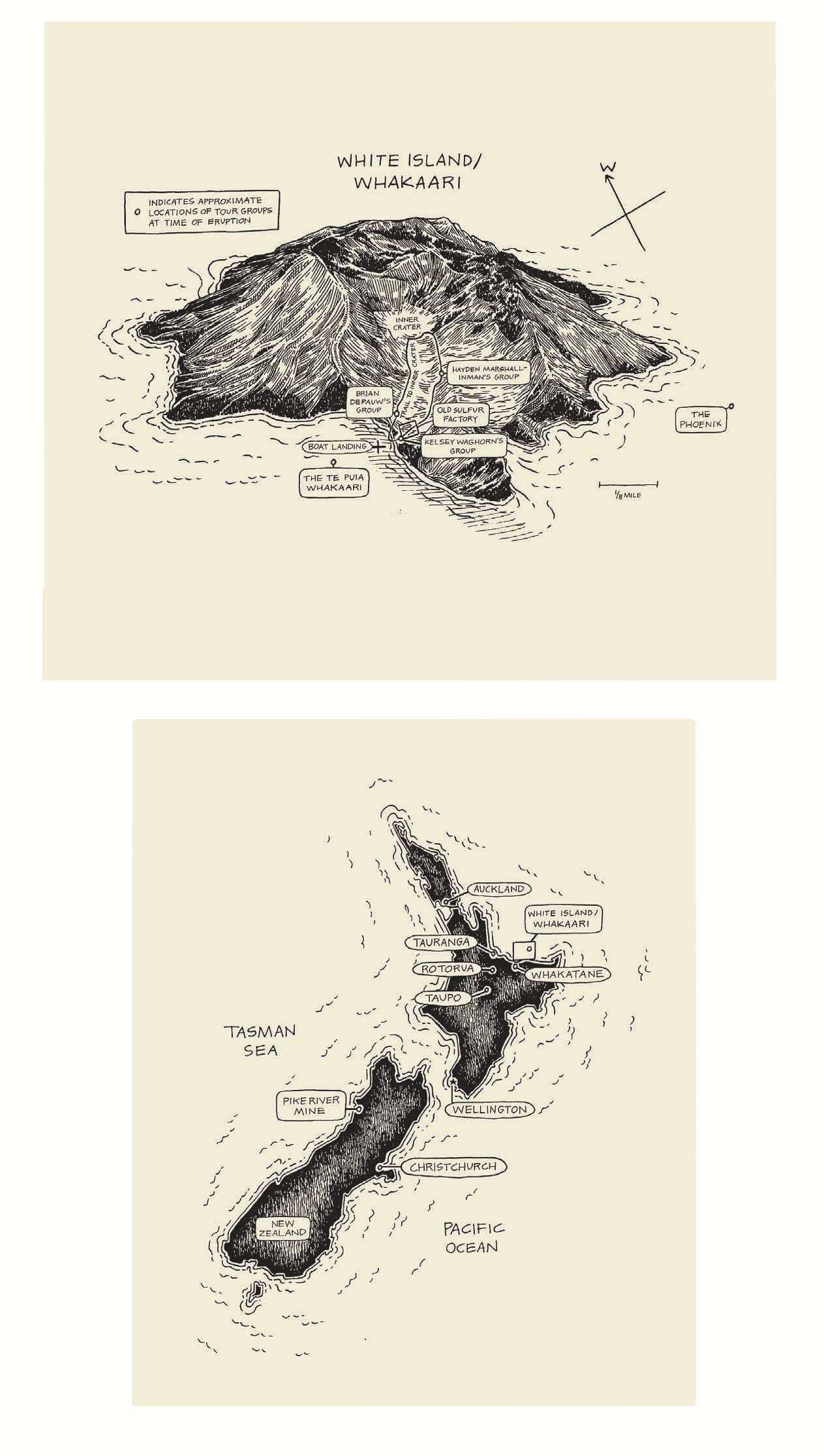 With White Island Tours' fleet of cruisers, and the helicopters making up to three trips a day, skippers and pilots coordinated their arrivals to avoid swamping the island. That collegial spirit was apparent, too, in the consideration shown to Brian Depauw, a young airman who had returned to New Zealand after two years flying tourists over Victoria Falls in Zambia. Though Depauw was working for Volcanic, he had trained at Kahu, the other helicopter outfit flying to White Island, run by a towering former specialforces soldier with a boxer's nose named Mark Law. In any other town, Depauw's switch might have rankled Law, just as Law might have seen his operation as a rival to White Island Tours. But in Whakatane, Law described Depauw and Volcanic boss Tim Barrow as "mates," while Law's children were best friends with Hayden's niece and nephew—Andy and Mark's kids—and he and Hayden were regulars at the town rugby park, where they could be found cheering on their boys.
That was the kind of place Whakatane was. A town of some 17,000, without a traffic light, whose street of tourist cafés and restaurants might die down in winter, but that, year-round, had its own clubs for rowing and cricket, croquet and table tennis, even skeet shooting and petanque, its own theater and newspaper, the Beacon, its own airport, university, and hospital, a cardboard mill, two boat builders, and three rescue services—fire, ambulance, and coast guard—all staffed, in part, by volunteers. In Whakatane, people pitched in. The town mayor, Judy Turner, doubled as a funeral celebrant. Another of Kahu's pilots was Tom Storey, an easygoing 29-year-old with hazel eyes who, when he wasn't flying or hunting deer or wild boar, ran Back Country Builders, erecting beach houses. The way people juggled roles in Whakatane said something about small towns. But it said as much about New Zealand, a nation built by men and women who had crossed thousands of miles by canoe and ship, and referred to themselves as "number-eight wire" types—the sort who could tame a land and fix just about anything with a coil of fencing line.
That sense of community enterprise animated White Island Tours. Whakatane's biggest Maori tribe, the Ngati Awa, bought the operation in 2017 using money from a state program designed to compensate for the colonial theft of their land. There were a few grumbles about that in Whakatane among pakeha, the name Maori gave the descendants of European settlers, a minority of whom still saw Maoris' poor showing in health, education, and crime as evidence of a natural order. But in a town that was 43.5 percent Maori, most considered racism not just unpleasant but impractical, something that got in the way of getting on. They approved of how the Ngati Awa used White Island Tours' profits to fund social programs to lift their people, historically some of the poorest in New Zealand. They were proud, too, of how such initiatives explained why New Zealand's national experiment was held up as an example to Australia, South Africa, and even the U.S.
To its mixed-race staff of 60, and especially to Hayden, White Island Tours was a second family. Ten years earlier, boat manager Paul Kingi had taken on "Hayds" over a handshake when he was a beach bum with few ambitions beyond watching the Chiefs, the rugby team he worshipped, and pursuing an endless summer from Whakatane to Maine, where he worked in YMCA camps. Hayden became Kingi's "pet project," said Rick Pollock, 72, a retired Whakatane charter captain who had employed Hayden and Kingi as deckhands. Though Hayden struggled at first with the seven different talks on safety, history, and geology that a guide had to master, he looked the part with his seaman's build and pirate's sideburns, and he had such a way with passengers that Kingi came to see him as one of his best assets, promoting him from guide to skipper. "He used to talk to everybody," Kingi said later. "He wanted to know their life story—he used to get around and make sure he spoke to everybody on that boat." In 2016, when an engine fire engulfed the Peejay V as it returned from White Island, it was Hayden who guided everyone to safety, making sure he was among the last off. Pollock said of his former crew member: "He would help anybody. That's who he was."
You can read up to 3 premium stories before you subscribe to Magzter GOLD
Log in, if you are already a subscriber
Get unlimited access to thousands of curated premium stories and 5,000+ magazines
READ THE ENTIRE ISSUE
June/July 2020