Dan's Training Camp Diary
NY Jets Confidential
|
September 2020
Friday, Aug.14
There was a story in the offseason that coach Adam Gase had issues with the locker room last year.
June 15, Daily News Tweet: "Addendum: Jamal Adams is not alone in his feelings toward Adam Gase. Gase is not respected in the Jets locker room."
Look, I'm no special pleader for Gase; that's not my job. But I have never sensed this. I actually think he's a guy who connects with players, and saw that at work at today's practice. He bounced around the field, chatting with different guys, including a long talk with the new leader of the Jets' secondary, safety Marcus Maye, with both men on one knee. Gase then went over to defensive ends Henry Anderson and Jordan Jenkins. I'm not sure what they were talking about, but the three of them were laughing a lot. He also had a one-on-one chat with Tarell Basham.
Le'Veon Bell described Gase recently as "a chill coach."
Watching Gase on the practice field for the last year and change, I see a coach whose player relations are fine.
To me, the biggest issue for Gase in past, especially in Miami, was as a personnel guy, because he's perhaps too reactionary at times with player moves, like when he got rid of three offensive linemen after one game and bounced talented players he soured on such as RB Jay Ajayi, WR Jarvis Landry and DT Jordan Phillips.
Hey, a lot of head coaches aren't the best personnel guys. Just look at Jon Gruden. They are often too knee-jerk and emotional. Often GMs, just in charge of player personnel, do a better job of taking a 30,000-foot view.
Obviously Gase's reactionary nature as a personnel guy won't be a problem with the Jets. He had final say in Miami, but with the Jets he doesn't; Joe Douglas handles that.
And for the most part Gase handles the locker room just fine. That report about Gase having major issues in the clubhouse seemed a bit hyperbolic.
"I've got mad respect for Coach Gase," said guard Alex Lewis.
Sunday, Aug. 16
It's amazing how often guys suffer hamstring injuries upon their return to football practice after a hiatus. It's very common, especially after long holdouts, and honestly, with no football practice this offseason, it was like one big holdout for every player.
And with football practice starting in earnest today, the Jets already have a bunch of hamstring issues, with rookie wide receiver Denzel Mims being one of them. Mims missing valuable reps in camp, especially this year with no offseason practices, is a tough blow for the young receiver and the Jets.
"It's always tough for rookies coming in, especially at that position," said coach Adam Gase. "It's a lot of moving parts, especially not having a spring and just recently getting on the field."
In other words, this is the last guy who can afford to miss time. He's an extremely talented prospect, but also very raw, in need of a lot of work on route-running and getting off the jam at the line.
Also, he needs practice time to learn the scheme. Remember in the last issue, we wrote about how some players learn better on the field than in the classroom.
On Aug.12, Gase admitted Mims might be one of those guys. "I can tell he likes being on the field, he likes being able to do it physically, instead of just sitting in front of a playbook," Gase said.
Missing practices this summer could set him back, especially coming from a Baylor offense that had a very limited route-tree.
This is a good August to be a veteran street free agent looking for work.
With so little time to prepare, and no preseason games, teams looking for replacements for injured players are more apt to sign a veteran player who has been there, done that.
So with some wide receiver injuries, the Jets signed 32-year-old Chris Hogan, who has been with four teams, including a four-year run with New England, where he won two Super Bowls.
"He's somebody that's name has come up quite a bit around here when we were talking about guys to add, and he's a guy that's going to be able to come in here, pick up the offense very quickly," Gase said. "It's going to be familiar as far as a lot of things that he's done in the past. Obviously competed against him quite a bit; just feel like he's a good fit for us."
He's a good fit not just because he's a good player, but because a perfect addition for these unprecedented times. He knows the why's and wherefores of what it takes to be a successful NFL receiver. It's not a good time to be adding young and raw street free agents. In other words, this is no time for amateur hour.
"Coaches are naturally going to be more trusting of guys who have established knowhow, with so much less time to work with," Las Vegas Raiders GM Mike Mayock recently told Sports Illustrated.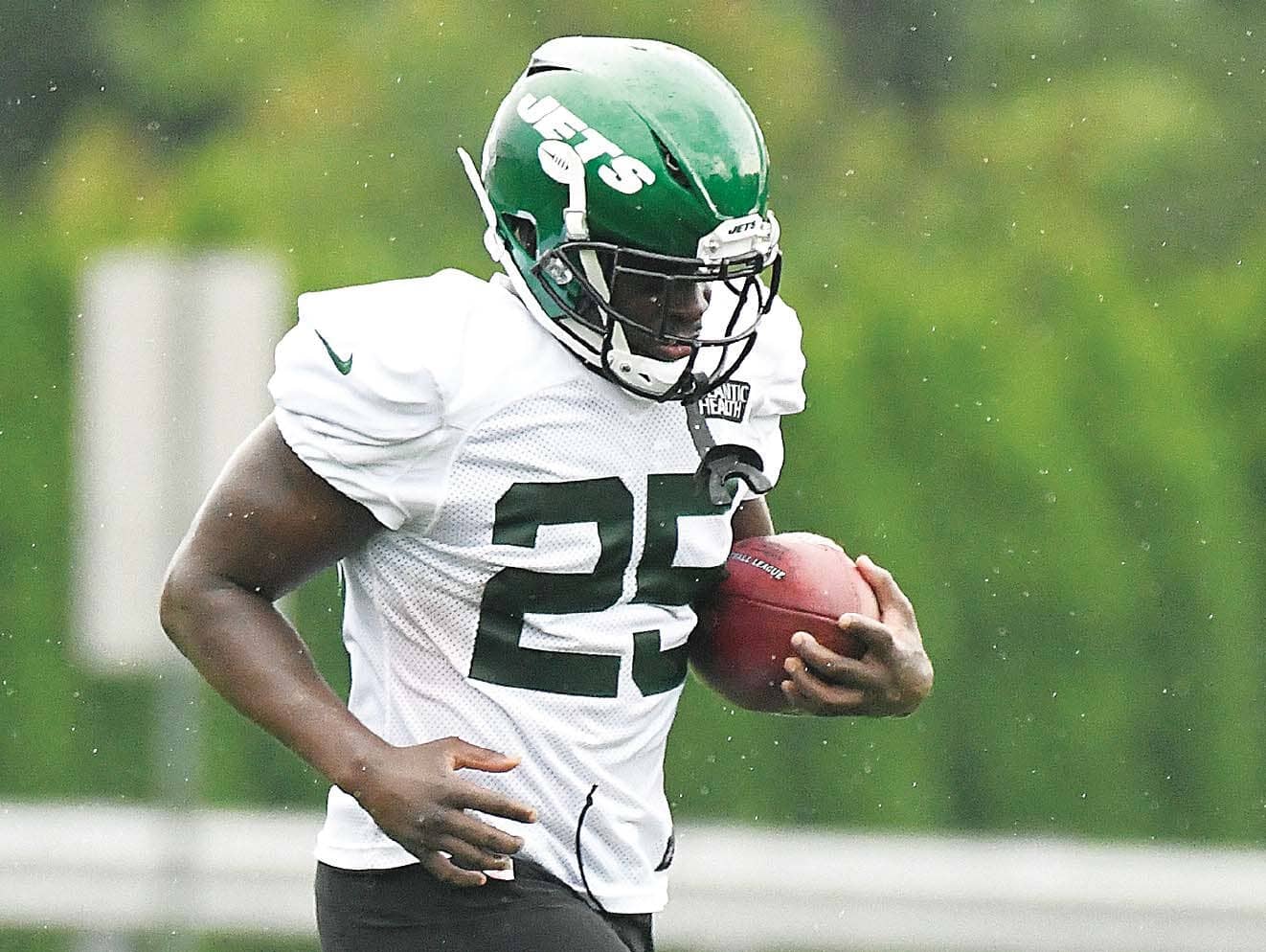 Wide receiver Jamison Crowder made a salient point when asked about the Jets' passing game weapons.
"The X-factor is Chris Herndon," Crowder said.
So true.
There is so much focus on the Jets' receivers, and what some elitists perceive as not enough talent in the room. But when people talk about the Jets' passing game weaponry, sometimes we get too receiver centric.
"Herndon being back (and) you've got to look at it as a big picture with our running backs with Le'Veon (Bell) and Frank (Gore), we've got a rookie (La'Mical Perine) that is able to do a lot of things coming out of the backfield," Gase said. "I think you do have a lot of guys that really can kind of share the load at the skill spots."
And Herndon could end up being a centerpiece. While his 2019 was a washout due to a suspension and then injury issues, we all saw in 2018, this guy has a lot of talent. He's a complete tight end — a talented receiver and blocker.
"Chris gives us a lot of flexibility because it's rare to have a guy with the ability to be as effective as a pass-catcher, a guy that's explosive when he gets the ball in his hands, and can still be an on-the-line tight end that can block in the run game and also pass protect," Gase said. "Chris is a guy that has rare traits in that aspect."
Herndon does have rare traits because we rarely see tight ends who can block as well as he does, and also threaten any part of the field in the passing game. Usually, it's one or the other. Often, if a tight end is a great blocker, he's usually a large tight end with speed limitations. An then you see mobile tight ends who can stretch the seam with great speed, but the speed is often connected to being lighter, which can hurt the blocking. Herndon is strong in both areas. As Gase pointed out, it's hard to find a guy who gets high marks in both assignments.
"Is Herndon a guy that you believe has some ability to play receiver if need be?" asked SNY Jets insider Connor Hughes, also of The Athletic.
"That probably wouldn't be something I'd be looking to do with him," Gase said. "I like where we've got him. I'm going to let him play tight end. We've got enough wide receivers; I wouldn't even think to do that."
Nor should he.
If this breaks right, the Jets might have their version of George Kittle or Travis Kelce, two players who just earned big contracts due to the huge impacts they have on their respective teams. That's the kind of potential Herndon has.
Monday, Aug. 17
You can read up to 3 premium stories before you subscribe to Magzter GOLD
Log in, if you are already a subscriber
Get unlimited access to thousands of curated premium stories, newspapers and 5,000+ magazines
READ THE ENTIRE ISSUE
September 2020