The Best Of 2019
Muscular Development|December 2019
TRAINING, SUPPLEMENTS & CUTTING EDGE RESEARCH.
BEST MIDDLE FINGER TO FATHER TIME
There will never be another Dexter Jackson, period. At 49 years old this year, he broke his own record of 28 pro wins with number 29 in Tampa, fending offa 270-pound British beast named Luke Sandoe. He also competed in his 20th Mr. Olympia contest, and placed in the top five for the 16th time. The Blade also holds the record for Arnold Classic wins at five. This year, he managed to do something never witnessed before in our sport. You've probably heard the saying, "the first thing to go on a bodybuilder is the legs." Whether due to the inevitable process of sarcopenia that comes with aging or hampered leg training due to chronic issues with the knees, lower back and/or hips, we typically see significant loss of leg mass as athletes hit their 40s and more so their 50s. This even befell Kevin Levrone in his recent comebacks, a man who was known for stunning lower body development. Dexter Jackson had been showing a similar decline over the last few years. Most noticeably, his outer sweeps were deflating, leaving his quads with a straight up and down look. But when he hit the stage for the first time this August at the Tampa Pro, the sweeps were back! Dexter had managed to adjust his training with the help of Charles Glass to regain what had been lost. It was a very pleasant surprise to the many fans of Dexter who feared his legendary physique was finally succumbing the ravages of age. Six weeks later, he secured yet another top spot at the Mr. Olympia with fourth place a few weeks shy of his 50th birthday. He's neither a vampire nor a robot, so at some point Father Time will catch up to The Blade— but he hasn't yet.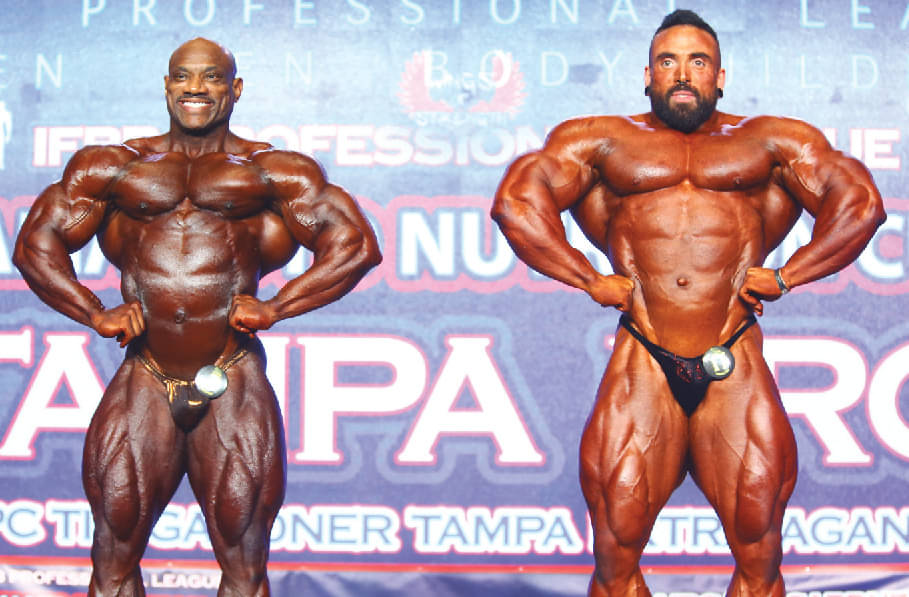 BEST MR. OLYMPIA DEBUT
This one for me is a tie between Hadi Choopan and Patrick Moore. Hadi wasn't really a surprise. We had just seen him dominate the lineup in Vancouver to secure his Olympia qualification, and photos and videos showed a brutal package of mass, density and detail. His third place was well earned and expected ahead of time by most. But who saw Patrick Moore coming? In his second pro season, the former USA Super Heavyweight Champion had earned his first win at the California Pro. But, and this is no disrespect to the other men in that show, there were no "big names." All indications pointed to Patrick being one of those guys we see at the Olympia every year, languishing on the side of the stage waiting for that last callout, and "just happy to be there." Moore turned out to be a lot better than most of us realized. With ultra-wide shoulders, insanely huge and round arms, and a waist that belonged in the Men's Physique division, Patrick was also a skilled and charismatic poser who won the crowd over with both his stunning musculature and his genuine, 1,000-wattsmile. Landing in 10th place, the Texan made a whole lot of new fans all around the world who will be keeping an eye on him from now on.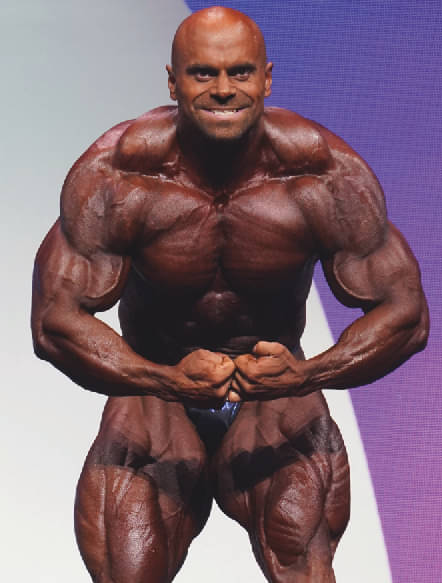 MOST CONSISTENT
You can read up to 3 premium stories before you subscribe to Magzter GOLD
Log in, if you are already a subscriber
Get unlimited access to thousands of curated premium stories and 5,000+ magazines
READ THE ENTIRE ISSUE
December 2019