Moore DELT MASS
Muscular Development|June 2020
HOW PATRICK MOORE BLASTS SHOULDERS
When I first saw Patrick Moore at the 2017 USA Championships in Las Vegas where he won the super heavyweight division, the two areas of his physique that stood out the most were his shoulders and arms. Both were certainly pro level to say the least. Being a man who values constructive criticism in his goal of becoming the best bodybuilder in the world one day, Patrick backed off on his arm training and doubled up on his leg workouts to balance his overall package. But as it's been said many times, shoulders can never be too big. Even when a man has been blessed with an ideal bone structure whose proportions feature ultra-wide clavicles and a narrow waist, as we see with Moore, greater development and detail of the deltoids serves only to enhance the coveted V-taper. Patrick hasn't curtailed his shoulder training, but he does train his shoulders smarter these days, with a plan and a purpose. Let's find out how the man they call The Future built his impressive shoulders, and how he has fine-tuned and perfected his deltoid workouts to ensure they only get better from here.
DAWN OF THE DELTS
If you read the profile on Patrick in our April issue, you know that his first few years of lifting simply involved daily bouts of biceps curls. By age 21, he realized he should probably start working other muscles too. Lacking any type of mentor, Patrick turned to bodybuilding magazines like MD. "I would look at training articles about guys like Trey Brewer and Brandon Curry, and copy those in the gym," he says. He also spent a good amount of time on a new website for video content, called YouTube. "The only two bodybuilders I really knew about back then were Ronnie Coleman and Jay Cutler, so I watched all their videos to learn as much as I could."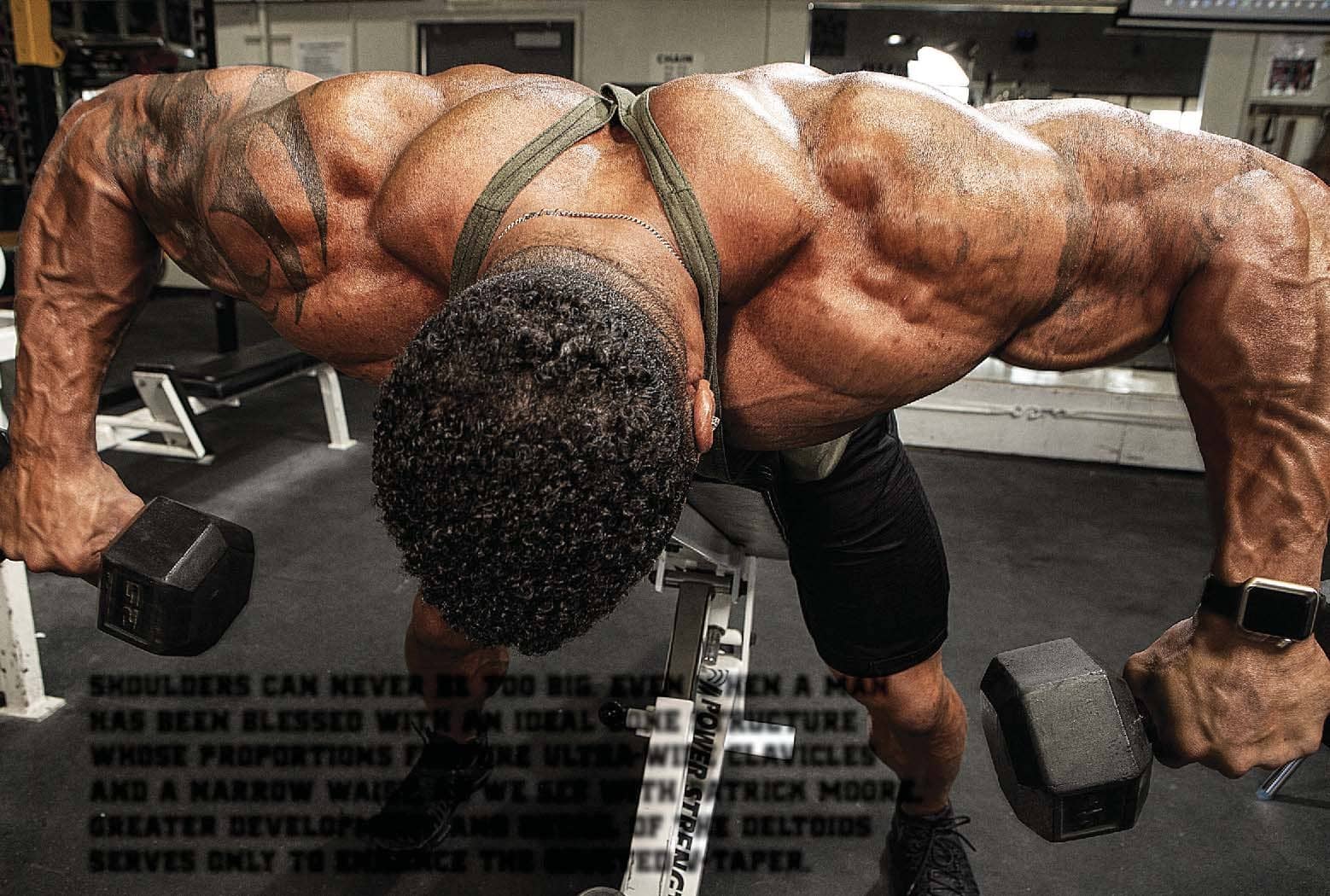 Soon Patrick had a structure to follow, training one or two body parts a day in a sequence rather than randomly performing whatever he felt like on any given day. "One thing that hurt me in my early days of lifting was that I had no concept of recovery," he recalls. "For some reason I thought that if a muscle was sore, that meant you should go back and train it again," he laughs.
Once he started giving his shoulders a few days off between working them, he noticed his strength going up on the exercises, as well as more mass and roundness. At the time, his "starter" shoulder workout was rear laterals on a reverse pec deck/flye machine, lateral raises and an overhead press. Patrick was still boxing at the time, which was giving his delts substantial extra work. Within a year or two, his shoulders started garnering the type of attention his arms had been getting already for a few years.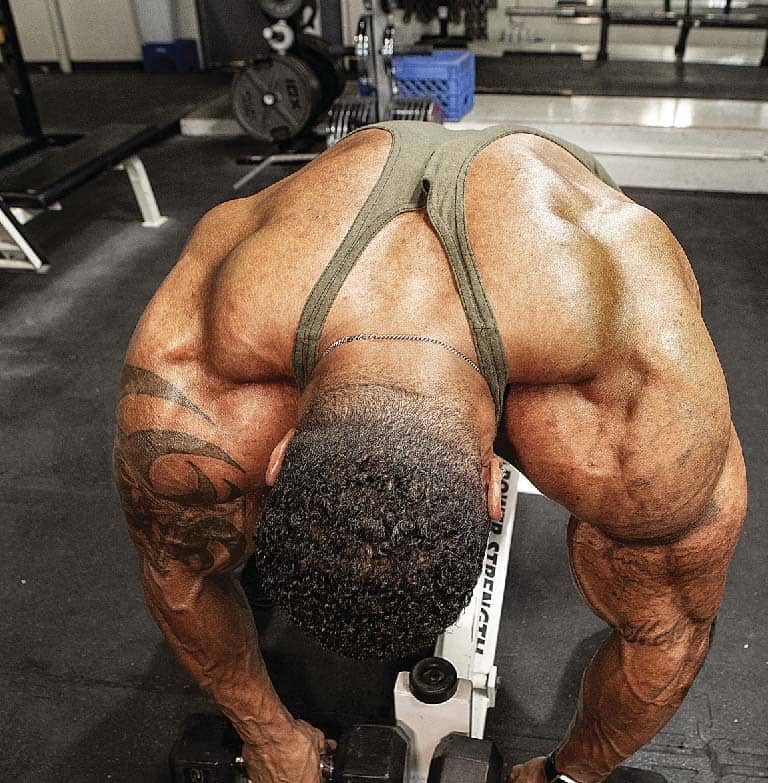 "I used to go to the pool at this resort up in The Woodlands, outside of Houston," he begins. "People started saying things like, man, you got some shoulders on you! If I was wearing a T-shirt, they would ask if I had shoulder pads on." Not only was Patrick adding mass to his delts, but also that mass was on top of the aforementioned wide clavicles on a man of 6 feet tall, adding to the visual impact. "Back when I was skinny, I could see those bones went way out to either side, but it was all square until I built the muscle mass on top of it."
THE EVOLUTION OF MOORE'S DELT TRAINING
You can read up to 3 premium stories before you subscribe to Magzter GOLD
Log in, if you are already a subscriber
Get unlimited access to thousands of curated premium stories and 5,000+ magazines
READ THE ENTIRE ISSUE
June 2020