Lose Your Gut!
Muscular Development|January 2020
Abdominal Fat Lowers Testosterone
America has a big problem. If you have sat in a three-across airplane row recently, or waited in line at a "big box" retailer, then it is evident that most of this country's adult population is carrying a signifi cant amount of excess adipose (fat). This was not so 40 years ago, but a myriad of conditions have arisen over the course of time, affecting both the environment and lifestyles that have promoted an obesogenic state. It is clear that where and how we live affects our weight and waistline. In fact, being overweight/obese is so common that it is now considered "normal" in the United States.1
Over the same period of time that America has grown love handles, it has been shown that U.S. men are producing less testosterone and experiencing a steeper decline in Leydig cell function (the cells that make testosterone) as they age, compared to men of one or two generations back.2 The association between declining testosterone and rising obesity is more than coincidence, as altering one affects the other. It has been shown that testosterone replacement therapy (TRT) promotes loss of fat and reduction in waist circumference over time.3,4 Conversely, many obese men (especially those with central obesity, or "big gut" guys) who are hypogonadal (have low testosterone production) see an improvement or even normalized correction of testosterone with weight loss.5-7
The relationship between testosterone and adipose tissue (fat) is like a marriage— when each supports the other, a healthy relationship ensues. However, a bad marriage causes a self-reinforcing, downward spiral that pulls down both spouses. It may start with one spouse's actions, but if the other's response worsens the situation, the back-and-forth eventually results in an unhealthy relationship.
Men with low testosterone share many common traits that are used to support laboratory tests to diagnose "testosterone deficiency." Among these is increased fat mass, especially central fat mass— this means belly fat. However, the prevalence of obesity is far greater than that of testosterone deficiency, so pathologically low testosterone is not an inevitable consequence of the "beer belly," at least in the short term.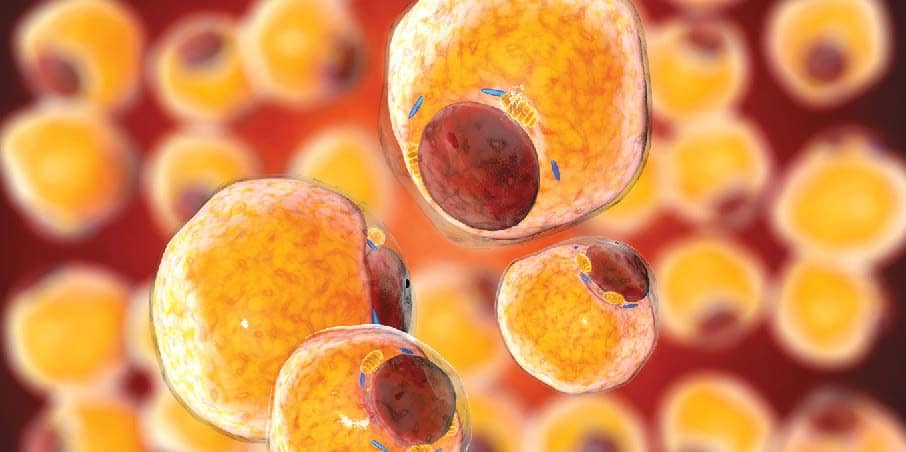 How Obesity Affects Testosterone
It is important to differentiate among the effects of obesity on total testosterone, free testosterone and hypothalamic-pituitary function. Recall that testosterone is produced in the testes (Leydig cells) under the control of the hypothalamic-pituitary axis (a control center in the brain). Further, the vast majority of testosterone is tightly bound to a carrier protein that prevents it from being metabolized too quickly, or expressing its signal. Total testosterone refers to bound and "free" testosterone. Free testosterone is the smallest portion (around 1 to 2 percent of the total) and is able to interact with the target cells (e.g., skeletal muscle, prostate). An additional measure called "bioavailable" testosterone is also used, but is not as well studied in the literature.
You can read up to 3 premium stories before you subscribe to Magzter GOLD
Log in, if you are already a subscriber
Get unlimited access to thousands of curated premium stories and 5,000+ magazines
READ THE ENTIRE ISSUE
January 2020