Classic Evolution
Muscular Development
|
October 2019
Logan Franklin makes a successful transition from Men's Physique to Classic.
With so many divisions in the IFBB Pro League now for both men and women, it's not unusual at all for athletes to switch divisions. Classic Physique's 2x Olympia champ, Breon Ansley, started his pro career as a 212 bodybuilder. Chris Bumstead and George Peterson were both bodybuilders before they put on the Classic trunks, and Henri-Pierre Ano had a brief but successful run in open bodybuilding before making the switch. It's more common for bodybuilders to "come down" to Classic than it is for Men's Physique pros to "move up," adding the necessary size and learning now to showcase their physique in a series of mandatory poses rather than simple quarter-turn "model poses." One man who did accomplish that and thrived in Classic was former MD cover man Arash Rahbar. Now, Logan Franklin has also turned in his board shorts. When I watched him win the Men's Physique title at the Tampa Pro in 2018, I couldn't help but thinking, "this guy would be better off in Classic." Now he's made his debut in that division. I spoke with him a couple of weeks afterward to see how the transition had been made, and his reflections on competing in Classic Physique for the first time.
Did you adjust your training and diet in any way after your final MPD show in early March to reflect any different needs to Classic Physique?
Honestly man, I didn't really change much. I always train with high intensity, whether that be with higher reps or a lot of supersets. I always keep a fast pace in my workouts. I did slow my reps down to focus more on squeezing and contractions, with the goal of carving striations into places I didn't have before. It seemed to work, since I did see new details.
Since you competed at the Arnold in early March and Tampa was early August, I'm guessing you pretty much had to stay on prep most of that time.
I probably had about three weeks after the Arnold to relax. I was still eating mostly clean that whole time. I would have one to two cheats or snacks a day. That's how I structure my diet in the progression season, which is what I prefer to call the off-season. There was not much time to reset or make many changes between the two shows.
How did your physique change from the Arnold to Tampa?
I was definitely fresher for the Arnold. It was the beginning of the year, and my body got ready easily. With the Tampa prep, it took more time to get my body moving in the right direction. I was 3 pounds heavier in Tampa. My arms came up. I'd never seen myself onstage hitting poses before.
What was it like finally getting to pose onstage for the first time? Do you feel people finally saw your physique the way it was meant to be seen?
I'm not gonna lie, it was more exciting than any other show I've done. I had a lot of fun, but I was also nervous. I've never had nerves before a show until then. My mind was racing— am I hitting this shot right? I was constantly thinking about how I wanted to hit each pose. It was just inexperience. I was trying to stay confident. At least I knew I looked the best I ever had and brought my best possible package to the stage.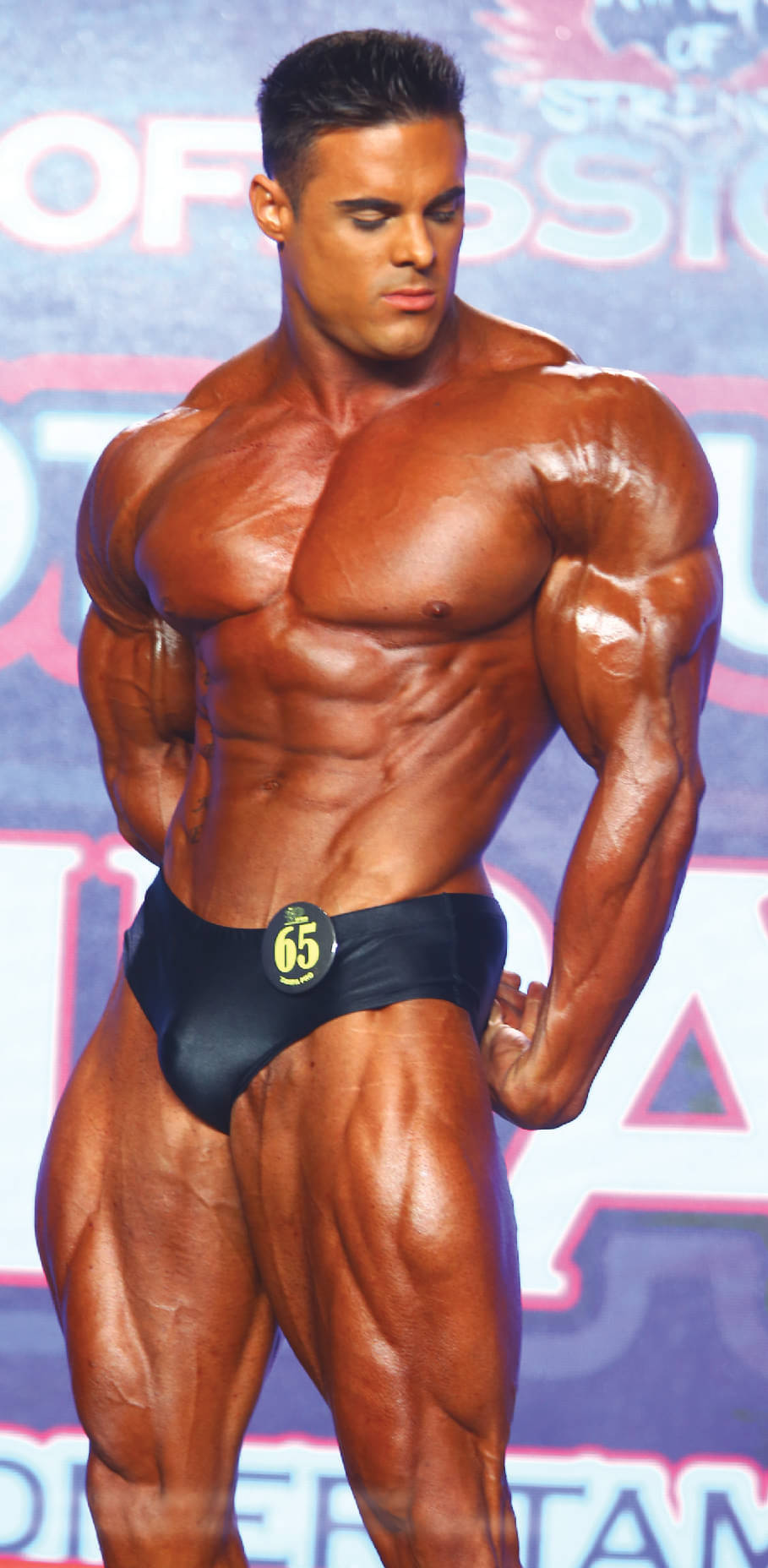 You can read up to 3 premium stories before you subscribe to Magzter GOLD
Log in, if you are already a subscriber
Get unlimited access to thousands of curated premium stories, newspapers and 5,000+ magazines
READ THE ENTIRE ISSUE
October 2019