Blessing in DISGUISE
Muscular Development|June 2020
Blessing Awodibu – The Boogieman Waiting to Make His Pro Debut
Though he has yet to make his pro debut, Blessing Awodibu is one of the most recognizable bodybuilders in the world thanks to his 1.6 million followers on Instagram and his many more millions of views on YouTube. His comical skits have appeared on shows like Tosh.O and Ridiculousness, and on FOX News, since several of his videos have gone viral with YouTube views in the millions. But he's a lot more than just a hilarious character being fed bananas by chimps and terrorizing gym mates in a horse mask. He's a young man with serious potential to do damage in the pro ranks with his combination of size, shape, a tiny waist, and muscle density. If all you knew about this man was that he has a memorable name and a madcap Internet persona, it's time you found out all about Blessing Awodibu, whose potential is so scary they call him The Boogieman.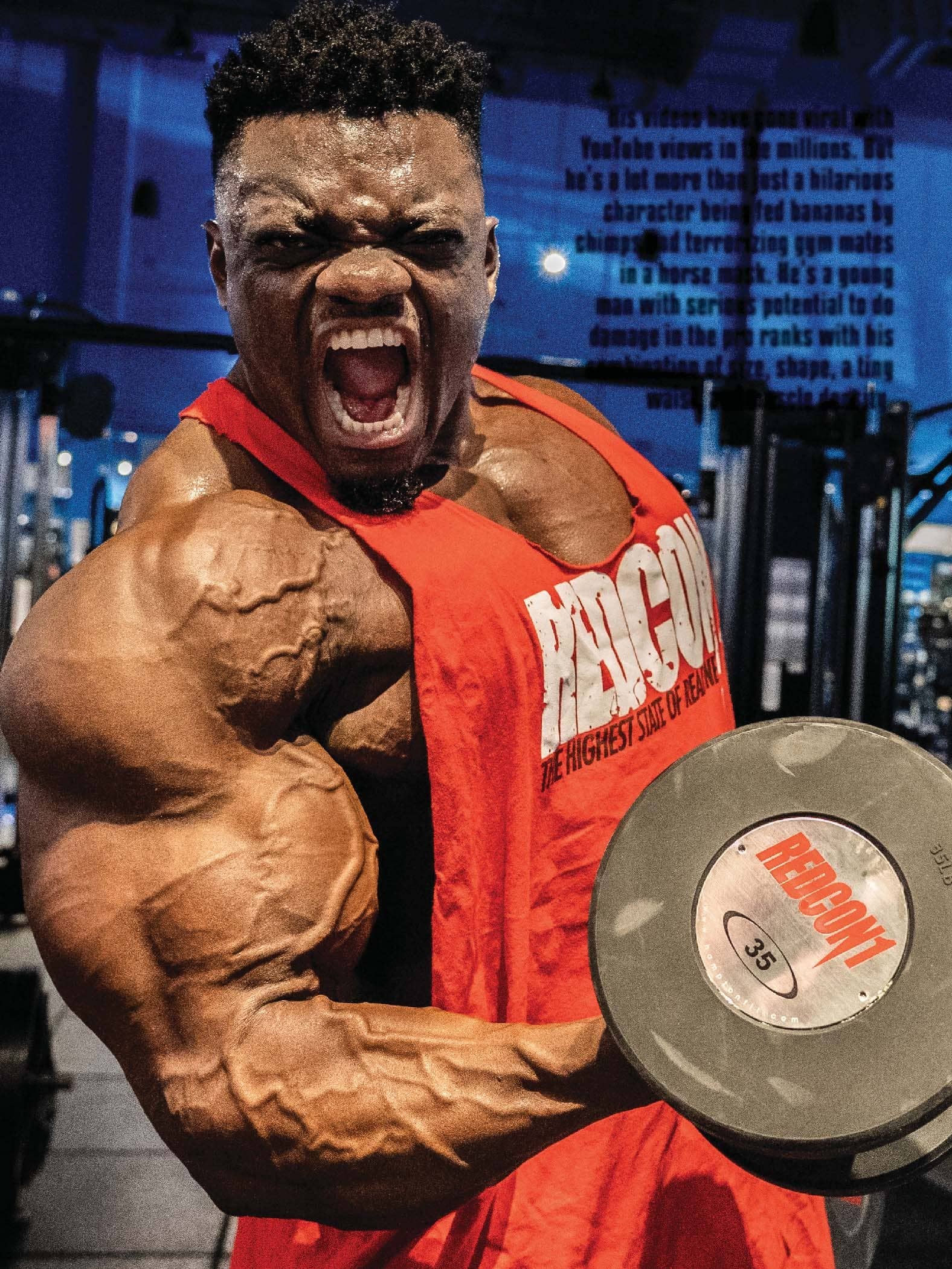 THE NIGERIAN-IRISHMAN
Blessing was born in the West African nation of Nigeria, the same country that gave us the original mass monster back in the 1980s, Vic Richards. His parents and his five older brothers moved to a small town on the west coast of Ireland when he was just 9 years old. As you might have guessed, they were the only black family there, which made life complicated. "I experienced my share of racism there as a kid," he tells us.
To make matters worse, Blessing was a skinny boy, and very self-conscious about his body. At 14, he decided that hefting iron could beef up his scrawny frame. He turned his home's garden shed into a makeshift gym and soon began to see changes. "I'm naturally very lean, a hard gainer if you will, so everything I gained was lean muscle tissue," he says. Blessing also played Gaelic football, rugby, and was a kickboxer in his teens, but eventually, they all gave way to his new love for training and gaining. A friend urged him to compete, but he wasn't interested. At 19 in 2011, he claims his friend forced him to enter a contest. "I didn't win, but it was a good experience," he reports.
Only later did Blessing realize he should have been competing in the Junior division for those under 23, rather than First Timers, which encompassed novices of all ages. Blessing also met his first IFBB pro there, The X-Man, Toney Freeman. "He was so cool, and he took the time to encourage me to keep at it," he says. Others pointed out his potential and noted that he just needed to diet harder next time and the outcome would surely be more favorable. At his second contest, he did just that, and won the Juniors. It was there that he met his second pro, Kai Greene, who Blessing had looked up to for years already. "I became a huge Kai fan immediately," he tells us. "He's got one of the best physiques of all time, he's funny and smart, and he takes the time to talk to all his fans. Kai will talk to you for an hour if one of his people doesn't pull him away!"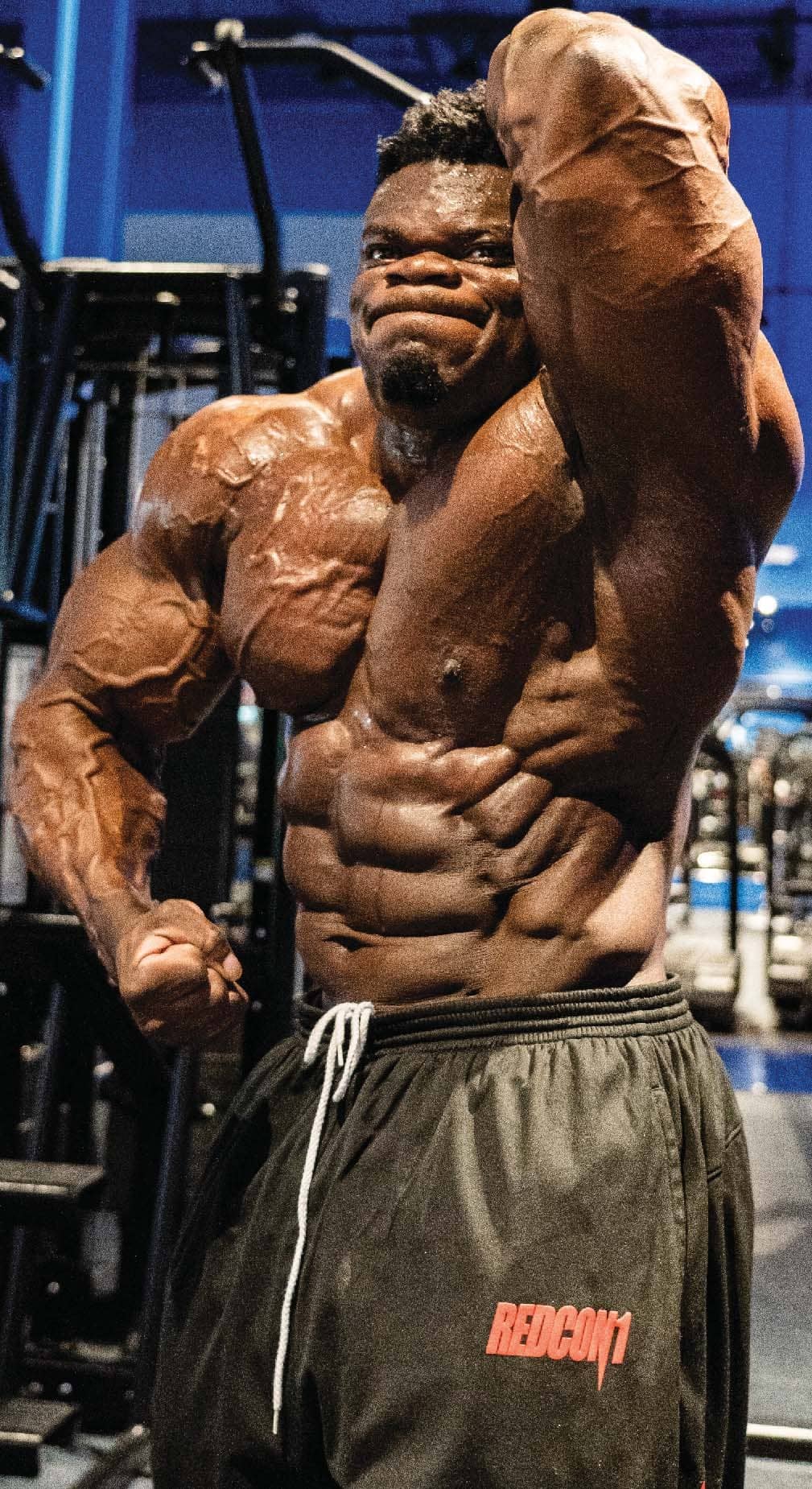 EARNING PRO STATUS – SEVERAL TIMES
You can read up to 3 premium stories before you subscribe to Magzter GOLD
Log in, if you are already a subscriber
Get unlimited access to thousands of curated premium stories and 5,000+ magazines
READ THE ENTIRE ISSUE
June 2020