'Arnold Era' Diet
Muscular Development|March 2020
Arnold created an atmosphere in which slacking was not an option.
Bodybuilding experienced a meteoric rise in popularityduring the 1970s due to the balance Arnold Schwarzenegger presented between the natural and supernatural. He did not look alien to the public; he was the avatar of every hero in comics and pulp novels. Arnold's physique during the early Mr. Olympias was impressive due to his size, muscularityand symmetry. Unquestionably, he benefited from his (overstated) height, good looks as well as his charisma. Relatively less stunning was the degree of definition— especially when compared to modern-day bodybuilding. Heavy training, genetics, anabolic steroids and protein-rich diets allowed these men to attain tremendous muscular size— however, the vascularity and striations often seen today is missing from this early time. If you want to know what these men ate, go back to the 1960s. There was little nutritional awareness; people didn't talk about protein and carbohydrates— it was "meat and potatoes." This is the generation that was sold on the campaign of "Wheaties – the Breakfast of Champions." Forget about all the supplements in your cabinet, they did not exist. At best, there were predigested proteins from gelatin and soy, along with desiccated liver tablets; athletes were chewing dextrose tablets, which are basically SweeTARTS.1
Most bodybuilders were marginally employed (very few were sponsored), typically coming from blue-collar backgrounds. Their background and resources were closer to what the average reader has— far from what today's pros enjoy. This caused bodybuilders to be dependent upon cheap, regular food— and lots of it. The situation was worsened if they traveled for competition, especially to a foreign country. Mike Katz, who appeared in the movie "Pumping Iron" as one of Arnold's competitors, recalled eating kabobs purchased from a bazaar booth with fellow competitors prior to one competition; there was no other option.2
In Shape Year-round
Obesitywas heavily stigmatized in that era, so no self-respecting bodybuilder would have allowed himself to "bulk"-up to walrus-like proportions. This caused the men to be vigilant about what they ate year-round, and the effect of the diet on the body. It was an era of open sexual promiscuity; tight clothing styles kept the body on display at all times. This maintained the motivation and pressure to keep a toned physique at all times. The typical diet will seem ignorant in some ways compared to what even young bodybuilders understand today— seemingly deficient in vital nutrients, and excessive in calories, fat and sodium. Its relatively high calorie content was offset by more physical recreation and occupational activitycompared to the media-based, sedentary trends of today.
There was a focus on meat, be it beef (including dairy), chicken (including eggs) or fish (nope, no caviar). Though nobody talked much about individual amino acids, everyone knew you needed "meat" or protein for your muscles to grow. The importance of leucine was unrecognized, and it certainly wasn't available in half-kilo tubs. Along with the protein, of course, came fat. While the men living on the coast could obtain fish regularly, it was not a staple for those in the Midwest or Mountain regions, or parts of Europe. Hence, much of the fat was saturated; trans fats were just appearing in the margarines used as butter substitutes. Perhaps it was the inclusion of flesh and non-hydrogenated fat that allowed these men to gain the size they did (on conservative anabolic regimens), whereas so many people now avoid fat overzealously.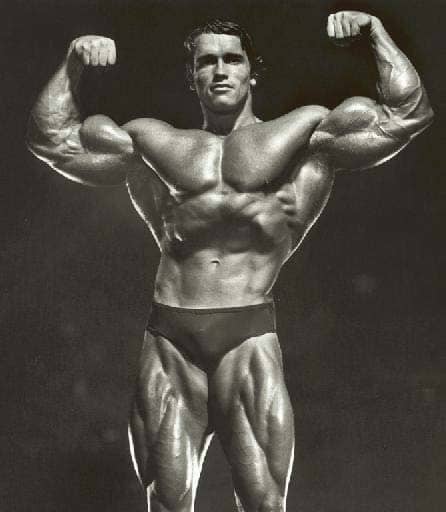 Sugary drinks were not regularly consumed, and sodas came in 12-ounce glass bottles. Given that the sugar came from cane sugar rather than high-fructose corn syrup, the impact of sugar during the 1960s may not have been as detrimental.3,4 The only artificial sweetener available was saccharin, so low-calorie "diet foods" were available. Bodybuilders generally did not rely on low-calorie sweets, realizing the need for habitual restraint and timed carbohydrates to maximize the training response. The limited exposure to chemicals from plastics and fertilizers may also have contributed to their success. Pans were made of iron, and coated with butter or lard; Teflon and other non-stick surfaces were only just being developed. There are undoubtedly many environmental factors that will never be realized, though they are discussed in the obesityliterature as "endocrine disruptors" (e.g., BPA, phthalates, alkylphenols).5
Low-carb, Not Ketogenic
You can read up to 3 premium stories before you subscribe to Magzter GOLD
Log in, if you are already a subscriber
Get unlimited access to thousands of curated premium stories and 5,000+ magazines
READ THE ENTIRE ISSUE
March 2020