E-BIKE FAQ
Mountain Bike RiderJune 2020
Got a question about riding, setting up or caring for your e-bike? All the answers are here...
How do I keep my e-bike lubricated?
E-bike drivetrains have a hard life, with huge power and torque running through the chain, and shifts being made under the kind of loads unimaginable on a regular bike. Which means it's crucial to keep the chain and jockey wheels well lubricated. After washing, make sure the chain is clean and dry. Put a 5mm Allen key into one of the chainring bolts and pedal the crank backwards until it hits the tool. Now you can pedal the chain backwards and run a bead of lube over every chain link. We'd recommend a heavy-duty wet lube. Once every link has been oiled, get a rag and run the chain back through it to remove any excess. Don't forget to take the Allen key out!
Should I charge my e-bike outdoors?
In a perfect world, you should always charge your e-bike's battery indoors at room temperature (between 10-20°C, out of direct sunlight). If your battery is not removable, try your best to charge the whole bike in the house.
How can I maximise the life of my drivetrain?
Assuming you've been cleaning and lubing your e-bike properly, the single biggest thing you can do to increase the life of your drivetrain is to shift a single gear at a time. Most SRAM-equipped e-bikes won't let you shift more than one sprocket at a time anyway, but the latest Shimano drivetrains do not have a single-shift option. So, don't force the chain across the block in one hit, go one at a time and try to back off the pedals as much as possible.
How do I tune my e-bike to go faster?
This is actually a trick question, because the​ answer is you shouldn't tune it, however tempting it is. The reasons are three-fold. One, it's illegal (France has announced a €30,000 fine or jail time for anyone caught riding a 'chipped' e-bike) and if you have an accident involving someone else, you may well be liable. Secondly, it will void your warranty. And third, it will definitely accelerate wear and tear on all your bike's consumables, including the motor – which could get very expensive if it goes pop and you're not covered by the warranty. We'd also argue it's not actually that much of an advantage, and for most e-bike riding we do, 25kph is enough.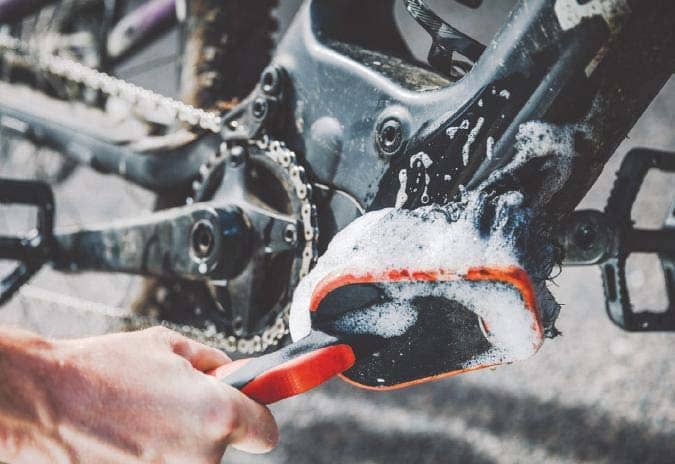 Is it OK to wash my e-bike?
According to advice from Bosch, you should wash your e-bike as frequently as you'd wash an analogue bike (ideally after every ride), but you should never use a jet wash. This is because the high-pressure water can get past seals and into delicate electronics, as well as into non-serviceable areas such as the bottom bracket. Equally, avoid degreasers and bike shampoos – use water from a garden hose, or bucket, and a range of brushes to get into those awkward areas around the chainset and the motor. Advice varies around what to do with the battery – Specialized recommends leaving it in-situ, but Bosch suggests removing it, then replacing the battery cover. Either way, we'd remove any displays (or cover with a plastic bag), dry the bike immediately after washing, particularly battery terminals, and then switch the bike on to check everything's working.
Why is my motor noisy?
There's no getting around the fact that e-bikes are noisier than non-assisted bikes. Some motors are noisier than others though (the Brose is the quietest in our experience), which mostly comes down to the speed the motor spins at and the size and weight of the unit.
What happens if my motor stops working?
As long as it's within warranty, and you haven't tuned your motor, it should just be a matter of contacting the manufacturer and getting a replacement. Most motors are simply swapped out rather than repaired or refurbished. The belts in Brose motors can be replaced, and Specialized says it's working on a refurbishment plan, but it seems that for the most part, faulty motors are analysed then recycled.
How do I get up steep climbs?
You can read up to 3 premium stories before you subscribe to Magzter GOLD
Log in, if you are already a subscriber
Get unlimited access to thousands of curated premium stories, newspapers and 5,000+ magazines
READ THE ENTIRE ISSUE
June 2020