Coach Your Mates Part 3
Mountain Bike Rider
|
October 2020
How to help your friends ride better, learn from more skilful riders, and work on your weaknesses
In the last issue we looked at how to create a productive learning environment for you and your pals, and the numerous ways in which different people learn. We broke down how to structure your riding so that you can accelerate your learning, and we talked you through how to make progress confidently. Hopefully you've had a chance to ride your bike loads in the last few weeks and you've managed to put some of this advice into action.
In this issue we are going to look at how to continue using that feedback without having to run a specific session, and how to continue learning when you're riding on your own. We're going to encourage you to discipline yourself so you can stay on top of your weaknesses and hopefully show you that, scary as this sounds, it can actually be a lot of fun! We'll also break down how to ride with a pal and either explain how you do what you do with weaker riders, or follow a stronger rider and learn from it. After all, the more people that are riding at a higher ability the more people there are to go on adventures with you. Right?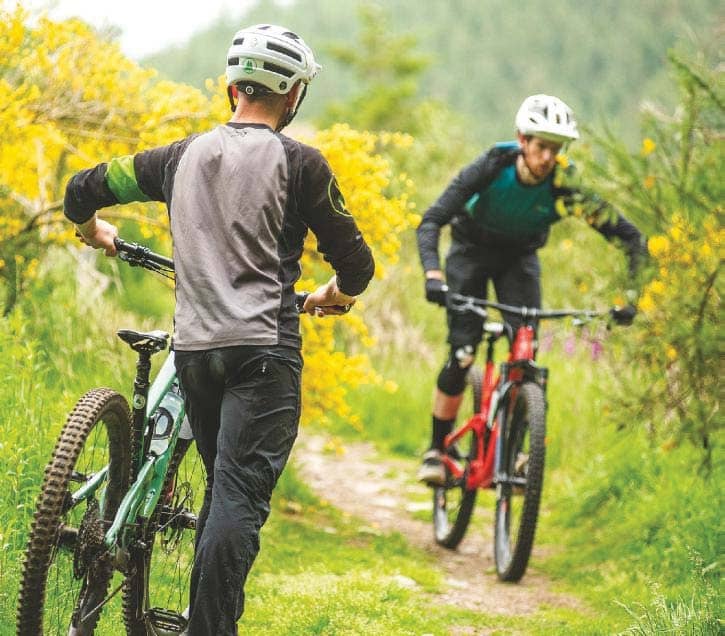 THE COACH
ANDY BARLOW
Before joining Dirt School Andy liked to win things — races like the Scottish XC Champs and the Scottish Downhill Champs. Since 2009, though, he's coached some of the world's best riders with Dirt School and helped bring on the BASE MTB course at Borders College in the Tweed Valley. But what Andy really likes to do is communicate those pro techniques to everyday riders.
TWO STEPS S FORWARD…
Dirt School's coaching app lets you see the right and wrong techniques in slow-mo
First, the more you consciously think about how you ride and what techniques you use, the better you will become. However, this doesn't mean that progress always has to be moving forwards. Sometimes it needs to go backwards. Let's list the four widely accepted stages of learning below and take it from there.
UNCONSCIOUS INCOMPETENCE
This is where you don't actually know you're doing anything wrong. You don't know that other riders are doing it differently, and you have no idea that there is a better way.
CONSCIOUS INCOMPETENCE
You know that you are making a specific mistake but you keep making it! Frustrating as this is, this is actually a good place to be. It's the first step in recognising that there is room for improvement.
CONSCIOUS COMPETENCE
A lot more satisfying. This is when you know what you should be doing and you apply it deliberately. You might have to slow down in order to give yourself time, but spend enough time here and you'll be making good progress.
UNCONSCIOUS COMPETENCE
This is where a technique has become so automatic that it's now a reaction. You don't even have to think about it.
The easiest way to think about this is that most of the processes or control mechanisms that you use to handle your bike are reaction based. Which way round your brakes are, how you change gear, how you lift your back wheel to get it up a kerb. It's automatic and we need to challenge some of them. This first step, however, is to recognise that you're doing it wrong to begin with.
MAKING PRACTICE FUN
You can read up to 3 premium stories before you subscribe to Magzter GOLD
Log in, if you are already a subscriber
Get unlimited access to thousands of curated premium stories, newspapers and 5,000+ magazines
READ THE ENTIRE ISSUE
October 2020