1/7-Scale Hawker Hind
Model Airplane News
|
January 2019
A great-flying 63-inch-span RAF biplane.
Aderivative of the Hawker Hart, the Hind incorporated the newly developed Rolls-Royce Kestrel V engine along with a few other refinements. The most notable of these was the cut-down rear cockpit, which afforded the gunner more mobility. With a combination of extremely clean lines and the new Rolls-Royce engines, these rugged biplanes could fly 30mph faster than their contemporary front-line British fighters.
I chose to model this aircraft for its amazing history as well as its beauty. At 1/7 scale, the wingspan came out to 63 inches—a nice size to accommodate plenty of scale detail but small enough to fit in the back of my car with the wings removed and back seats folded down. While it is a modest size by today's standards, this would be the largest biplane I'd have ever built. Knowing that it wouldn't get much air time if it proved to be a hassle to transport and set up, I decided to keep the plug-in wing bays together with flying wires attached when separated from the fuselage. The end result is a biplane that is IMAA (Inter national Miniature Aircraft Association) legal and only requires four 4-40 screws to secure the wings, and it can be assembled at the field in about five minutes.
CONSTRUCTION
Traditional built-up balsa-and-ply construction techniques are used throughout. The power is provided by an E-flite Power 32 brushless motor on three cells. The plans were made from 3-view drawings, and I referenced many online photos of the full-scale example still being flown as part of the Shuttleworth Collection in England. Before we start construction, let the rumble of the Rolls-Royce engine linger in your ears. Catch a whiff of exhaust as it hangs in the air. Sit back, close your eyes, and feel the history… We are now ready to begin.
The tail feathers are a good place to start. Trace the inner outlines onto a piece of 1/4-inch foam-core to make a template. Tape the edges with transparent tape to prevent the glue from sticking, and pin it over wax paper. Soak 1/4 x 1/16-inch balsa strips in warm water, then run a bead of white glue down the length and laminate three strips together, gently curving around the template. Let dry overnight. This produces a strong, lightweight outline for your tail surfaces. Remove the template and pin the outlines over the plans, blocking them up with scrap 1/8-inch balsa. Frame it with 1/2 x 1/4-inch spars and 1/2 x 1/8-inch cross-pieces. Sand the finished framework to an airfoil shape, and set aside.
The fuselage, although straightforward, incorporates a method to help align the cabane struts and a keyhole setup to attach the nose piece.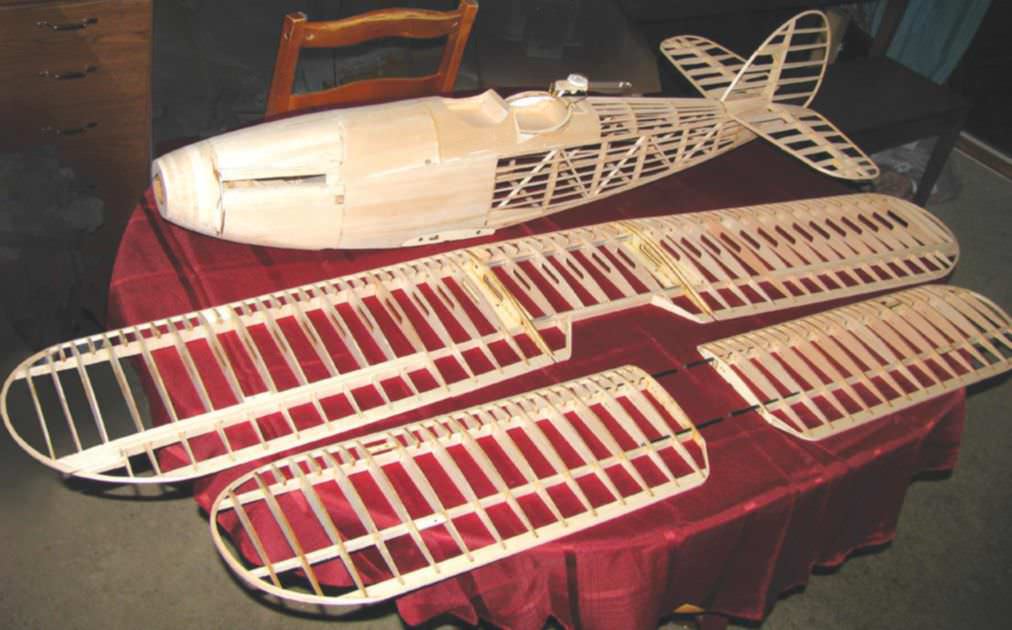 You can read up to 3 premium stories before you subscribe to Magzter GOLD
Log in, if you are already a subscriber
Get unlimited access to thousands of curated premium stories, newspapers and 5,000+ magazines
READ THE ENTIRE ISSUE
January 2019