Springfield Armory 1911-A1 Loaded Stainless .45 ACP
Handloader|August - September 2020
FROM THE HIP
Most mechanical products designed and pat-ented around 1910 have long since become obsolete, museum pieces or discarded in favor of more modern designs. However, John Browning's amazing Model 1911 pistol seems to be timeless.
While the U.S. military almost immediately adopted it, and it racked up an excellent service record in many wars and conflicts that spanned more than 74 years, it was ultimately replaced by the high capacity Beretta M9 chambered in 9mm to allow the U.S. to conform to NATO standards in 1985. However, the Model 1911's military history was far from over, as it is still being used by elite combat units such as the U.S. Marines Expeditionary Unit (Special Operations Capable). They clearly understand the value of the design and reliable performance of the .45 ACP cartridge in combat.
In recent years Colt, Kimber and Springfield Armory have each been awarded various contracts to supply U.S. Special Ops combat units with specified features on Model 1911 pistols. These units could have any pistol they desire, but they still choose the Model 1911. While today's Model 1911 is improved and more reliable than those produced more than a century ago, the basic design remains unchanged. One example includes Springfield Armory's Model 1911-A1 Loaded Stainless.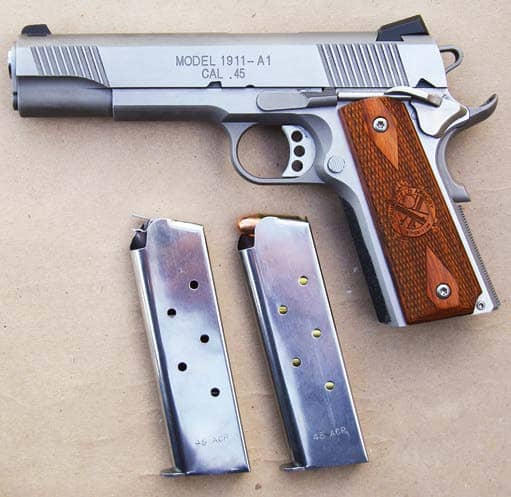 The original Springfield Armory was a firearms factory owned by the U.S. government and produced guns from 1777 (some sources list 1795) through 1968, with a few notables that include the Model 1873 Trapdoor (and variants), Krag-Jorgensen, U.S. Model 1903 Springfield and Model 1911 pistols. After its closure, in the early 1970s a private party purchased the "Springfield Armory" trademark. The Reese family eventually purchased the company and moved operations to Geneseo, Illinois. While this may sound confusing, Springfield Armory guns are manufactured by Springfield INC., that began doing business in 1974 and advertises appropriately as "The Oldest Name in American Firearms."
You can read up to 3 premium stories before you subscribe to Magzter GOLD
Log in, if you are already a subscriber
Get unlimited access to thousands of curated premium stories and 5,000+ magazines
READ THE ENTIRE ISSUE
August - September 2020