SHORT .410 SHOTSHELLS
Handloader
|
April - May 2020
CARTRIDGE BOARD
To my way of thinking, guns, shooting and handloading should not be just something to do, but fun. Fun of the "Where did the day go, we just got here" type.
Fun like when Dad gave me an old smoothbore .22 rimfire chambered for shot cartridges. Early one summer morning, I was carrying it while walking around a marshy area in farmland behind our house. Flying everywhere were dragonflies with 4-inch wingspans. Here was a target for the tiny shot cartridge! Jump-shooting the bugs when they lit on a weed was great fun.
Soon the daylight was fading and new targets appeared. First just a few bats, then hundreds. Because of their erratic flight, the only thing successful was spot-shooting, again pure fun. Crumpling bats at that marsh remains a vivid memory almost 60 years later. That and Dads comment when he found out what I was doing: "Just don't cook and eat any, they're poison." I hadn't thought of that yet!
Perhaps to get my mind off bats, Dad soon brought home a funny-looking single shot and several boxes of dirty greenish brown paper cartridges. They looked like my cousins .410s but were only 2 inches long. This was my introduction to the "European .410" with cases head stamped "12mm." While superior to the . 22 shot cartridge, it would barely kill sitting barn pigeons at 20 yards. Wing shooting was difficult due to the heavy trigger pull. The only thing I remember shooting with it was a few meadowlarks off fence posts because a crazy friend of mine read they were good cooked over an open fire. Well ... yes they are!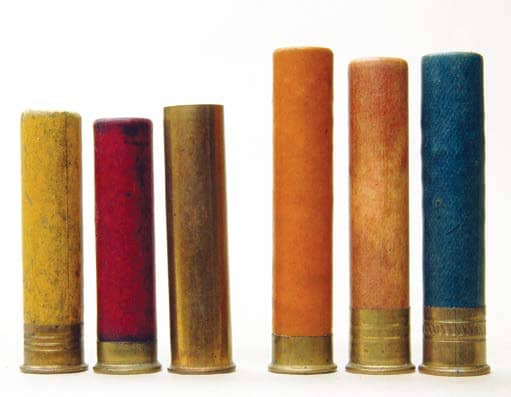 You can read up to 3 premium stories before you subscribe to Magzter GOLD
Log in, if you are already a subscriber
Get unlimited access to thousands of curated premium stories, newspapers and 5,000+ magazines
READ THE ENTIRE ISSUE
April - May 2020