RIFLE BRASS HARDNESS II
Handloader|June - July 2020
PRACTICAL HANDLOADING
The last column Handloader No. 325 (April-May 2020), began with an introduction of rifle cartridge case qualities and concluded with tables of measured brass hardness from the solid web section of cases. Tests for this current issue involve a measure of brass hardness at three regions of fired cases to reveal how much brass progressively hardens with repeated firings and reloadings. For this, I enlisted the services of the accredited and certified Curtiss-Wright IMR Test Labs (no connection to IMR powders) in Portland, Oregon, for independent results.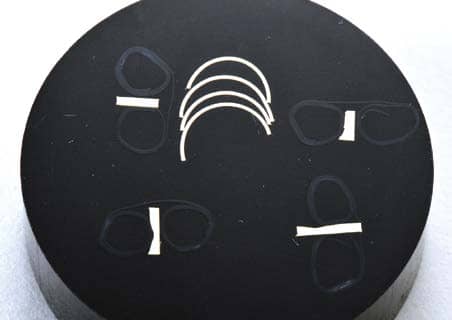 During this testing process with IMR Labs, I realized that the numbers reported in the last column were low. First, I had not applied a small but necessary correction factor to cylindrical samples on a V-block. Second, even though I had seen others do it, I found that the band of relatively solid brass in a case head is too narrow for reliable results from the side of a case. The distance between the bottom of a primer pocket to the powder column space is only .060- to .080-inch thick.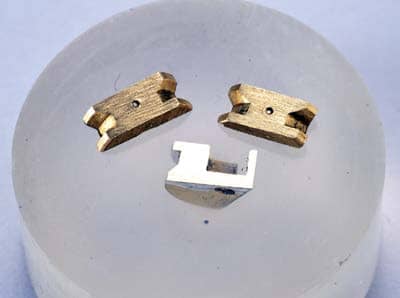 Readings from the side of a case are easily influenced by the precise location of the indenter. One hundred kilograms of force (220.46 pounds) on a 1⁄16-inch penetrator ball is a lot (Rockwell B test), and if it is applied over the void of a primer pocket or powder space it gives an erroneous result. It is regrettable that I made the error. At this point, all I can do is correct it and apologize to readers and to Wolfe Publishing Company.
Moving on to the current test to quantify the brass hardening effects of firing and reloading a case multiple times, I chose the Nosler .308 Winchester case, a charge of 40.0 grains of IMR-3031, a Federal 210 primer and seated a 165-grain Sierra hollowpoint boat-tail (HPBT) bullet to an overall length of 2.750 inches. One case was sized, loaded and fired two times, another case five times, and a final case 10 times. All cases were new, unfired brass at the start. The RCBS sizing die was adjusted to touch the shell holder when the ram was at the top of the stroke for maximum full-length sizing. The 24-inch test barrel was a Wiseman chambered with a SAAMI specifications reamer on a Howa action.
You can read up to 3 premium stories before you subscribe to Magzter GOLD
Log in, if you are already a subscriber
Get unlimited access to thousands of curated premium stories and 5,000+ magazines
READ THE ENTIRE ISSUE
June - July 2020