RIFLE BRASS HARDNESS
Handloader
|
April - May 2020
PRACTICAL HANDLOADING
A brass cartridge case holds and contains a primer, propellant and projectile in a durable near-waterproof, compact package. It aligns the bullet with the bore, provides a seal for high pressure gases when fired, acts as a heat sink to reduce the amount of heat transferred to the barrel steel, and then recovers after firing to permit easy extraction. The brass case is not only the basis for a round of factory ammunition; a fired one provides the ability to reconstruct another shot. A new component case lets the handloader assemble his own recipe from scratch without the expense, chamber throat erosion or time required to find, purchase and shoot a factory round. A brass case can be resized, reformed, blown out, work-hardened, annealed, shortened, reamed, trimmed, turned, chamfered, weighed, measured, sorted and polished.

With all the attention on new bullets and powders, the focus has gotten away from what is arguably the most critical component of a handload. The brass case offers so many opportunities for improving performance, it deserves attention.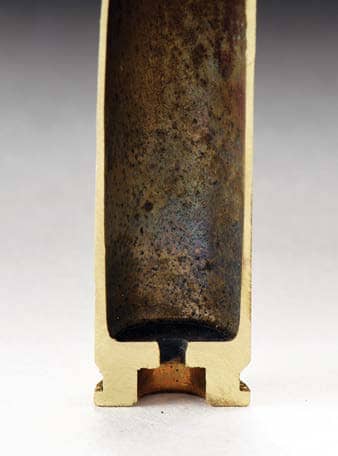 Let's start with a brass basic, the tradeoff between hardness and ductility. As hardness goes up, yield strength increases and ductility decreases. The often-overlooked rifle cartridge case is really a marvel. To paraphrase The Armament Research Development and Engineering Command at Picatinny Arsenal: The case mouth is relatively thin and ductile to permit easy bullet seating and provide effective expansion. The shoulder is tapered to improve extraction. Sidewalls are progressively thicker and stronger toward the case head so that it takes higher pressure to force the case wall against the chamber toward the base of the case. This is called "progressive obturation." A too-brittle case with reduced ductility produces ruptures and splits. A too-ductile case can produce extraction problems. The case head is the thickest and strongest part of the case because it is partially unsupported or backed by steel and must resist the deformation of firing pressures and contain the primer in the pocket. As chamber pressure subsides, the steel chamber recovers fully, and the brass case partially. If the brass case is not made with the proper strength and ductility in the proper places, it causes a malfunction.
You can read up to 3 premium stories before you subscribe to Magzter GOLD
Log in, if you are already a subscriber
Get unlimited access to thousands of curated premium stories, newspapers and 5,000+ magazines
READ THE ENTIRE ISSUE
April - May 2020