NEW RUGER EC9S 9MM LUGER
Handloader|June - July 2020
FROM THE HIP
When Ruger introduced the EC9s with a
stun-
ningly low manufacturer's suggested retail price, many people expected a compromised gun. On the contrary, it has proven reliable with a variety of loads containing bullets of different weights and profiles. It not only shoots where it is pointed, but its accuracy is on par with other striker-fired pistols that cost much more. At just 17.2 ounces, along with an especially trim profile and chambered for the 9mm Luger, it is already being accepted as a practical and reliable carry pistol.
The EC9s does not exhibit manufacturing shortcuts or display shoddy machining; rather it is wellmachined and speaks of quality. Manufacturing technology and processes have changed significantly, which allows companies such as Ruger to produce a better product at a reduced cost when compared to production methods employed just a few years ago. During my last visit to the Ruger plant, the company was in the process of manufacturing changes to help keep production cost in check for all of its firearms. The EC9s is the product of advanced CNC tooling technology that performs many operations to a single component without the need of being "moved" to the next tooling operation. Assembly times have also been cut, all of which serves to produce a quality product at a very competitive price.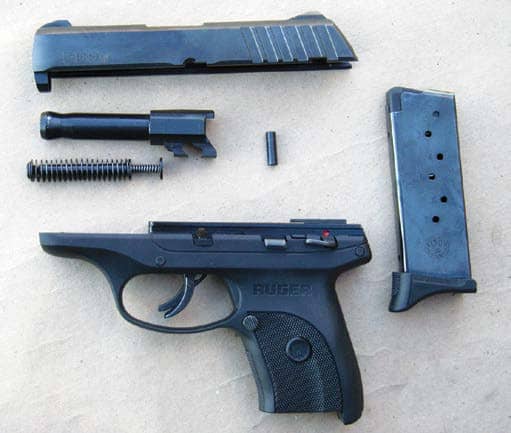 As indicated, the EC9s is a semi-auto striker-fired pistol that offers an especially compact profile, making it appealing for concealed carry. For example, in addition to weighing a mere 17.2 ounces, its overall length is just 6 inches while height is 4.5 inches and the slide measures around .90 inch wide. The barrel length is 3.12 inches. Magazine capacity is 7+1; however, Ruger offers an extended nine-round magazine sold separately. The seven-round version features a finger extension to allow a better grip for larger hands such as mine. The magazine latch is small and unobtrusive but readily releases magazines to drop freely as desired.
The frame is glass-filled nylon while the grip frame area is heavily textured to improve the shooter's hold and prevent slippage while shooting. The grip frame measures .950 inch at its widest point. Its narrow profile and good ergonomics help with quick target acquisition.
You can read up to 3 premium stories before you subscribe to Magzter GOLD
Log in, if you are already a subscriber
Get unlimited access to thousands of curated premium stories and 5,000+ magazines
READ THE ENTIRE ISSUE
June - July 2020