Learn To Reload - Choosing Bullets
Handloader|October - November 2019
Everything rides on the bullet – the success of a hunt, a tight cluster in the bull's-eye of a target or the clang of a steel plate at long distance. Before a bullet is sent on its flight to meet those expectations, a handloader must ensure it's correct for the job and handloaded properly so it can perform its intended job.
Bullet Types
To obtain the best performance from a bullet, handloaders must consider its composition, shape, weight, caliber and structure.
Lead has been the principal metal of bullets since the beginning of firearms due to its high density and relatively low cost. Bullets made of plain lead remain an economical choice for low-velocity handgun loads. These swaged-lead bullets are coated with lubricant to reduce lead fouling. But at velocities much above 750 fps, streaks of lead accumulate in a handgun's forcing cone and bore, and removing it requires a considerable amount of scrubbing with a brush.
Swaged-lead bullets and cast bullets are not the same. Bullets could be cast out of plain molten lead. However, lead flows poorly and produces incompletely formed bullets, and they would have the same soft Brinell Hardness Number (BHN) of 5 as swaged-lead bullets. Correctly cast bullets made with lead alloyed with tin increase the flow of the molten lead alloy to produce fully formed bullets, and antimony is used to increase bullet hardness.
Companies that describe their bullets as "hard cast" could be referring to anything cast of lead alloy. It's better to look for the BHN of bullets. Missouri Bullet Company's cast lead rifle and Action Series handgun bullets have a BHN of 18 while its Cowboy Series bullets have a BHN of 12.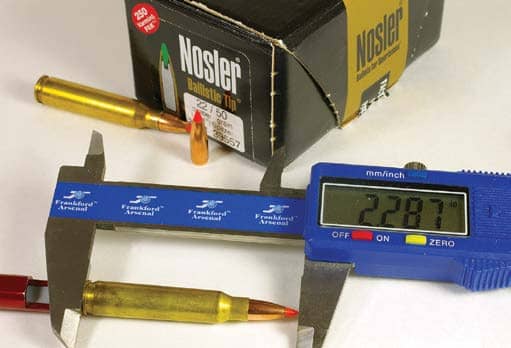 Plain base bullets with a BHN of about 12 can be fired up to around 1,300 fps with good accuracy and little to no leading. One evening this past spring I shot a hundred .30-30 Winchester cartridges through a Winchester Model 94. The cartridges were loaded with 150-grain plainbase bullets cast of lead alloy with a BHN of 13 and a muzzle velocity of 1,250 fps. The few streaks of lead clinging here and there on the rifling lands were easily brushed out.
Cast bullets with the same BHN of 12 fired at higher velocities require the addition of a gas check (a copper cap on a bullet's base), which strengthens the base and protects it from the eroding effects of powder gases. Using gas checks, I shoot 150-grain bullets cast of lead alloy with a BHN of 12 at a muzzle velocity of 1,927 fps from my .30-30. Three-shot groups measure a touch over an inch at 100 yards and the bore remained clean of lead.
I like to cast bullets for handguns and rifles for the cost savings over jacketed bullets and the satisfaction of making something by my own hands. Many people who see me shooting cast bullets consider me not oldschool, just old. They would much rather handload jacketed bullets.
Bullet jackets do vary. Berry's Superior Plated bullets start with a lead core tumbled in an electrically-charged bath of copper ingots that forms a jacket through electrolysis. Berry's, though, warns to "… stay away from magnum velocities when loading plated bullets." Jackets are also electroplated on Speer Gold Dot and Federal Fusion bullets. However, resulting jackets are as thick as .038 inch to withstand even the highest velocities.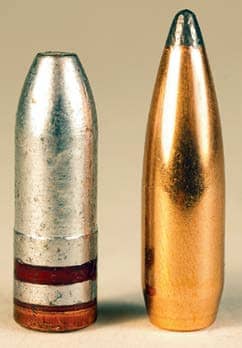 Gilding metal, with a composition of 95 percent copper and 5 percent zinc, is the standard bullet jacket material. It is relatively soft and ductile to form jackets and is to an extent self-lubricating and less likely to foul bores than plain copper. Cores inserted in these jackets consist of lead, or lead alloyed with a small percentage of antimony. Other core materials include compressed copper in Speer TNT Green and Nosler Ballistic Tip Lead-Free bullets, and powdered copper-tin in Barnes Varmint Grenade bullets.
Single-metal bullets may be made of brass, copper or gilding metal. These bullets are relatively long for their weight. Some of these bullets, such as the Barnes Triple-Shock and Hornady GMX, feature grooves around their shank to reduce bearing surface to lower pressure on firing.
You can read upto 3 premium stories before you subscribe to Magzter GOLD
Log-in, if you are already a subscriber
Get unlimited access to thousands of curated premium stories and 5,000+ magazines
READ THE ENTIRE ISSUE
October - November 2019