LYMAN 310 TOOL
Handloader
|
October - November 2020
MIKE'S SHOOTIN' SHACK
A short while back, I bought a Colt SAA .45 from an internet dealer. Its factory lettered as having been sent to a Maine hardware store in 1926. When it arrived, the package also contained a pleasant surprise. In it was an Ideal 310 Tool complete with .45 Colt dies. (The Ideal Company was bought by the Lyman Gun Sight Company in 1926.) I'd guess the 310 Tool set dates from about the same time as that Colt .45 because the handles were steel instead of a lighter alloy, as have been all 310 handles of my personal experience.
That true "hand-loading" tool brought back memories from 50 years gone by. Although I had a well-equipped reloading bench at home in West Virginia, during college years I worked summers "out West." For those trips, I took Lyman 310 Tools with me. The first was a full kit for .38 Special/.357 Magnum. Others came later.
Using that first 310 Tool was indeed a learning experience. One summer, five of us who worked together had .357 Magnum revolvers. We spent several pleasant evenings on the bunkhouse porch using the 310 Tool. The first thing learned was that not all .357 Magnum chambers were alike. The handguns involved were a Smith & Wesson Model 19, Colt SAA, a Uberti Cattleman and two Ruger Blackhawks. We pooled our fired brass from those sixguns and loaded it all together. That was a mistake. Sizing dies in 310 Tools do not full-length resize a case, and we ended up having to sort loaded rounds for all revolvers. At this late date, I don't remember exactly which revolvers had the largest chambers, but my Colt SAA certainly had the tightest ones. It wouldn't accept neck-sized cases previously fired in any of the other .357s.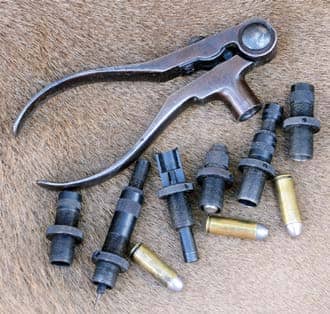 You can read up to 3 premium stories before you subscribe to Magzter GOLD
Log in, if you are already a subscriber
Get unlimited access to thousands of curated premium stories, newspapers and 5,000+ magazines
READ THE ENTIRE ISSUE
October - November 2020