Fifty years with .45 Colt
Handloader|August - September 2020
RELOADER'S PRESS
March of this year marked 50 years since the purchase of my first Colt Single Action Army. A letter from Colt a few years ago stated it was shipped as a .41 Colt to El Paso, Texas, in 1908. Since it was a .38 Special with a 4.75-inch barrel and the frame was blue, it is fair to assume it was converted sometime after Colt offered .38 Special barrels and cylinders to replace obsolete calibers sometime after World War II.
Since the Colt was already refinished and converted, it wouldn't affect its value to convert it to .45 Colt. The price of the .45 Colt 7.5inch barrel and a new cylinder from Numrich Arms/Gun Parts cost a bit more than the sixgun set me back in the first place. Fortunately, a gunsmith friend from college days, the late Clarence Beeley in Eugene, Oregon, offered to make the swap at no charge.
After the conversion to .45 Colt, the first three shots at 20 yards or so with Remington factory loads cut a cloverleaf group just above the point of aim and the fourth and fifth shots spread out a bit. That Colt, now fitted with a 4.75-inch barrel and a second cylinder with .452-inch chamber throats, has been in regular use since 1973.
Looking back, attempts to obtain acceptable accuracy with the first .45 Colt cylinder with chamber throats that averaged about .456 inch was a bit of a challenge, especially with those "hard" cast bullets that everyone seemed to be so fond of. It wasn't until Elmer Keith autographed a copy of his SIXGUNS by Keith (1955) for my birthday in 1979 that I figured out what the problem was. His standard cast bullet alloy for .44- and .45-caliber Colt Single Actions, the latter with those .456-plus chamber throats, was melted-down .45-70 Government bullets, one-to-16 (tin/lead), Brinell hardness number (BHN) 8 with up to 18.5 grains of 2400 and the Lyman/Keith 454424 cast semi-wadcutter.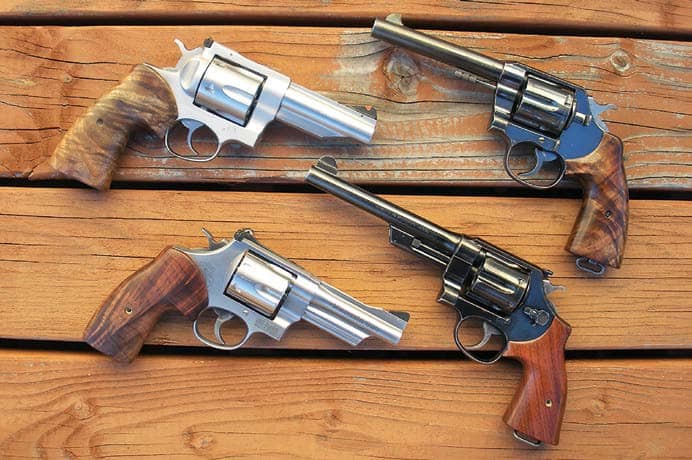 It's interesting that handgun scribes can quote Keith's loads for the .44 Special, .45 Colt and .357 Magnum, but nobody quotes his bullet alloy. If anyone missed it on page 310, he repeats it three more times on page 311 in SIXGUNS by Keith.
With concrete information to go by, tests with the same bullet/alloy worked fine with the Lyman bullet seated over 16.5 grains of 2400, 13.2 grains of Blue Dot, 20 grains of IMR-4227 and eventually 10.2 grains of Accurate No. 5. I also adopted a load published by John Lachuk: 15.5 grains of now-discontinued W-630 with the same bullet.
You can read up to 3 premium stories before you subscribe to Magzter GOLD
Log in, if you are already a subscriber
Get unlimited access to thousands of curated premium stories and 5,000+ magazines
READ THE ENTIRE ISSUE
August - September 2020