CASE EXPANSION MEASUREMENT
Handloader
|
October - November 2020
PRACTICAL HANDLOADING
Handloaders have seen the recommendations in load manuals and elsewhere for determining a maximum load with a micrometer. The usual method is to mark each case at the web, then using a blade micrometer, measure each case after firing to see how much the diameter enlarges. Through the years there have been variations on this process. The locations to measure, whether web, expansion ring, extractor groove, rim or belt have varied, as has the amount of acceptable expansion.
Today, however, there appears to be more of a consensus than ever about measuring, at least from the bullet and powder companies. The web is reported to be the best location on a rimless case, and one should quit adding powder when .0005 inch of expansion has been observed. They say it's best to measure a minimum of three cases at each level as a handloader progresses in small charge weight increments.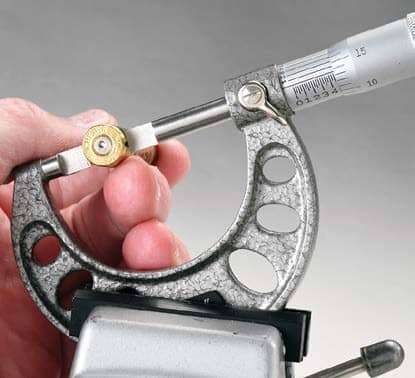 This is one of those ideas that sounds straightforward and simple. Try it sometime. It brings to mind the words of the late gunsmith Bob West. He once commented that anyone who claims to be able to hold machining tolerances to .0001 inch is kidding himself. Those were in the days when gunsmiths relied on manually operated lathes and milling machines, but the point was made. The idea that someone cantote a micrometer to the range in a shooting box and whip it out to determine a maximum load is a similar situation.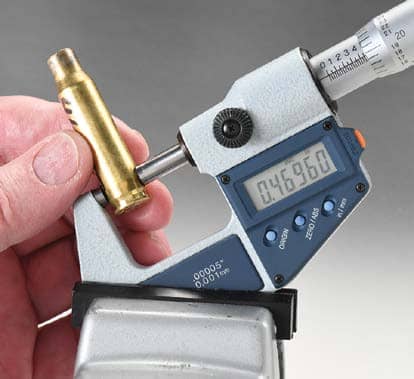 Off and on for many years, I have attempted to measure cases to determine a maximum load, and it never seemed to work for me. I remember when I did not have a blade micrometer but read about measuring the expansion ring, rather than the web, to determine a maximum load. I gave it a shot with my flat-anvil Fowler micrometer that could be used to measure a projecting expansion ring. I was left scratching my head. It just did not work for me.
You can read up to 3 premium stories before you subscribe to Magzter GOLD
Log in, if you are already a subscriber
Get unlimited access to thousands of curated premium stories, newspapers and 5,000+ magazines
READ THE ENTIRE ISSUE
October - November 2020