9mm Luger Standard Pressure Loads
Handloader|October - November 2019
The 9mm Luger (9x19 Parabellum, 9mm/P-08, 9mm NATO, etc.) is currently the most handloaded pistol cartridge in the U.S., but to achieve that title it has taken more than a century, along with the development of new powders, bullets and guns. It also holds the distinct title of being the world's most used military handgun and submachine gun cartridge. Furthermore, current statistics suggest more than 60 percent of U.S. police agencies use 9mms for duty. With nearly countless pistol configurations that range from full size competition models to compact concealed-carry versions as well as single- and double-action revolvers, its popularity among civilians has become significant.
The Luger P08 "toggle-locked" pistol was developed around 1898 and first chambered in .30 Luger (7.65x21mm Parabellum); however, by 1901 the designer of the gun and cartridge, Georg Luger, modified that case to create the 9mm Parabellum that was also chambered in the Luger pistol. Incidentally, the word "Parabellum" is taken from the Latin phrase Si vis pacem, para bellum, which loosely translates into "prepare for war."
While that gun and cartridge combination was almost immediately adopted by the German Navy and Army, it wasn't until after World War I that its popularity really began to grow. With widespread acceptance in Europe and other parts of the world, it was only a matter of time until it gained favor in the U.S.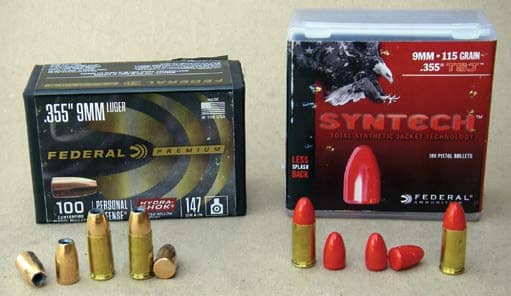 Following World War II, inexpensive surplus ammunition became available, but the FMJ round nose bullets that typically weighed between 115- and 124-grains produced comparatively little shock and limited the cartridge's effectiveness for hunting, defense or law enforcement work. Furthermore, there were very few pistols available to U.S. shooters. Early post-war U.S. produced examples included Colt's Model 1911 Commander and Smith & Wesson's Model 39, as well as war time souvenirs such as the Luger P-08, Walther P-38, FN, Browning and Inglis Hi-Power.
During the 1960s, Super Vel Ammunition (as operated by Lee Jurras) pioneered a 90-grain JHP load at around 1,400 fps. Winchester followed in 1979 with its 115-grain Silvertip bullet at 1,255 fps. These loads helped put the 9mm on its way to becoming a viable defense and law enforcement cartridge, but that was just the beginning. Today the selection of premium defense and law enforcement factory loads (including +P options) is nearly endless and includes expanding monolithic bullets as light as 95 grains at over 1,500 fps, various 115- to 124-grain expanding bullets at velocities around 1,400 and 1,300 fps, respectively, and subsonic loads that usually contain 147-grain bullets at around 1,000 fps. Expanding bullet technology has played a huge role in making the 9mm a viable defensive round, which in addition to being offered in factory loads, are readily available as handloading components.
Another major boost to the 9mm's popularity occurred when the U.S. military adopted the Berretta M9 (civilian Model 92F) pistol in 1985. As of this writing, more than 70 different countries utilize the 9mm NATO in military service, including Russia, which is the first time it has adopted a cartridge that was not specific to the country's guns. Recently, the U.S. Army and Air Force have adopted the modular SIG Sauer P320 pistol chambered in 9mm NATO.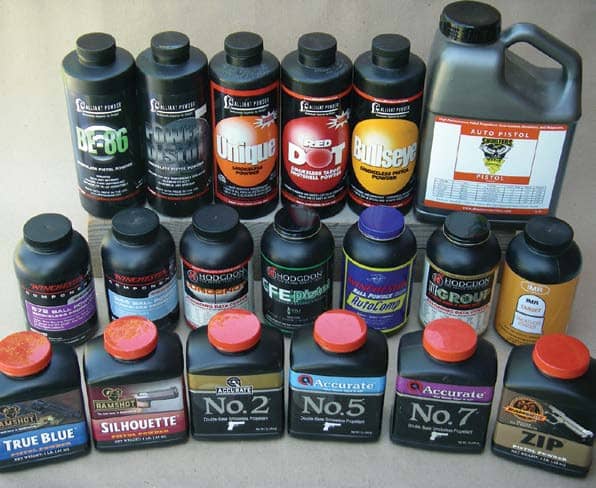 As indicated, the selection of reliable pistols is extensive. It is noteworthy that most modern designs will feed FMJ roundnose, truncated flatpoint and hollowpoint bullets without a hitch – as long as they are loaded to correspond with industry overall length and pressure specifications.
Many vintage guns will not reliably feed flatpoint and hollowpoint bullets, such as the Luger P-08, Walther P-38 and others; rather, they must be used with roundnose bullet designs to achieve respectable reliability. It is also noteworthy that many sub-compact pistols, with their short cycling range, will not function with loads that are on the low side of pressure, while other guns struggle with reliability when fed maximum-pressure +P loads. However, the above comments are general and do not apply to all compact pistols.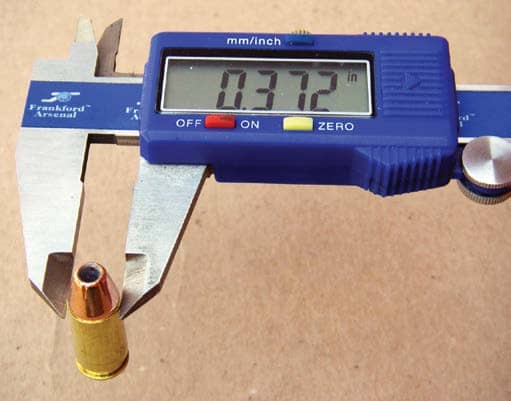 This feature is specific to 9mm Luger "standard pressure" handloads, which needs some clarification before proceeding. SAAMI maximum average pressure was traditionally established at 33,000 CUP but has now been updated with modern piezoelectric pressure measuring methodology and is currently listed at 35,000 psi. Interestingly, Europe's C.I.P. (the European equivalency of SAAMI) lists maximum pressures at 34,084 psi, making virtually all commercial European and U.S. loads suitable for all pistols produced for the U.S. market.
You can read up to 3 premium stories before you subscribe to Magzter GOLD
Log in, if you are already a subscriber
Get unlimited access to thousands of curated premium stories and 5,000+ magazines
READ THE ENTIRE ISSUE
October - November 2019