7mm Remington Magnum
Handloader|August - September 2020
New Bullets and Powders
The 7mm Remington Magnum seems to be a somewhat contradictory cartridge. Its first contradiction occurred when introduced in 1962. Remington promoted the round as a superb longrange, big-game cartridge – yet one of the two original factory loads featured a 175-grain "roundnosed" CoreLokt at a claimed 3,020 fps. Why load a ballistically inefficient bullet in a long-range round?
Two thoughts come immediately to mind: First, back then many hunters still believed roundnosed bullets worked better when hunting in heavier cover, due to less deflection when "bucking brush." In fact, some of the era's other new belted magnums came saddled with roundnose bullets, including the .257 Weatherby's 117-grain factory load.

Also, Remington might have had a bunch of 7mm roundnose 175s on hand, due to shrinking demand for the 7x57 Mauser, the only other cartridge Remington ever loaded with that bullet. Before World War II, the 7x57 had been relatively popular in the U.S. – Winchester even chambered it in the pre-'64 Model 70 – but faded after the war. The factory ammunition lists in the 1963 Gun Digest annual (where Ken Waters reviewed Remington's new 7mm cartridge) did not include any Remington 7x57 ammunition.
Some reviewers mentioned this ballistic anomaly, but Remington didn't fix the problem for a few years, perhaps after finally loading the last of its roundnose 175s. The factory ammunition tables in the 1966 Gun Digest listed a "PCL" (Pointed Core-Lokt) 175-grain load, rather than the 175-grain "SPCL" (Soft Point Core-Lokt roundnose) in earlier editions. Listed velocity also rose from 3,020 fps to 3,070 fps, due to DuPont developing a new, slow burning powder named IMR-7828, apparently at least partly for the 7mm Remington Magnum, which for some unknown reason Remington did not sell to handloaders until a quarter-century later.
Despite the 175-grain roundnose, the new cartridge became an immediate success, partly because so many rifle loonies really wanted an inexpensive factory 7mm magnum. A bunch of belted 7mm wildcats already existed, along with a pair of factory rounds, the 7mm Weatherby Magnum originally developed as a wildcat during World War II and 1953's 7x61 Sharpe & Hart, chambered by Schultz & Larsen of Denmark in its Model 65 bolt rifle. However, the Schultz & Larsen cost about a third more than a standard-grade Model 70 Winchester, and the least expensive Weatherby rifle was twice as much – and 7mm Weatherby and 7x61 factory ammunition a lot more than a typical box of .30-06.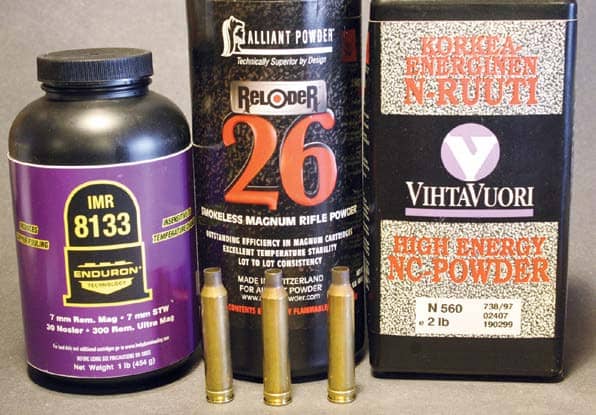 The 7mm Remington Magnum solved both problems because it appeared in the new 700 rifle priced to compete with the Model 70. As a result, the cartridge soon became a standard worldwide chambering, filling the slot between the .270 Winchester and various .30 calibers.
The sales surge resembled the combined popularity of the most successful pair of twenty-first-century centerfire rifle cartridges, 2002's .300 Winchester Short Magnum and 2007's 6.5 Creedmoor, but the 7mm Remington Magnum surge lasted longer. The .300 WSM peaked within a few years, and friends in the retail gun business even say the Creedmoor craze has started to slow. Fellow gun writer John Haviland worked for a pulp mill in western Montana from 1979 to 1987 and has joked that "every worker was issued a hard hat and a 7mm Remington Magnum." Lunch break conversations often consisted of guys bragging on their "Big Seven," sometimes as obnoxiously as some 6.5 Creedmoor fans (and detractors) today.
You can read up to 3 premium stories before you subscribe to Magzter GOLD
Log in, if you are already a subscriber
Get unlimited access to thousands of curated premium stories and 5,000+ magazines
READ THE ENTIRE ISSUE
August - September 2020