6.5x52mm American: Wildcat Cartridges
Handloader|October - November 2019
Those of us who enjoy wild-cats do not need much of an excuse to come up with another one.
The subject of this column is an example. In response to an article I wrote on the grand old 6.5x55mm Swedish, a reader opined that the world would likely stop spinning on its axis if someone did not soon come up with a cartridge capable of duplicating its performance in short-action rifles in general, and in his Savage 99 in particular.
Eager to save the world, I scurried to my loading room only to discover the absence of .308 Winchester cases. But there was a good supply of 7mm-08 Remington so they got necked down to 6.5mm. This, by the way was in 1990, seven years prior to the introduction of the .260 Remington.
When a water capacity comparison revealed a bit less than for the 6.5 Swede, I recalled a 7mm wildcat that I had concocted in 1977, three years prior to the introduction of the 7mm-08 Remington. It was formed by necking down the .308 Winchester case for .284-inch bullets and fireforming to minimum body taper and a 40-degree shoulder. Rifle and ammunition were still on hand, so I sent several of those cases to Redding and requested a die set for the cases necked down for .264-inch bullets with no other change.
My original intent was to call the cartridge the 6.5x51mm American, but since it began life on the 7mm-08 Remington case, which is about one millimeter longer than the .308 Winchester case, it became the 6.5x52mm American. Of course, the .308 and .260 Remington cases work equally well. Clymer made those first chamber reamers.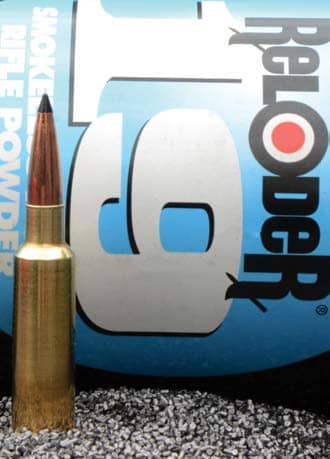 You can read up to 3 premium stories before you subscribe to Magzter GOLD
Log in, if you are already a subscriber
Get unlimited access to thousands of curated premium stories and 5,000+ magazines
READ THE ENTIRE ISSUE
October - November 2019