.44 S&w Special: The Beginning - Cartridge Board
Handloader|October - November 2019
The .44 S&W Special was the result of at least 60 years of firearm evolution.
It does not seem to be known exactly when the .44 caliber became associated with handguns, but its future and enduring fame were assured by 1,000 of Sam Colt's percussion revolvers known variously as the Walker Pistol, Whitneyville Walker or Model of 1847 Army Pistol.
I will leave it to collectors and historians to debate how many .44 Colts were made earlier than this and how much influence Samuel Walker had on the design. Suffice to say, the U.S. in 1840 was similar to today in a few ways, yet in most, far, far different. For example, we had a Congress that could make decisions. Problems were delt with substantively. The Indian wars of the 1830s-40s and the Mexican War of 1846 birthed the big .44 Colt revolver. Captain Walker wrote, "They [either the Walkers or a prototype] are as effective as a common rifle at one hundred yards and superior to a musket even at two hundred." Targets were not paper bull's-eyes.
The next event in the .44 caliber's life was the French gunsmith Flobert placing a 5mm roundball in the mouth of a percussion cap in 1849. Thus was born the first almost practical self-contained metallic cartridge. American Horace Smith then began developing the idea.
Smith was also working with Daniel Wesson and Courtland Palmer in 1852 to produce a lever-action repeating rifle called the Volcanic. It fired a conical bullet with a deep cavity in the base that was filled with fulminate priming compound. There was no powder. A copper washer with a cork disc in the center sealed the base of the bullet. Ignition was provided by the impact of a firing pin on the fulminate. This obviously didn't work very well as there was no way to seal the breech against escaping gas.
Now we run into the most perplexing detail in the history of cartridge development. Smith and Wesson applied for a patent in May of 1853, which was granted in August 1854 (Patent No. 11,496) for an inside-primed, centerfire metallic cartridge! It was the solution to virtually all the problems of Smith, Wesson and Palmer's repeating rifle, but the patent was not developed.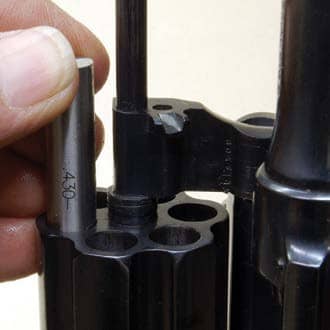 You can read upto 3 premium stories before you subscribe to Magzter GOLD
Log-in, if you are already a subscriber
Get unlimited access to thousands of curated premium stories and 5,000+ magazines
READ THE ENTIRE ISSUE
October - November 2019