.416 Weatherby Magnum
Handloader|August - September 2020
CARTRIDGE BOARD
It has been written that really serious riflefolk are those who own more rifles than they need. That's fair enough, because "need" is a moving target. One never knows when the opportunity may come to hunt a species of game not native to the local area, or try a new form of target competition. It would be terribly embarrassing to meekly admit to not having a proper rifle – what would the neighbors think?
Thus, accumulating rifles for several applications can almost be seen as a duty. A bit puzzling, however, is the interest in real, honest-to-goodness, dangerous-game rifles. I am not talking about collectors here, but ordinary shooters who own, or are planning on buying, such rifles even though they know they will never hunt such animals.
What, after all, is dangerous game? Basically, these are animals with the size, quickness and especially attitude that causes them to not tolerate smelly little humans very well, particularly those who sneak around and shoot at them! Four of the African Big Five possess these traits in spades; the leopard makes up in speed and attitude what it lacks in size. Alaskan brown bears and polar bears qualify, as do the big wild cattle located in tropical areas of the world.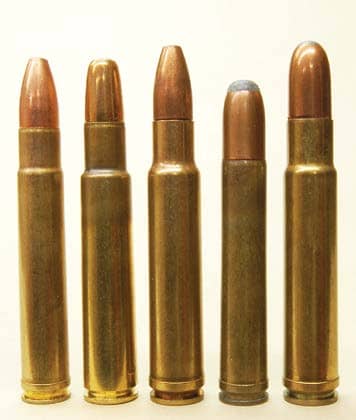 Cartridges suitable for such work are above .40 caliber, and when fired the rifle kicks like two Missouri mules. Most such cartridges are of British origin and thus tend to be pricey, even in well-used rifles.
The Europeans made a few such rifles and cartridges. Most notable is the 12.7x70mm Schuler (aka .500 Jeffery). European rifles are also quite expensive.
Wildcat cartridges, however, are numerous. Availability of new empty cases for .416 Rigby, .505 Gibbs and .577 Nitro Express 3-inch means anything is possible. Drawbacks are expensive custom rifles, costly custom loading dies and lack of pressure tested load data.
You can read up to 3 premium stories before you subscribe to Magzter GOLD
Log in, if you are already a subscriber
Get unlimited access to thousands of curated premium stories and 5,000+ magazines
READ THE ENTIRE ISSUE
August - September 2020