.38 SPECIAL
Handloader|June - July 2020
MIKE'S SHOOTIN' SHACK
My introduction to handload
ing in 1966 began with the .38 Special. The revolver for which I was loading was a Smith & Wesson (S&W) Model 14 (K38) with 6-inch barrel. Shooting with it was done at paper targets, with some plinking along the way. To this day I still have a great fondness for this fine, old cartridge. In its 120-year existence, an amazing variety of revolvers have been chambered for it. Included have been double actions, single actions, fixed sighted, adjustable sighted, five-shot cylinders, six-shot cylinders and 17⁄8-inch barrels to 83⁄8inch barrels made of carbon steel, stainless steel, some blued finish and others nickeled finish.
The .38 Special was introduced in 1899 in Smith & Wesson's swingout cylinder Hand Ejector. That revolver was based on the company's K-frame. Eventually the chambering was added to small J-frames with five-shot capacity, and later to S&W's large N-frame for a special high-pressure factory load. Colt quickly picked it up for its New Service, Official Police and Police Positive revolvers, although a point to remember is that regardless of frame size, Colt's double-action .38 Specials were six-shooters. The SAA was also made in .38 Special in all three of its generations of manufacture.
Cartridge designers cannot predict the future of their brainstorms, but if the fellow who drew up specifications for .38 Special lived long enough, he must have been pleased by its acceptance. At one time or the other, the .38 Special and its Smith & Wesson and Colt revolvers were standard issue for virtually every law enforcement organization in the U.S. It rode in leather holsters worn by the most rural of American sheriff's deputies to U.S. Army helicopter pilots flying in Vietnam.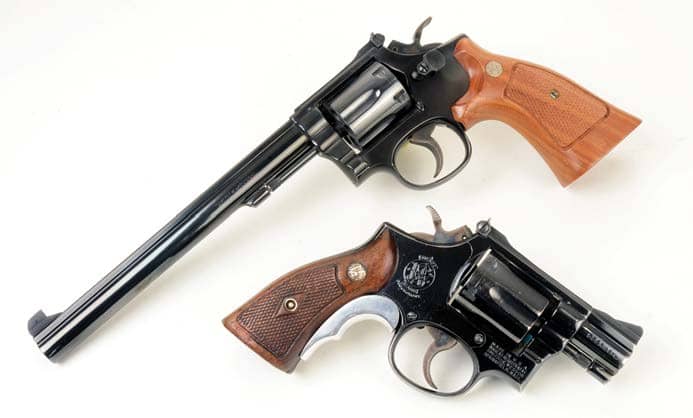 You can read up to 3 premium stories before you subscribe to Magzter GOLD
Log in, if you are already a subscriber
Get unlimited access to thousands of curated premium stories and 5,000+ magazines
READ THE ENTIRE ISSUE
June - July 2020