.270 Winchester Testing New Bullets and Powders
Handloader
|
October - November 2019
When the .270 Winchester appeared in 1925 as one of the rounds in the company's new Model 54 bolt-action rifle, the chambering apparently did not sell spectacularly. This was partly due to established cartridges such as the .30 WCF (.30-30), then three decades old, and the .30 Gov't '06 (as the Model 54 was stamped). Many hunters assumed the .270's original factory load, a 130-grain bullet advertised at 3,160 fps, was too fast and light for big game because they had grown up shooting the .44-40 and .45-70 and had just gotten used to .30-caliber bullets for big game.
Even half a century later many older hunters distrusted the "new" cartridge. I purchased my first .270 in 1974, whereupon my grandfather-in-law said, "I tried one of those, kid, but most stores did not carry ammunition." Like many Western hunters of his generation, Ben was a confirmed .30-06 man, whose lone big game rifle was a Winchester Model 70 .30 Gov't '06, which he traded his .270 for in 1937. Other "young" hunters also encountered .270 resistance: Friend Kirk Stovall, a year behind me at Bozeman Senior High School, was afraid to buy a .270 Winchester until well into adulthood, because his father (another .30-06 man) hated the cartridge.
Despite such skeptics, the .270 eventually became one of the two most popular non-military big-game cartridges introduced before World War II, the other the .30-30.
Despite the appearance of many other rifle cartridges since 1925, the .270 still ranks way up there. This popularity is often attributed to a writer named John Woolf O'Connor, born in Arizona in 1902. Nicknamed Jack, he eventually became the shooting columnist for Outdoor Life, back when "outdoor life" primarily meant hunting and fishing, not mountain biking.
O'Connor used the .270 a lot, partly because of living in the American West. Shots at big game tended to be longer than "back east," where the .30-30 was the quintessential deer cartridge. The flat trajectory of the .270 made 300- and 400- yard shots possible with iron sights, which dominated hunting until after the war, and the 130-grain bullet worked great on deer and wild sheep.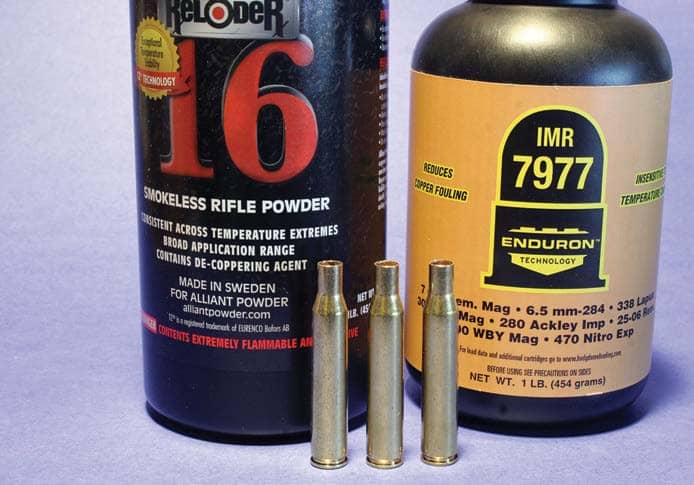 The .270 really became popular after WWII, partly because Outdoor Life was among the magazines distributed to American soldiers, though several other factors converged. More Americans moved West, scopes became more reliable and affordable and more rifles came from factories ready for scope mounts.
Plus, in 1948 John Nosler started selling his Partition bullet to handloaders. The big problem with early high-velocity big-game cartridges had always been sufficient penetration, but the Partition solved the problem. I started handloading Partitions in the .270 in 1977, when they were still turned on a lathe and had an exterior "relief-groove" around the Partition. Since then my personal .270 experience has included plenty in North America on big game up through elk and moose, and in Africa on elk-sized plains game. It has performed consistently well, which is why modern claims that the .270 is only adequate for "deer-sized" game are puzzling.
However, I doubt the original 130-grain factory load attained its advertised velocity, especially in the Model 54's 24-inch barrel, though it probably did get around 3,000 fps. The .270 appeared a year before the U.S. Government requested that American firearms ammunition companies get together and agree on consistent chambers, ammunition and pressures. The result was the Sporting Arms and Ammunition Manufacturers Institute, (SAAMI).

Before SAAMI, such standards did not exist. Maybe original Winchester .270 ammunition did get 3,160 fps in long test barrels, but the powders of the day were relatively fast-burning. IMR-4350 did not appear until 1940. At the time it was by far the slowest-burning powder then available to handloaders, which made Roy Weatherby's magnums possible. (In fact, it was so revolutionary that in later years O'Connor referred to it as the "Wonder Powder.") Yet in the last decade, no pressure-tested data lists .270 loads with IMR-4350 and 130-grain bullets at more than about 3,100 fps from SAAMI-standard 24-inch test barrels.
After the war, Bruce Hodgdon started selling a military-surplus cannon powder he originally called "4350 data" powder, since IMR-4350 loading data could be used, but the powder turned out to be noticeably slower-burning and eventually was rebranded as H-4831.
O'Connor started loading H-4831 in his .270s about the time he moved his family from Tucson to Lewiston, Idaho. Ray Speer found a house for them on a hill a short walk behind the Speer factory and gave Jack a key to access the factory's indoor test range during off-hours. O'Connor reported very high velocities and fine accuracy with H-4831, and it soon became the .270 powder.
You can read up to 3 premium stories before you subscribe to Magzter GOLD
Log in, if you are already a subscriber
Get unlimited access to thousands of curated premium stories, newspapers and 5,000+ magazines
READ THE ENTIRE ISSUE
October - November 2019